From Nicholas Vipond born 1655 in Alston, U.K.

Richardson / Vipond Australian connection.
John Victor (Jack) Richardson born 1887 Lucknow Victoria at Nicholson in 1922 married Sarah Ann (Annie) Liddell born 1896 in Bairnsdale. Jack's father Emerson Richardson (born Alston in 1853) married Eleanor (Ellen) Vipond (born Alston in 1860), the daughter of James Vipond and Mary Ann Bell, both natives of Alston.
Timeline of Vipond related families, starting from the Richardson / Vipond family connection at left.
Vipond Family Tree
Family recollections of long ago implied the Vipond name may have originally been of French origin. The Vipond family has a long standing history in the mining industry around Alston, according the following extract from 'An Account of the Mining districts Alston Moor, Weardale and Teesdale' pages 19 & 20 Chapter - Decay of Forests.
"That mining in this district is of great antiquity, appears from mention of several charters granted to the miners of " Alderston" nearly 600 years ago. They had royal protection granted in 1233, again in 1236, and again in 1237. In 1282 the king granted to Nicholas de Veteripont (the original of the family name of Vipond) the manor of Alderston to hold in fee of the King of Scotland, reserving to himself and the miners various privileges, especially such as belonged to the franchise of Tindale, within which Alston was then comprised."
Original print in 1834, written by Thomas Sopwith.
Confirmed records of our Vipond family connections do go back to Nicholas Vipond in 1655 in Alston as mentioned above, however, some Vipond records on ancestry.com in particular, appear to have differing details around the late 1700s. A direct descendant of Nicholas as mentioned, John Vipond, was born in Alston in 1801. It appears John Vipond initially had some "illegitimate" children with Eleanor Moffatt from Alston, a Thomas (Moffat) Vipond in 1827, a James Vipond in 1830, and a Walton Vipond in 1834. No record of a marriage between John and Eleanor (Ellen) Moffat has yet been located, however sometime later in 1842 John Vipond married Hannah Waugh from Garrigill, and proceeded to have 6 (known) children with Hannah between 1842 and 1851 at Dryburn via Garrigill.
Redwing Chapel and graveyard where numerous Vipond and Moffat family were Baptised and buried,
Courtesy Chris Caines, a Moffat descendant / researcher from the Lake District.
So, in order for the sake of ease of the reader, following this quite large and complex family, details of this Generation listing has commenced from John and Eleanor Vipond's son James Vipond, born in Alston in 1830, and his wife Mary Ann Bell, believed to be a daughter of Richard Bell from Alston Moor and Frances Brown.


JAMES VIPOND AND WIFE MARY ANN BELL - ALSTON, CUMBERLAND U.K.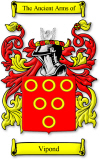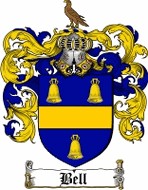 Family Crests for Vipond and Bell.
MARY ANN BELL
Starting off with Mary Ann Bell, there are a few quite old records relating to her parents, Richard Bell, a hair dresser from Alston, who married Frances Brown in 1827.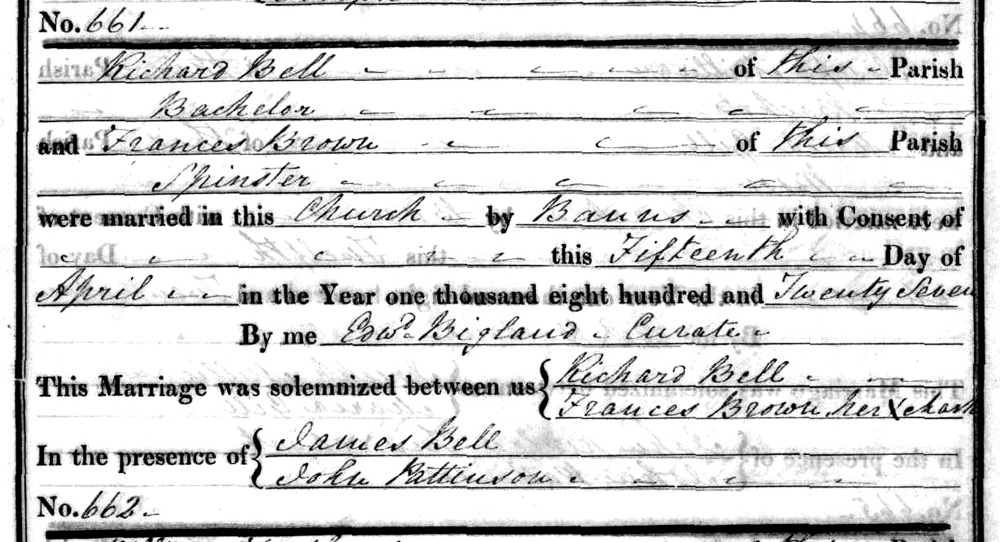 Original hand written record of the marriage of Mary Ann Bell's parents, Richard Bell and Frances Brown in 1827 at Alston.
James Bell who signed as witness to this wedding, was Richard's next youngest brother, born in Alston in Jan 1807. Some records of this family around this time are a bit sketchy, so we can say it appears Mary Ann Bell was the first child of Richard and Frances Bell nee Brown. Mary Ann Bell was Baptised at the Red Wing Chapel in Mar of 1829, as per the following hand written record.

Baptism of Mary Ann Bell at Alston in 1829.
Richard Bell and Frances Brown had another two daughters together, however no trace has been found of what may have happened to Frances after the birth of Isabella in 1831. Richard remarried Esther Tallentire on Christmas day 1836 in Harrington, Workington, and they proceeded to have 7 children between 1838 and 1856, mainly around St Bees and Whitehaven in Cumberland.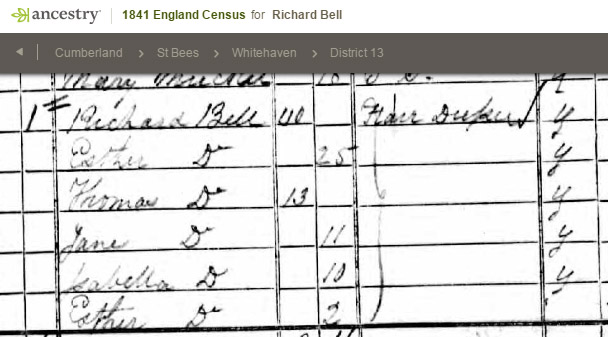 U.K. Census record of Richard and Esther at St Bees in Cumberland in 1841.
JAMES VIPOND

Baptism record of James Vipond at Redwing Chapel Alston in 1830.
Apparently born out of wedlock in 1830 in Alston, James Vipond married another Alston native, Mary Ann Bell, at Alston in 1854, and they had their first 4 out of 6 children in Alston, in northern England. They did emigrate to Victoria to participate in the Gold Rush in the early 1860s. In 1864 they had another daughter at Stratford in pastoral East Gippsland, and later in 1870, they had their third son on the gold fields at Fryerstown, north of Ballarat.
Original handwritten marriage records of James Vipond and Mary Ann Bell at Alston in 1854.



CHILDREN OF
JAMES VIPOND AND MARY ANN BELL
James Vipond and his wife Mary Ann Vipond nee Bell, had 6 children in total. They were
John Vipond born Alston in 1855 married Margaret Fitzgerald.
Margaret Ann Vipond born in Alston in 1856 who married John Rowe.
William Latmos Vipond born in 1858 in Alston.
Elleanor Vipond born in Alston in 1860 who married Emerson Richardson.
Maria Bell Vipond born in 1864 at Stratford, Victoria Australia, who married Thomas Bell Cutter.
James Albert Vipond born at Fryerstown Victoria in 1870.
Frontispiece of Vipond family bible from 1855, showing the children of James Vipond and Mary Ann Bell.
Courtesy of Family of William John Richardson of Warragul Victoria.
It's probably opportune to mention the Vipond and Richardson families, both from Alston, seemed very close and supportive of each other in many ways, and often lived nearby each other. Back in Alston, the Richardsons lived in district 12 and the Viponds lived in the neighbouring District 11, both situated on the West side of the River Tyne.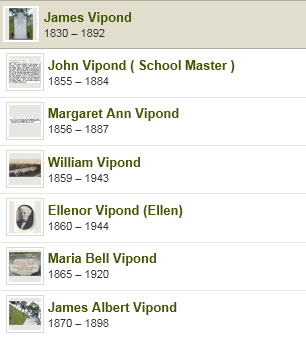 Timeline of Mary Ann Bell, her husband James Vipond and their children.

After the birth of Eleanor (Ellen) Vipond at Alston in 1860, the lives of this Vipond family changed quite dramatically, from being a Lead Ore Mining family of many generations based in Northern U.K., to becoming Gold Diggers in Victoria Australia. In these times, it was quite common of the man of the household to travel to a gold rush region with a brother, uncle, or other male mining mates or neighbours, to firstly peruse the gold mining potential overseas, and if it was viable / affordable, then send for their loved ones from back home in England.
The actual emigration record for our James Vipond is also a bit of a mystery. There is no definite record of Mary Ann's husband James Vipond arrival in Australia been found to date, but he definitely did make it to Victoria. A number of record instances have been found of him being listed (not confirmed) as James Moffat Vipond. It is possible our James Vipond might have used his mothers maiden surname of Moffat on the Passenger List register, as after hours of looking up shipping records, the following listing for a James Moffat is the only one that comes close age & details wise. It could have been a simple recording error, whereby the surname was mistakenly omitted in this instance.

A James Moffat, a labourer aged 32 arriving in Melbourne in 1861 on board the Commodore Perry.
Commodore Perry built by Donald Mackay - Courtesy carrick.id.org
On the other hand, there is no doubt as to voyage Mary Ann Vipond undertook, with her 4 children when they emigrated to Victoria on board the SS Great Britain.
Original passenger list of the SS Great Britain arriving in Victoria in 1863, including Mary Ann Vipond and her 4 children. This particular voyage left Liverpool on the 7th Jan in 1863, and made very good time, arriving at Hobsons Bay in Melbourne in just under 8 weeks.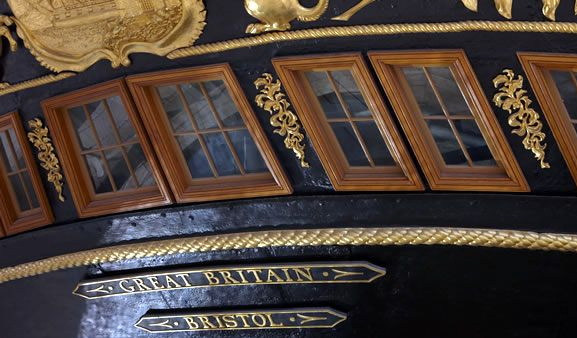 The SS Great Britain - Nowadays a great tourist attraction.
After their arrival in Victoria in 1863, the primary and very mysterious question about the movements of this Vipond family is that, unlike all our other families who went directly to the Ballarat / Eureka Stockade region, why did our Vipond family go to the opposite side of Victoria? Birth and other records of the fifth child Maria Bell Vipond born in Stratford in 1864, imply they probably first settled in Stratford, Boisdale, or Briagolong, in this pastoral / farming region of East Gippsland in 1864. Maria Bell Vipond must have been impressed with the Stratford area, as she lived most of her adult life there, working as a milliner, and later in life married Thomas Bell Cutter, a grazier from Boisdale.

A Google map showing Port Melbourne, in relation to Stratford, about 230 kilometres.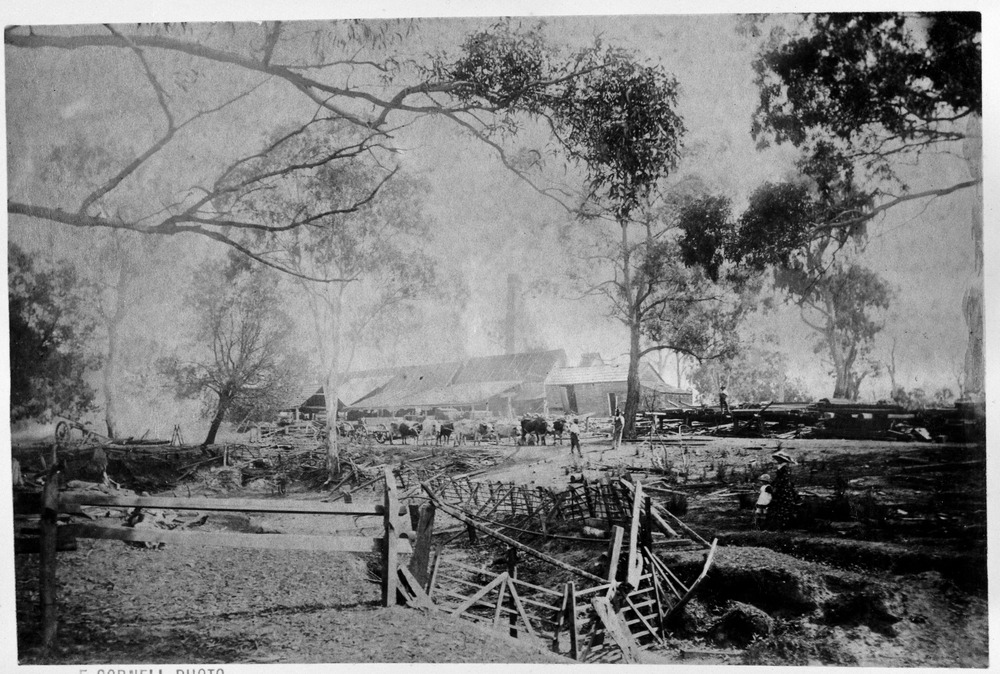 Briagolong & District was known for Sugar Beet, hop growing, cattle grazing, and tall timber processing such as in this mill.
Photo by Frederick Cornell circa 1880s - Courtesy State Library of Victoria.
The Vipond family may have been in the financial situation to be able to afford to buy a farm outright in 1864, without firstly "striking it rich" on the Gold Fields, as there has not been any Gold Mining Shareholder records held by this Vipond family located to date. A review of the 1851 U.K. Census will divulge that James was working as a Lead Ore Miner, living at home with his father and step mother Hannah, and her 6 young children. Jame's father John Vipond was noted as a "Lands Proprietor" at Dryburn, (near the Bells and Calverts), had a house servant, and was most likely financially reasonably well off. The 1861 U.K. Census notes James as a Lead Miner and also a farmer at Dorthgill House at Alston, able to employ a "Dairy Maid", so he was probably not short of a quid either.
On the other hand, their attraction to this part of eastern Victoria, some 500 kilometres from the gold fields, may have been influenced by news of the Calvert, Coulson, Richardson, & Liddell cousins who moved to, and settled in East Gippsland around this period. There were a number of the family involved in teaching, so the family movements may have possibly related to job postings in this field?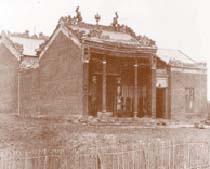 A Campbells Creek miners cottage, circa 1861.
We do know for sure, that part (if not all) of the Richardson family, in particular Sarah Richardson and her husband William Bell were living on the Gold Fields at Campbells Creek in 1870, when their second son William Emerson Bell was born. Campbells Creek happens to be located about a half hour buggy ride from Fryerstown, was where James Albert Vipond was born in the same year of 1870, and also where Margaret Ann's future husband John Rowe was living.
As a reasonable amount of information and images have been located regarding James Vipond in this time frame, an overview or snapshot of his gold mining activities, quite near to John Rowes' uncles diggings are presented futher below. It seems James Vipond and family moved from the Gold fields back to East Gippsland at Swan Reach about 1874, and records tend to taper off dramatically around this time frame. James Vipond's mining Partners
Whilst the Rowe Bros were amassing their respective fortunes, Margaret Ann Rowe nee Vipond's father James, seemed to operate in the same area from around 1969 till about 1875, and teamed up with other well known local miners Hilton, Mills and Co on a few claims.

James Vipond shown partnered digging gold with William Hilton and Alexander Mills near Fryers Creek early in 1870.
Extract from the Melbourne newspaper, The Argus, its mining correspondent supplied a
"Detailed report of Fryers Creek and Campbells Creek"
on 31 Oct 1871, as follows -
"The cluster of claims in the Fryer's Creek basin comprise, besides the great Rowe Brothers' claim, another partly belonging to the same fortunate family, and known as Rowe Brothers and Kitto's road claim, intersected by the main reef, but at present under water. On the right and left of this is Hilton, Mills, and Co.'s claim, a leasehold getting stone which averages 12dwt. to the ton from a reef 25ft. to 30ft. thick, with occasional heavy patches. There are only six members in this party, and it has several years' profitable work before it."
(Francis Henry Luke Kitto was one of Margaret Ann Vipond's brother-in-laws).
Read complete report at Trove here.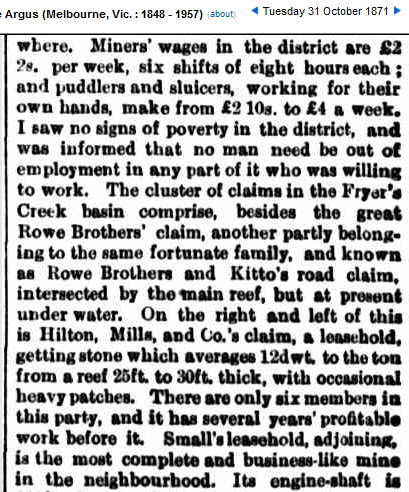 Correspondent's report from the Argus newspaper, when James Vipond was working with Hilton, Mills and Co in 1871.

Another Mining lease approved in 1870 for James Vipond at Fryers Creek.
Other fellow lease holders/miners working with James Vipond in this period and district were -
Alexander Mills
It appears Alexander Mills was appointed a co-director of the Fryerstown Mining Company along with a R.L.M. Kitto ( a Rowe relation ) in 1869.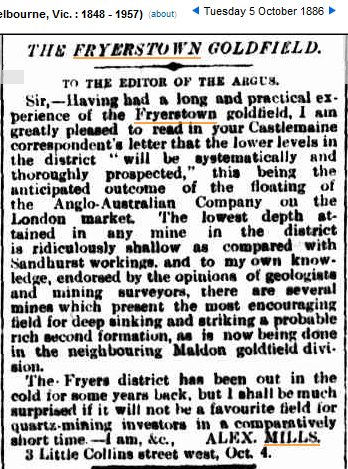 Little else is known Of Alexander Mills at this time, apart from he appears to have been the Mining manager of the Middletons Reef at nearby Vaughan.
William Hilton
Birth 6 Aug 1829 in Alston, Cumberland, England, 1851 census aged 21 a Lead Miner at Alston, married Mary Batey at Alston 29th Jan 1852, had 2 children in Alston and another 7 children between the goldfields and Rochester in Victoria, Death 13 May 1909 in Barwon, Victoria.
John Batey
Birth 20 September 1835 in Alston, Cumberland, England, 1851 Census aged 16 a Lead Miner at Alston, married Blanche Reynolds at Fryerstown in 1869 and had one son, remarried Ann Quick in 1877, remarried Catherine Rowan McLean in 1881, Death 19 Jul 1911 in Fryerstown, Victoria.
John Ditchburn
According to G.M. Newman in the Argus newspaper of 5 Sep 1890, John Ditchburn was mining engineer at Fulton Foundry in 1851, was a major shareholder in the Robin Hood Mining Company at Happy Valley in 1864, and later became a well known Sharebroker. In 1901 he became Mine Manager of the Hesperus Gold Mining Company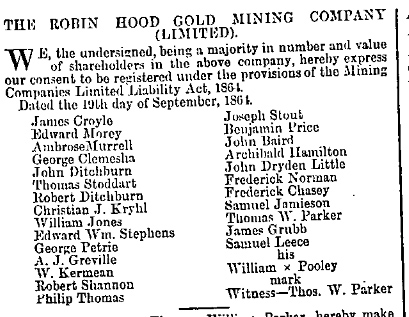 George Webb
A fairly common name, however on ancestry.com there are numerous listings for a George Webb, born Fryers Creek 1855, married Mary Reid in 1882 at Fryers creek, and died there in 1892, possibly James Vipond's mining partner.
G. Jackson
No info found on this mystery miner.
One thing we know for sure, James Vipond was financial enough to buy a house at Fryerstown in 1872, which he sold 5 years later, as shown here.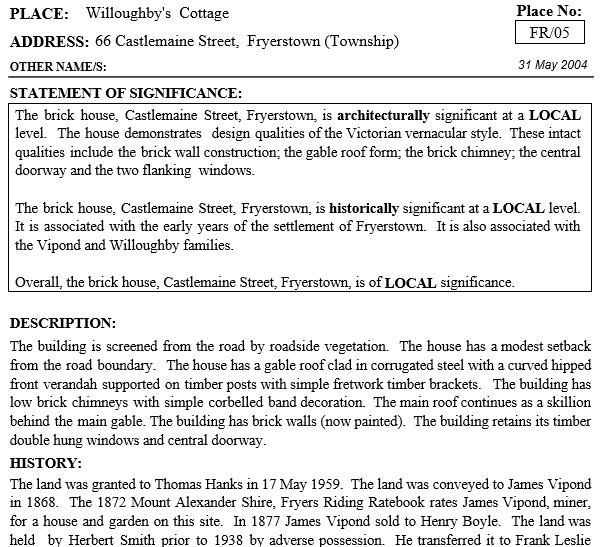 Ownership of Cottage details at Fryerstown in 1872. Courtesy Heritage study of Shire of Newstead/Mt Alexander.

Mining lease No 867 approved for James Vipond at Nuggetty Gully in 1872.
The last know records of our James Vipond family being on this part of the Victorian Gold fields, are his mining leases at Nuggetty Gully in 1872 as above, and a similar lease in 1874 as shown below.

Mining lease No 557 approved for James Vipond at Nuggetty Gully in 1874.
The following map clearly displays Nuggetty Gully as being south of Fryers Creek, and denotes numerous sites as "alluvial", and some reef names that are very hard to decipher. The regional Surveyor, describes Nuggetty valley then in 1959 as,
"Steep rocky ridges of sandstone & slate, with little or no Alluvial drift in the Gullies and traces of Gold have found in several places on the surface."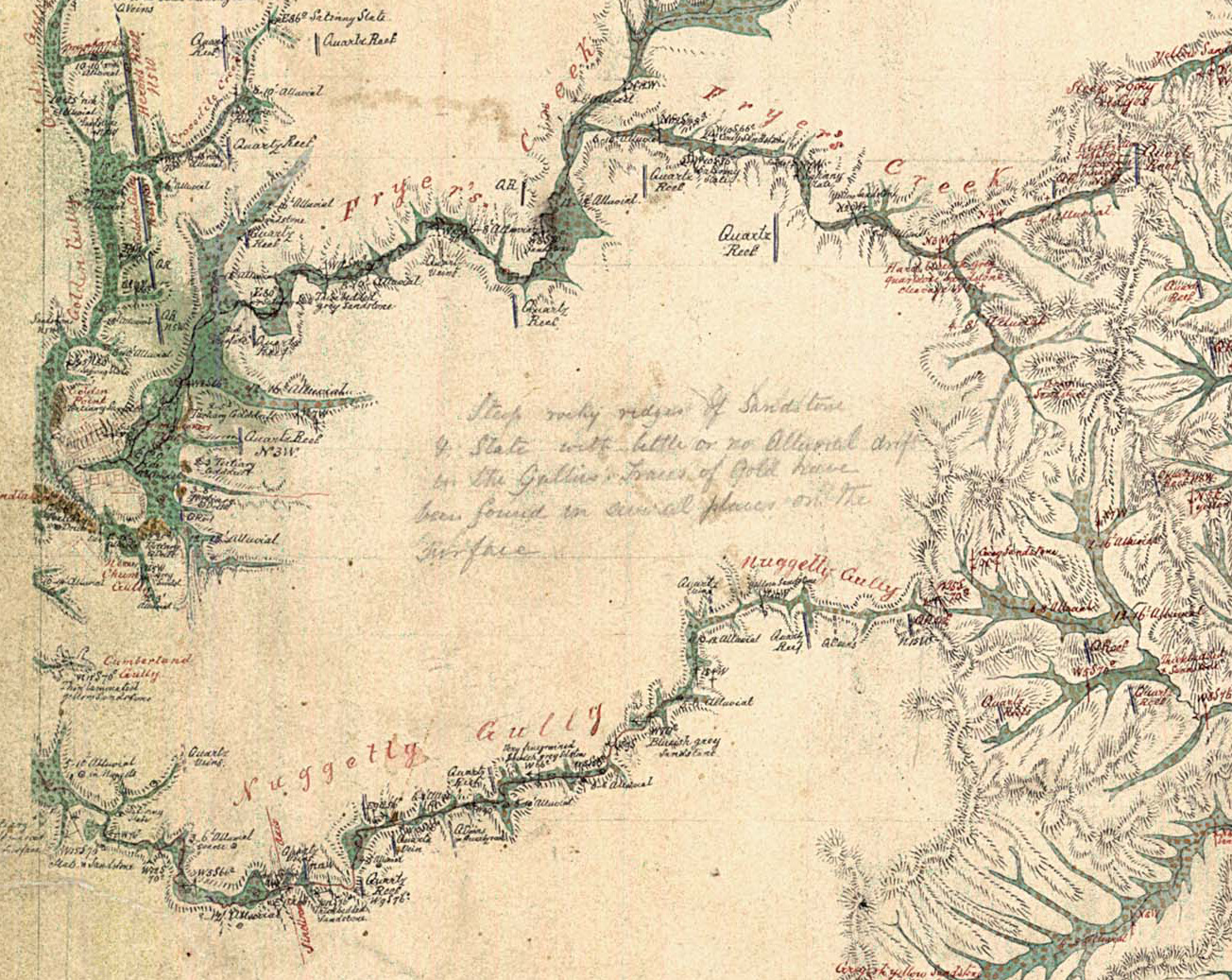 Taradale Parish Map including Nuggetty Valley, south of Fryerstown where James Vipond staked a claim with a partner & dug gold in 1874.
Map originally drawn by George Ulrick. Courtesy the Victorian Department of Energy and Resources.
Records about James Vipond after this time frame in the early 1870s on the gold fields near Fryers Creek become quite scarce. Apart from burial details at the Bumberrah cemetery, the only documented exception is one single newspaper article, which mentions our James Vipond's involvement and support for a new punt across the Tambo River at Swan Reach in 1882.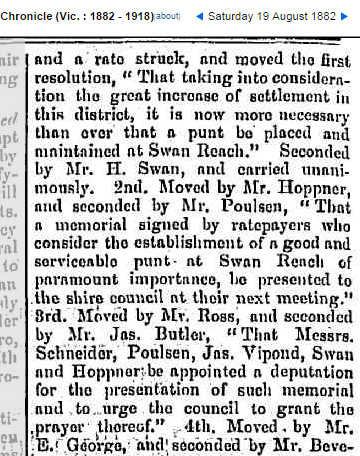 Extract of article re James Vipond's neighbours wanting a new Punt across the Tambo River at Swan Reach in 1892.
During this time frame, transportation of people, animals, and goods across the Tambo and Nicholson rivers, for personal educational and employment reasons were of vital importance to the development of far East Gippsland and its inhabitants.
Tambo River punt near Schmalens Bluff circa late 1890s. Courtesy Jack Cunningham of Swan Reach.
James Vipond died on the 28th Dec 1892, and his wife Mary Ann Vipond nee Bell passed away about 8 years later in May 1904, and were both buried at Bumberrah Cemetery on the outskirts of Swan Reach township.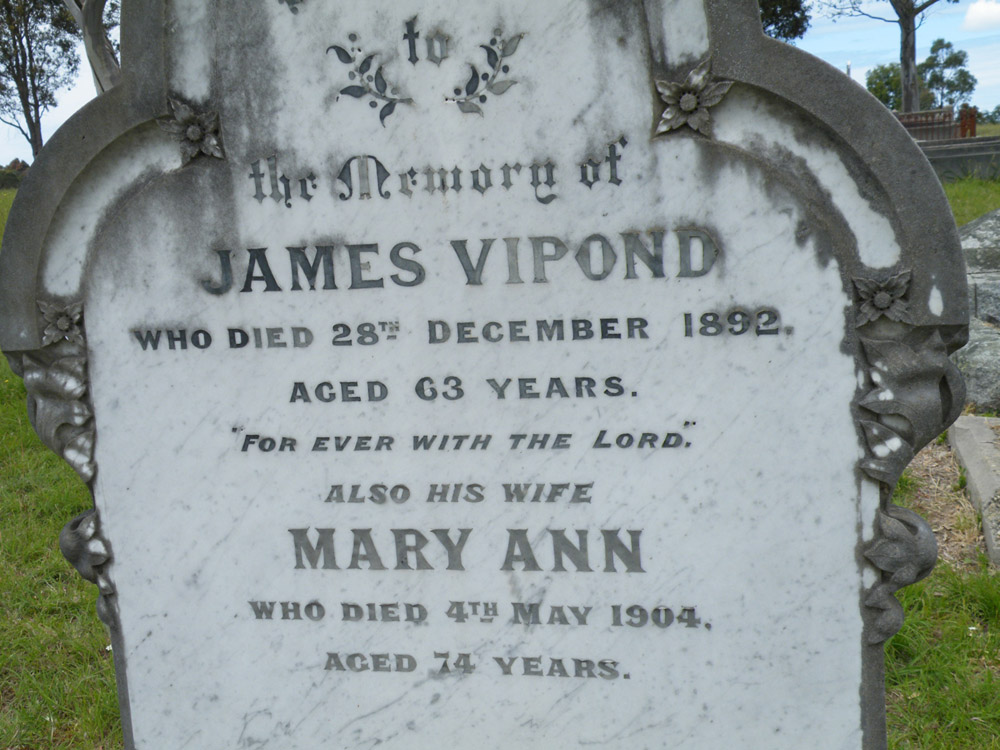 The well preserved headstone of James & Mary Ann Vipond nee Bell, at Bumberrah Cemetery in East Gippsland Victoria.
There is a varying degree of information regarding the next Generation of the six individual Vipond children in Victoria, however, it seems appropriate to portray an impression of their broad farming, educational, and political activities.
VIPOND FARMING AT SWAN REACH
A 1922 Parish Map of Swan Reach, indicating some of the local Vipond family land investments.
The title borders highlighted in blue were owned by John Vipond, the Teacher and School Master of Nicholson and Swan Reach Primary Schools, and his wife Margaret Fitzgerald, and it's clear brother William Vipond owned the farm highlighted in red, plus the house block on the main road, believed to have been the original manse owned by the Swan Reach Church of England (see Title below under William Vipond). It is logical to presume that the title highlighted in green was probably that owned by James Albert Vipond, and not by his father James, because both parents James and Mary Ann Vipond had passed away over a decade or two before this Parish map was surveyed.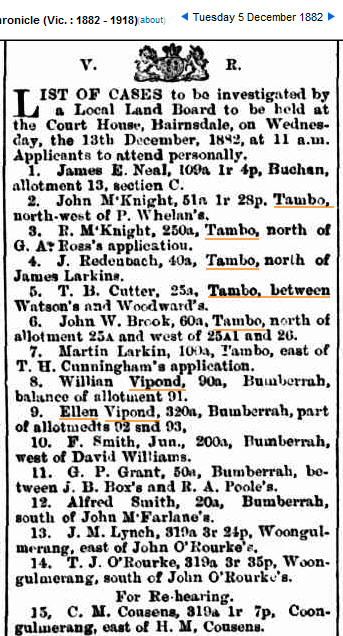 Land Selection cases, for Ellen Vipond, brother William Vipond, and brother-in-law Thomas Bell Cutter in 1882.
The three Vipond brothers were well and truly quite serious farmers, however it turns out William Vipond was also a Engineer most likely for the Tambo Shire, bridge builder, and keen property investor locally and later in Melbourne. Their sister Ellen also made a great decision to invest at Swan Reach too when only aged 22 and still single in 1882, along with brother William, and brother-in-law Thomas Bell Cutter, as above.
VIPOND EDUCATIONAL INVOLVEMENT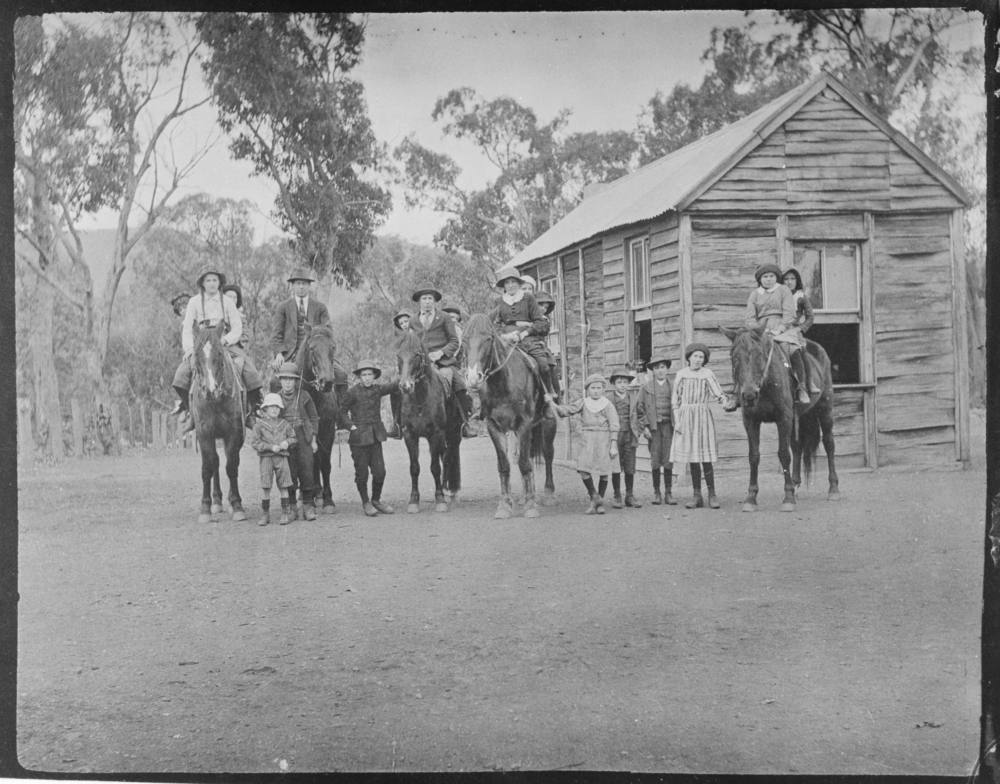 School near Pioneer River via Stratford c1915 - School master is second from left, wearing a tie. Photo by John Jackson.
Courtesy State Library Victoria.
The state school pictured above, may, or may not have been the school that Maria Bell Vipond went to as child at Stratford, however it would have been similarly basic, or maybe in a township setting. Family recollection in regard to the Swan Reach and Nicholson Primary Schools where John Vipond was the School Master goes along the lines that the Nicholson School itself in the 1880s was actually a bark hut with a dirt floor, and was leased for the sum of 1 Shilling per year.
John Vipond - School Master at Nicholson 1880s wife Margaret Vipond nee Fitzgerald - Teacher at Merdna 1903.
John and Margaret Vipond's daughter May Vipond
- Teacher Mernda 1909 married Rueben Holt teacher at Morwell 1914.
Margaret Ann Vipond first teacher (half time) at Swan Reach from Nov 1875 married John Rowe - Truant Officer 1870s.
Ellen Vipond - seamstress teacher at Tambo Lower, resigned in 1885, the year she married Emerson Richardson.
Resignation notice of Ellen Vipond as seamstress. Courtesy Victorian Government Gazette.
William Vipond district Teaching advisor per Department of Public Instruction.
VIPOND LADIES ON THE WOMENS SUFFRAGETTES PETITION OF 1891
In an extraordinary effort to gain the right to vote for all Victorian women, a handful of dedicated women took to the streets in 1891 to collect signatures for a petition to present to the Parliament of Victoria. The result was an impressive collection of close to 30,000 signatures from women from all walks of life. The petition was tabled in Parliament in September 1891, with the support of then Premier James Munro, the petition sought that
'Women should Vote on Equal terms with Men'.
Review the petition details from http://www.parliament.vic.gov.au

Signatures on the 1891 womens suffragette petition for voting rights, Ellen Richardson nee Vipond, Maria Bell Vipond and their mother Mary Ann Vipond nee Bell.
For more info re John and Hannah and Eleanor Vipond's children and related families,
please view Ancestry.com


JOHN VIPOND AND WIFE MARGARET FITZGERALD - ALSTON, CUMBERLAND U.K.
Limited info is available about the eldest son John Vipond, apart from according to family recollection, he was a keen cricketer, and one of the first teachers at Nicholson Primary School. He is believed to have played for the Bairnsdale Cricket club in 1876, in the well renowned "Challenge Cup". A newspaper cutting of relevance, from the Gippsland Times of Sat 6 May 1876, is quoted as printing -
"The Bairnsdale Cricket Club did not, we learn, retain possession of the Challenge Cup in a whole state for a very long period after its delivery, as while it was being handed round for inspection, after arriving at Bairnsdale, one of the gentlemen present dropped it on the floor, breaking it in several pieces. Under these circumstances, we presume the holders will have to make good the loss. Maffra will probably be the next challengers; though our contemporary's statement that Sale could not again challenge is incorrect, it only being the desire of the Sale Club to give Maffra a chance of obtaining possession of the cup that prevents them at once challenging the present holders."
The family story goes John Vipond was promoted to School Master (principle) in the same year of 1876. Some 6 years later he married Margaret Fitzgerald, a teacher from Melbourne, at the Wesleyan Church in Melbourne.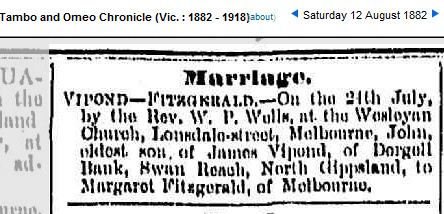 Marriage notice of John Vipond and Margaret Fitzgerald in Melbourne in 1882.
Dorgoll Bank mentioned in this newspaper cutting, was probably the name of the original Vipond family property at Swan Reach. John and Margaret had their only child May at Swan Reach in 1883, who became a teacher, and she also married a teacher, Rueben Holt.
The following excerpt from the Victorian Government Gazette indicates that John Vipond received a substantial payout, due to ill health / forced early retirement.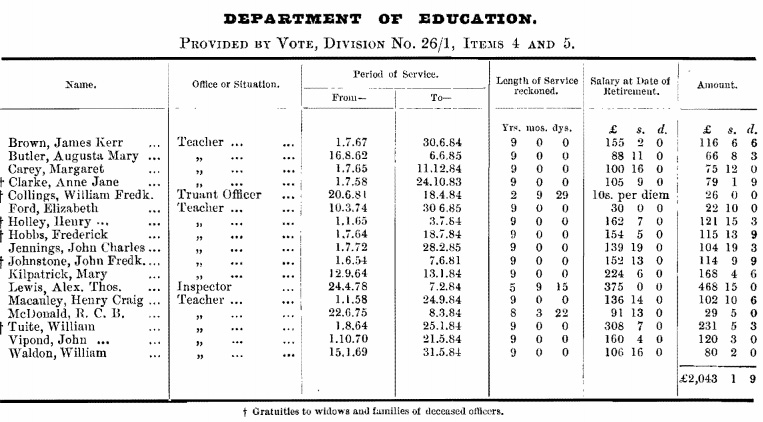 Official notification of 14 years of service as the School Master / teacher at the Nicholson and Swan Reach Primary schools, including John Vipond's payout of £120 at age 30 in 1884 - Courtesy the Victorian Government Gazette of 1885.
John Vipond passed away only 3 weeks after he received the above payment, as is buried at Bumberrah Cemetery, only a few miles from his property. He died from Consumption, a deadly lung infection, the old time term for Tuberculosis.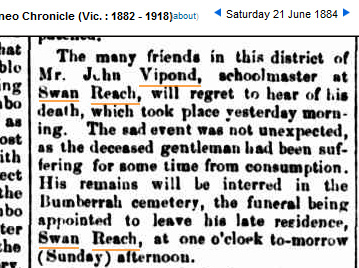 Funeral notice of John Vipond in 1884.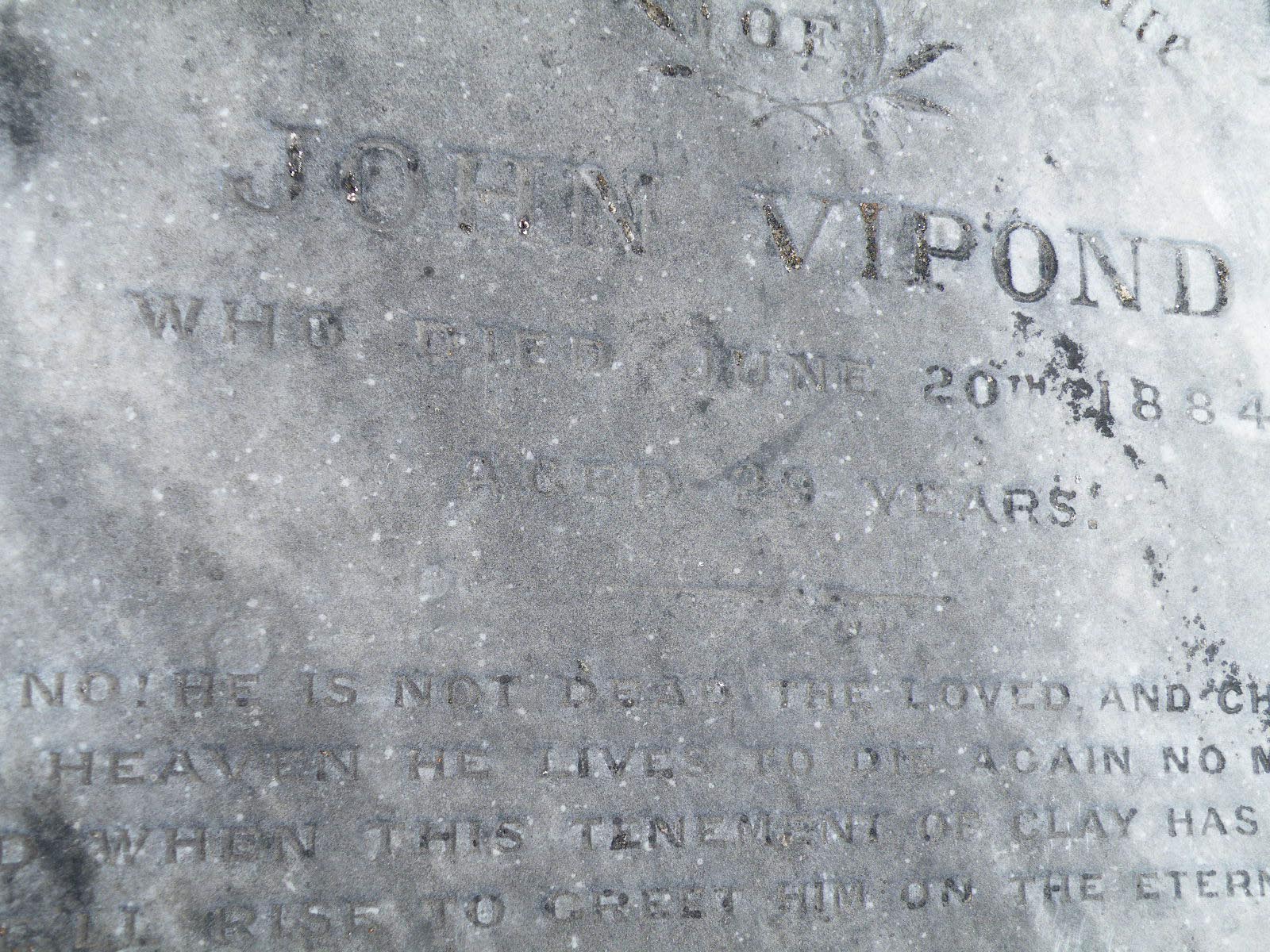 Inset of headstone of John Vipond at Bumberrah Cemetery.

Margaret Vipond advertising to lease the farm in 1887.
The term "immediate possession" would indicate Margaret had made up her mind to move off such a large farm, with lots of maintenance. Due to a gap in records Margaret's movements are unknown until 1903, when the Victorian Census of that year lists her living with her daughter May near Alexandra, a rural area north of Melbourne about 370 kilometres from Swan Reach. Another gap in confirmable records exists until her death at Warburton in 1929.
Inset of headstone of Margaret Vipond nee Fitzgerald at Bumberrah Cemetery.
Margaret Vipond nee Fitzgerald died in Warburton in the Yarra Valley district east of Melbourne in 1929, and is also buried at Bumberrah with her husband John.


MARGARET ANN VIPOND AND HUSBAND JOHN ROWE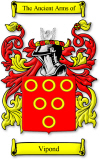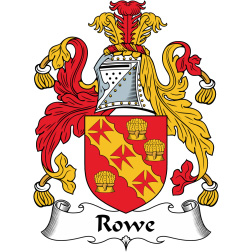 Family Crests for Vipond and Rowe.
John Rowe was born in 1855 in Camborne Cornwall, and he married Margaret Ann Vipond in 1877 in Victoria, who was born in Oct 1856 in Alston, Cumberland, to James Vipond and Mary Ann Bell. John was the son of James Rowe and Lavinia Terrill. Noted as a farmer on the official passenger list, James and Lavinia Rowe emigrated with their whole family from Camborne Cornwall, on board the Black Eagle, arriving in Melbourne in 1859, when John Rowe was only 3 years old. As some emigration records about the rest of James Rowe's siblings are difficult to confirm, we are not sure exactly who followed who to the Victorian Gold Fields, however all his (surviving) brothers and sisters except for Jane Rowe, came to same region of Fryerstown.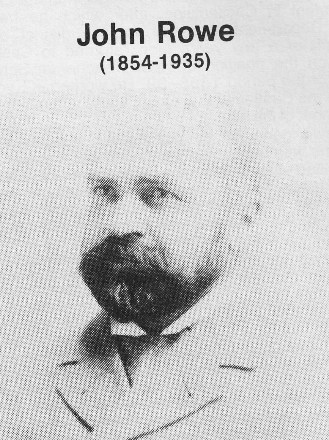 A rare portrait of John Rowe born Camborne Cornwall U.K. in 1854, husband of Margaret Ann Vipond, with special thanks to Margaret Hardy.
Records show Margaret Vipond's family were around the same region as John Rowe's family around Fryerstown, Fryers Creek, and Nuggety Creek near Castlemaine on the Victorian gold fields between 1870 and 1874, so one may agree these circumstances as to how and where they met so far from their home towns in England, and eventually married on the other side of the world in Australia, are also quite exceptional.
Frontispiece of Vipond family bible from 1855, showing the children of James Vipond and Mary Ann Bell.
Courtesy of Family of William John Richardson of Warragul Victoria.
Firstly, in regards to the movements of Margaret Ann and her Vipond family, we know they were located at Stratford, East Gippsland in 1864 when Maria Bell Vipond was born, and the Vipond family ended up nearly 500 kilometres away at Fryerstown Gold fields, where the last son James Albert Vipond was born in 1870. From mining records around Fryers Creek of this period, we know their father James Vipond was working the Gold fields at Fryers Creek and Nuggetty Gully from 1870 to at least 1874. Unfortunately, we have no indicators or clues as to how and where our Margaret Ann Vipond may have met with her future Cornish husband John Rowe, however when you review the fact that most of her Vipond siblings in Australia were into teaching, and that John Rowe was a Truant Officer from a young age, it is possible (but not provable), they may have met at the Fryerstown School in their teens.
Fryerstown School - Circa 1890s. Courtesy and more old Fryerstown photos Dave Timson.
It appears newspaper cuttings from the Fryers Creek region, obviously suggest our Vipond family probably moved away from the Gold Fields, back to East Gippsland somewhere around 1874 - 1875. Family recollections confirm historical records of the Bairnsdale Shire, which state Margaret Ann Vipond, was a teacher from quite a young age, and she initially taught about 20 young pupils at the Nicholson Primary school number 1716, along with her brother John Vipond, for a few years from around 1875 - 1877. So the theory goes, seeing that Margaret Ann's siblings in their twenties, were all able to buy farms and housing investments at Swan Reach back in East Gippsland, its likely their father James Vipond did very well gold mining at Nuggetty Gully around 1874, and may have been able to provide such financial investment assistance to all his children.
Margaret Ann Vipond probably had no other option than to resign as a teacher by the Education Department, due to her pending marriage to John Rowe and having children, as was often the case back in those days. Margaret Ann Vipond and John Rowe were married in Victoria in 1877, and they had 3 sons on the Gold Fields at Fryerstown from 1878 - 1884, and a daughter Florence Lavinia in 1886 at Hawthorn in Melbourne. Unfortunately little Florence passed away the next year at Springvale, believed to be the property of William Calvert, on the Mitchell River near Bairnsdale. The informant was Emerson Richardson, Margaret Ann's brother-in-law.
Death Certificate of Florence Lavinia Rowe in 1887 near Bairnsdale. Courtesy Ann West of Brisbane.
Sadly Margaret died the following year at Kyneton aged 30, after only being with John Rowe about 10 years. After Margaret's death in nearby Kyneton, John moved on, and had a further 2 marriages and 3 more children around the Castlemaine region, where he lived out his life, and passed away in 1935.
Death notice of 1887 for Margaret Ann Rowe nee Vipond, wife of John Rowe, truant officer.
Two years later John Rowe married Margaret Bowman, and they had one son and two daughters between 1890 and 1903. Margaret passed away in 1914, and in 1915 he married a younger cousin Annie Louisa Rowe.

Victorian Government Gazette notice for John Rowe's promotion in 1896.
This newspaper cutting informs us John Rowe received a promotion to become the Mines and Machinery Inspector, in 1896, and coincidentally ended up as the Mining Inspector for the Castlemaine Mining Board his uncle Hannibal Orchard Rowe was chairman of, many years before.
Newspaper cutting of John Rowe working as the District Mining Inspector for the Castlemaine Mining Board in 1907.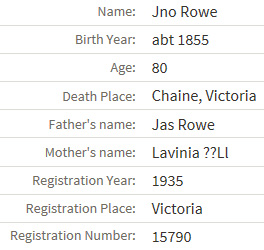 Death record of John Rowe at Castlemaine in 1935.


WILLIAM LATMOS VIPOND - ALSTON, CUMBERLAND U.K.
Unlike sister Margaret Ann Vipond as outlined above, a fair amount of historical info has been gathered together for presentation here about William Vipond, mainly from records, newspapers, and family recollection. After reviewing many facts, it seems William Vipond, a farmer like his brothers and father, may have been considered as far more adaptable, community minded, and entrepreneurial than his siblings, yet still retained the traditional family interests in Education. Then there are other aspects to William, his ability in playing cricket, similarly to his older brother John, yet William was an exceptional bowler, and he was an engineer and bridge builder, plus he was extremely family focussed and supportive. Logically he was extremely close to his sister Ellen Richardson nee Vipond, as they are buried in the same small plot, and share the same headstone at Bumberrah cemetery.
William Vipond - a top bowler, playing for the Swan Reach team in 1894 in his mid 30s.
Even though his eldest brother John died in 1884 when he was the School Master at Nicholson, the family involvement in education continued. In 1896 William Vipond was appointed as a Member of the Boards of Advice for the school district of the Bumberrah riding of the Tambo Shire.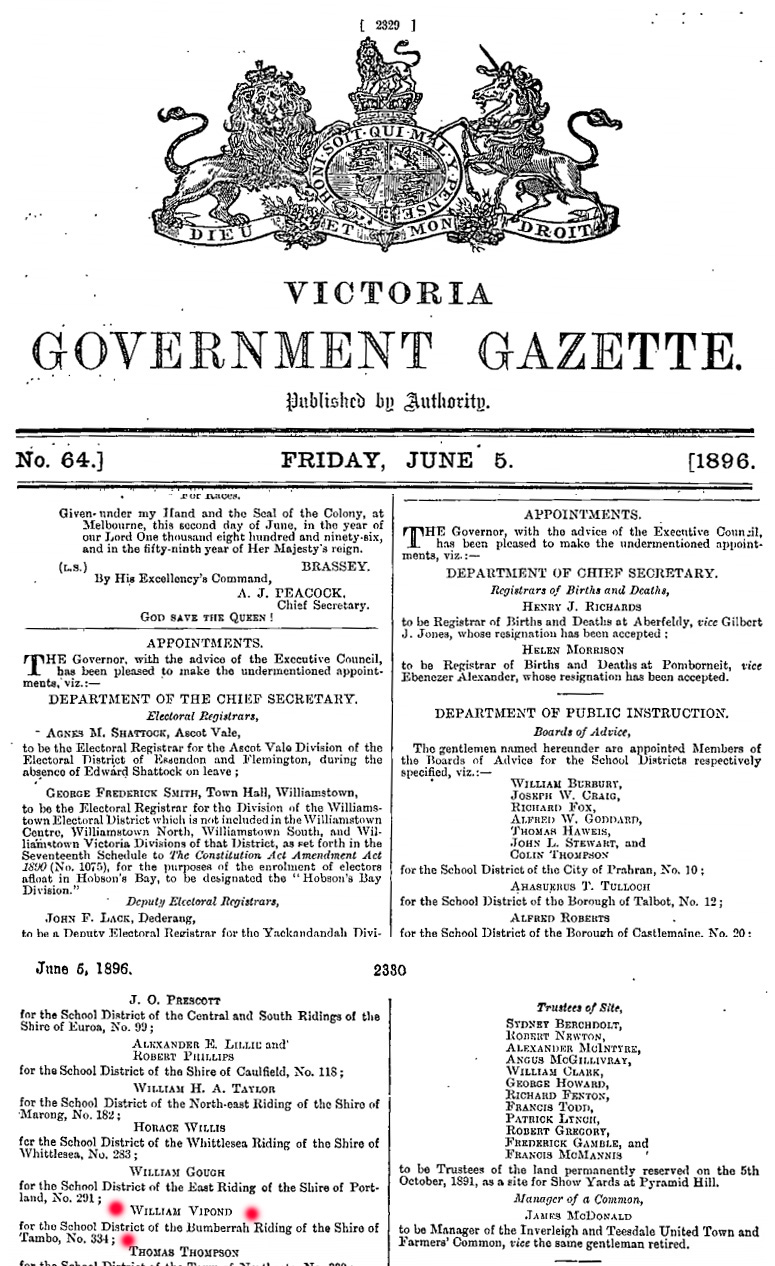 William Vipond elected as a school advisor for the Bumberrah riding in 1896.
From the previous map above, we know William Vipond owned a 130 acre farm on the outskirts of Swan Reach, and from recent contact with a current Swan Reach resident, it has come to light William purchased what appears to have been the Manse of the Church of England on the main highway, between the general store and the Church. Deduced from his known involvement with, plus the support William gave the Richardson family in later years, it is highly likely this house is where his sister Ellen, brother-in-law Emerson Richardson, and their children lived, as family recollections clearly state that Emerson Richardson and his family were "Pioneer Settlers of Swan Reach". Searching of records have not found any titles owned by any Richardson individuals at swan reach during this time frame.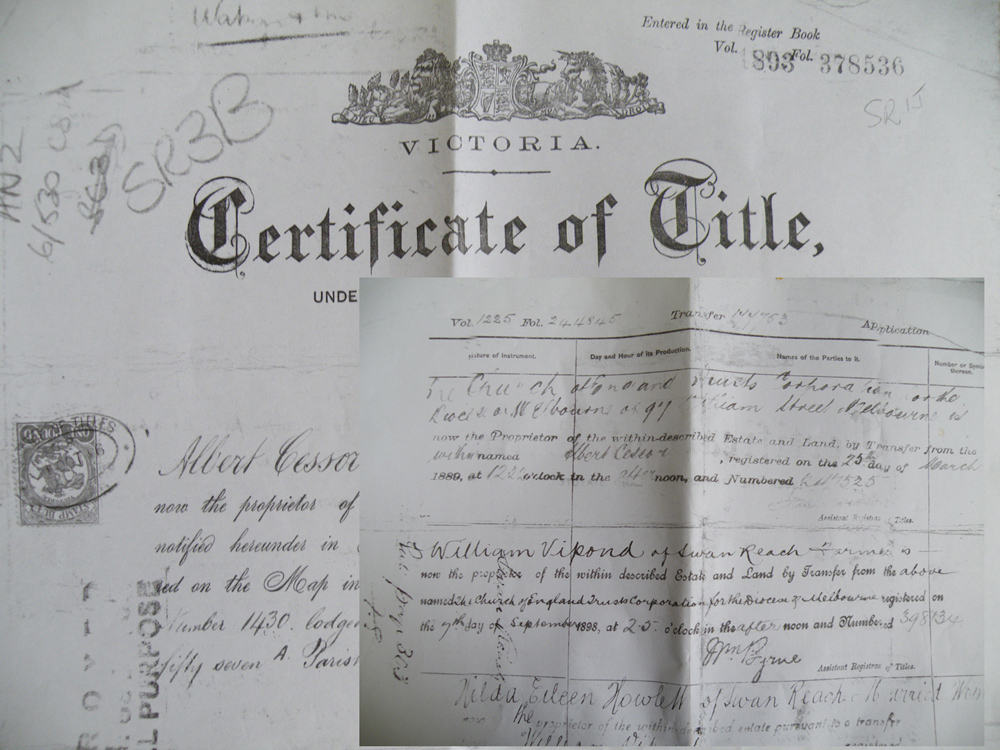 Title of the Manse owned by the Church of England, as purchased by William Vipond in 1898.
Family history stories passed on from the late Joan Liddell Richardson, mentioned that William Vipond was also an engineer, bridge builder, and carpenter, who is believed to have worked for the local Tambo Shire in the early 1900s, when he wasn't working on his farm at Swan Reach. Family folklore goes along the lines that John Vipond worked as supervisor on some major regional bridge projects, with his sister's Ellen's son Jack Richardson on his work crew including Hospital Creek (burnt down 2011) and the Orbost trestle bridges. Your web host actually lived with Jack (John Victor) Richardson in the 1960s, and a more humble gentle caring gentleman, you would never meet.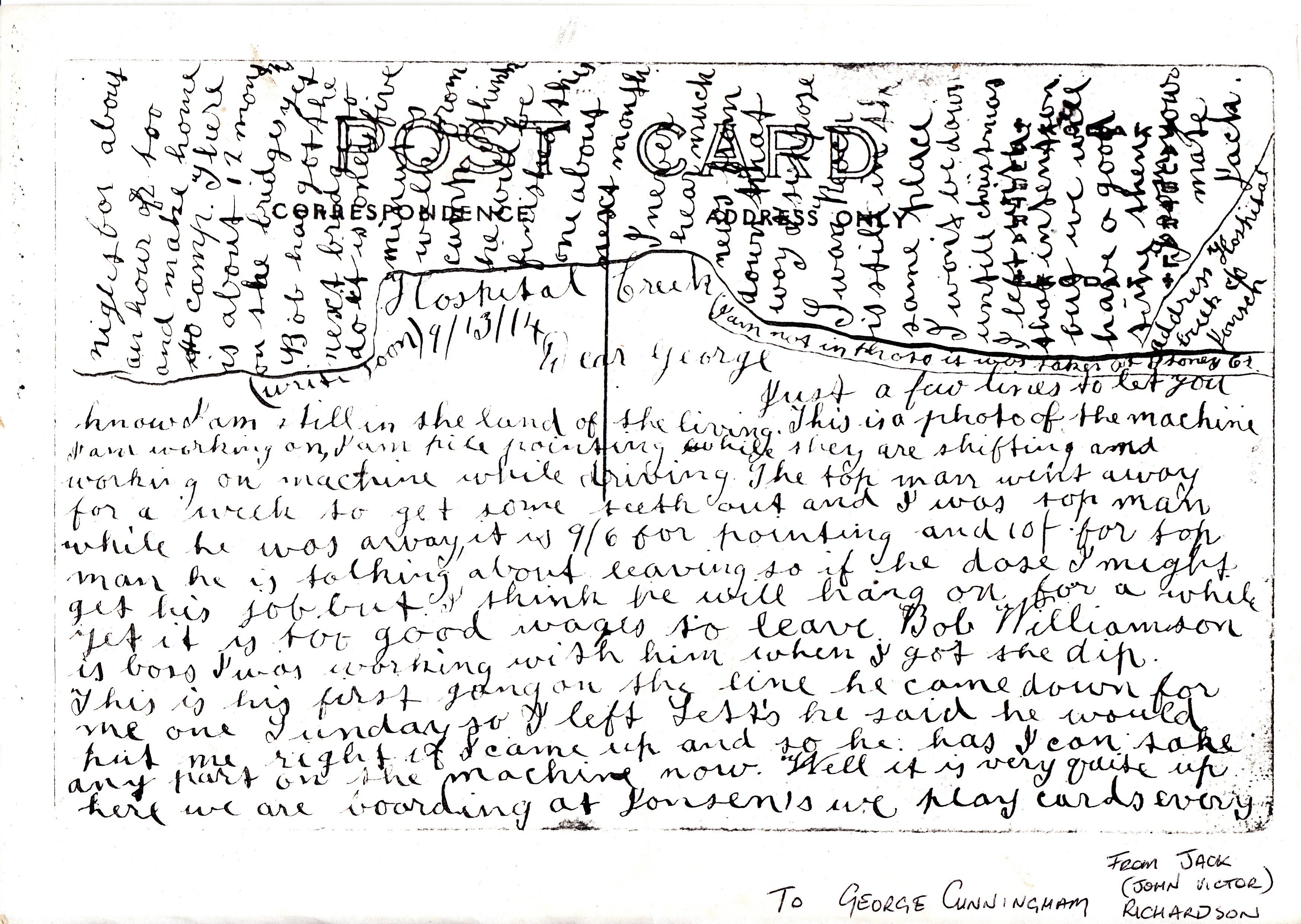 Back of picture postcard written by Jack Richardson in 1914 to George Cunningham, a good friend, and also uncle of Annie Liddell on her mothers side. Click picture to enlarge.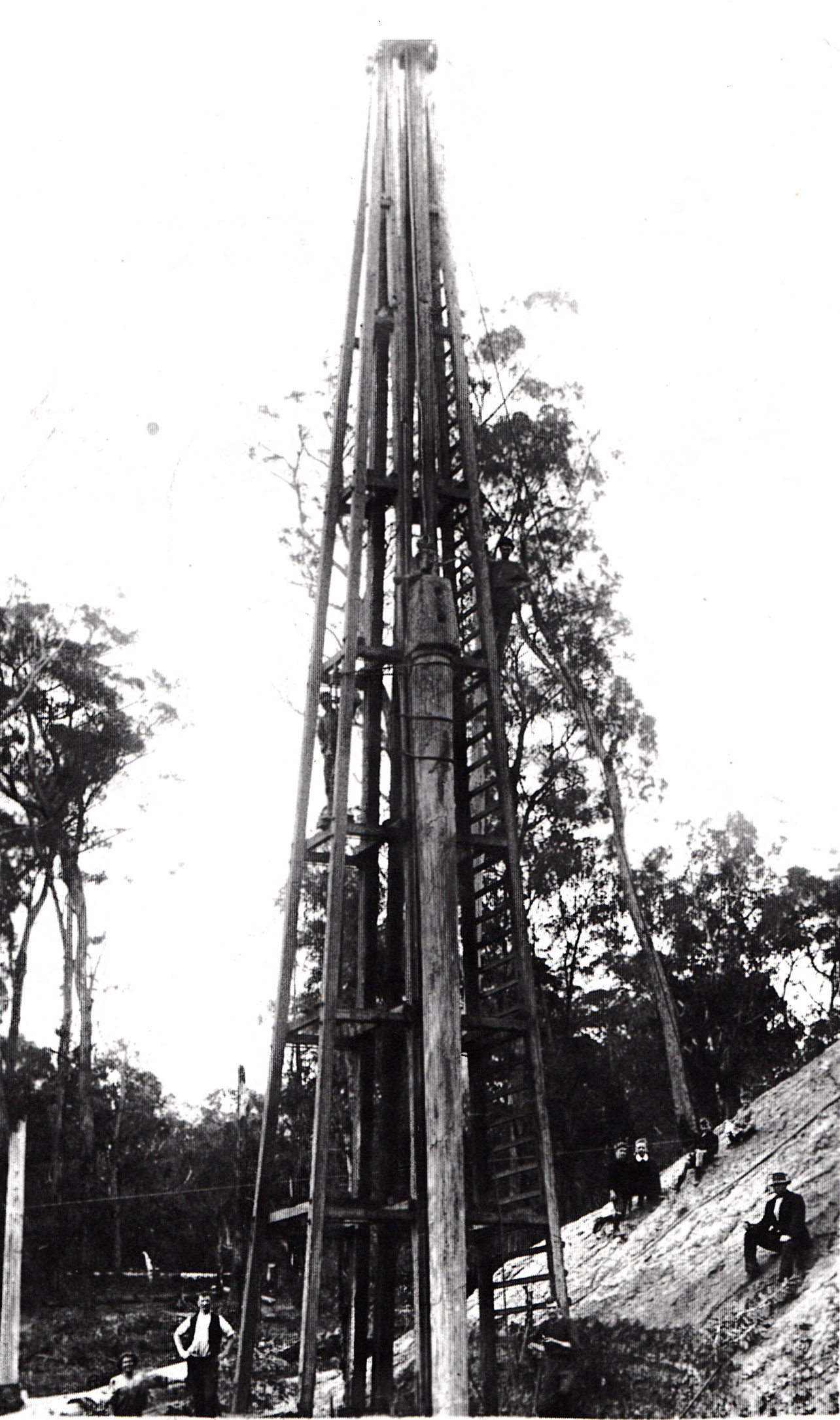 Typical Picture Photo postcard of this era, showing the pylons going in for the Hospital Creek bridge.
This is Jack Richardson's work crew with his uncle William Vipond probably in charge in 1914. Click picture to enlarge.
In 1914 the Victorian Census lists William Vipond as a 55 year old farmer who had moved to Maffra, which happens to be about 20 kilometres away from his sister Maria Bell Cutter, and brother-in-law Tom Cutter. William's two nieces Stell and Ellen (Nennie) Richardson were also living with the Cutters around this period, and were both training under Maria Bell to become milliners (hat makers). Of course this was the year World war one commenced, which played a huge part in the lives of many rural Victorians, and saw many families moving to Melbourne for work, and to support the war effort.
William Vipond also had a keen eye for an investment, and his combined income from his farm and engineering / building work, led to a situation where he was able to buy 3 investment houses around 1920, numbers 37, 39 and 50 over the road in McKinley Avenue Malvern, an inner eastern suburb of Melbourne. As it turned out Ellen's husband Emerson Richardson deserted the family about 1901, leaving the family to fend for themselves at Swan Reach. Son Jack returned from World war one a Limbless Soldier in 1917, and his brother returned at the same time and died that year of Diabetes.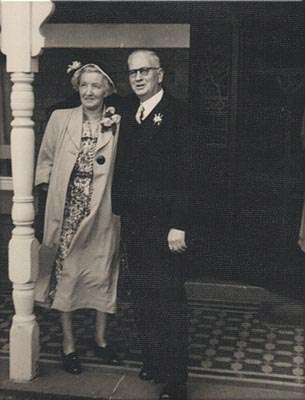 Jack & Annie Richardson, pictured at their McKinley Ave home in Malvern owned by William Vipond - photo circa late 1940s.
Daughters Stell and Ellen (Nennie) were recorded in the 1924 Census as living in McKinley Avenue Malvern with their mother Ellen and their uncle William Vipond, with Jack Richardson an his wife Annie Liddell and growing family, (including your web Host's mother Rae), living almost directly over the road in another of William's investment houses.

Census of 1931 showing William "Latmos" Vipond, well after he retired and moved to Malvern in Melbourne.
For unknown reasons, William Vipond registered himself as William Latmos Vipond in a few succeeding Census registrations, Latmos being not known or located in any family records as a family name of any connection in any way. William Vipond died of a heart attack aged 84 in one of his houses in McKinley Avenue Malvern in 1943.
Headstone of William Vipond and his sister Ellen Richardson, who both died in Melbourne and were buried at Bumberrah 300 kilometres away.
Family recollection claims he had a special "soft spot" for his niece Stella Richardson, which was only recently confirmed by a Probate notice located that denotes Stella Richardson as William's Executrix of his estate.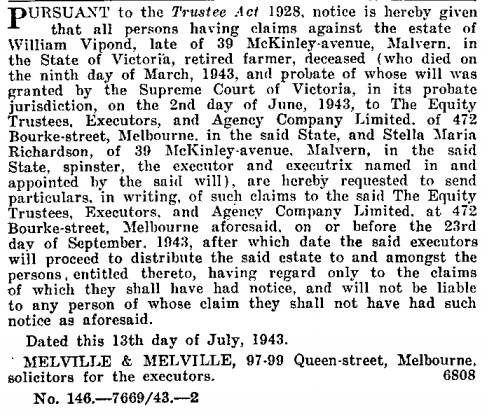 Probate notice of 1943 for william Vipond, acknowledging niece Stella Richardson as the estate Executrix.


ELEANOR VIPOND AND HUSBAND EMERSON RICHARDSON - ALSTON, CUMBERLAND U.K.
Timeline starting with Joseph Richardson in 1791 & Thomas Vipond in 1805 showing very early Vipond / Richardson family ties, stemming from Alston in Cumberland U.K..
Born in 1860 back in Alston, U.K., Eleanor (Ellen) Vipond had a pretty amazing life, and also some pretty tough times, after she and her family emigrated to Australia in 1863 aged 2. As outlined above, Ellen's parents and family spent some time in East Gippsland in the 1860s and on the Victorian Gold Fields at Fryerstown around 1870.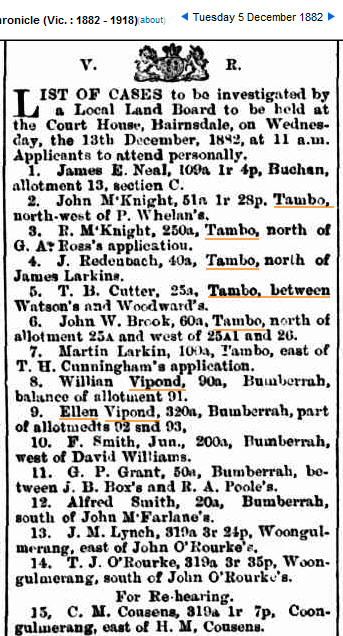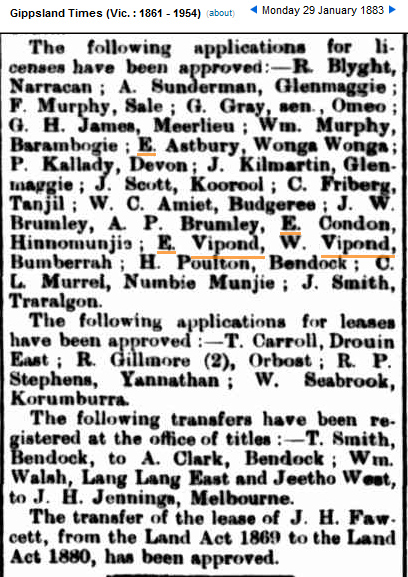 Record of Ellen aged 22 and brother William aged 24 selecting land adjacent to the Orbost Railway line, north of Swan Reach township and other family properties, in 1883.
Ellen aged 25, married Emerson Richardson from Alston aged 32, in 1885 in Victoria, and had 4 children around the Bairnsdale / Swan Reach area of Victoria. Family folklore and newspaper records show Emerson worked as a gravel contractor, supplying and delivering material for making local Shire roads, however he was an alcoholic, and basically deserted Ellen & the 4 children in 1900.
For more details about Emerson Richardson and his family branch from Alston, please refer to Richardson Family Tree.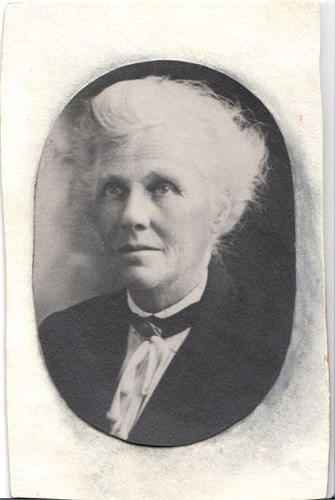 Portrait of Ellen Vipond taken about 1930.
It is an unusual privilege to be able to present a portrait or photo of a family relative like the one of Ellen above, who was born in another country over 150 years ago. The Vipond and the Richardson families have been termed by our last family generation as "Pioneers of Swan Reach" in East Gippsland, so it seems to be a respectful approach to at least acknowledge Emerson's efforts to be a provider for his family, as he had a proven track record of Shire contracts in the 1880s & 1890s.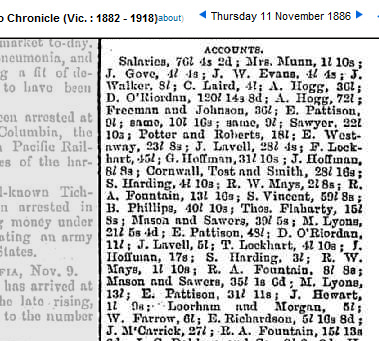 A well paid Emerson Richardson earning 5 pounds 10 shillings and 8 pence, working as a road gravel and maintenance contractor, for the Bairnsdale Shire in 1886.

Resignation record of Ellen Vipond, finishing her seamstress teaching career, in 1885. Courtesy Victorian Government Gazette.
Reviewing Ellen's personal timeline of movements below, shows a common thread of many rural Victorian residents, who realistically had very few options in the years leading up to World War One than to consider moving to the big city of Melbourne, in order their family was able to survive. Ellen and her family moved to Cunninghame (Lakes Entrance) some time before 1909, according to her Census Record. Like many country folk battling to survive in this era, Ellen wisely made the move to take her family to 82 Wattle Tree Rd Malvern, an eastern suburb of Melbourne by 1915. In the early 1920s, she resided with her children in one her brother William Vipond's investment houses in McKinley Ave Malvern.
Timeline of Ellen Richardson nee Vipond from 1860 in Alston U.K. to 1943 in Malvern Victoria.
It must have been a horrid time for Ellen around 1900 when her husband Emerson deserted her and her 4 children at Swan Reach. As it turned our her two sons John Victor Richardson (Jack) and William Allison Richardson (Will) both signed up to serve in World War One for Australia. Jack returned as a Limbless Soldier after losing his right arm fighting in France in 1917, and Will died of diabetes at Swan Reach also in 1917.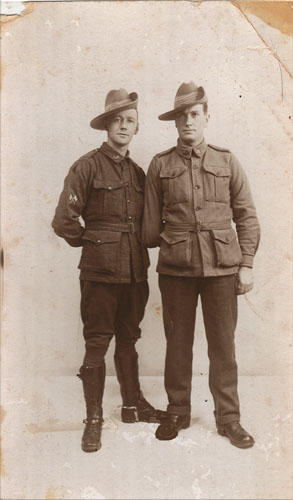 The only known photo of William Allison Richardson, from left, brothers Will and Jack Richardson - early Feb 1917.
As far as Ellen's two daughters are concerned, Census details of the early 1900s indicate Ellen's two daughters Stella Maria and Ellen (Nennie) spent quite a few years living with Ellen's sister Maria at Stratford after their parents separated, where these two sisters learnt to be milliners from their aunty Maria Bell Cutter nee Vipond.
Census of 1914 showing Stella Maria and Ellen (Nennie) Richardson living near Tom and Maria Cutter at Stratford.
It is well worth mentioning our family recollections basically summarize Ellen Richardson nee Vipond was an extremely gentle, soft and caring person, who exhibited extremely strong family connections and ties. The results of the process of time, tend to portray a close bond of Ellen with her brother William Vipond, as Ellen ended up living in one of her brother's investment houses in Malvern from 1924 and onwards.
Ellen died on 7th May in 1944 in her home in Malvern that was owned originally by her brother William Vipond, and was buried with her brother at the Bumberrah Cemetery in 1944.


MARIA BELL VIPOND AND HUSBAND THOMAS BELL CUTTER - STRATFORD VICTORIA AUSTRALIA.
Unfortunately there are not many family recollections about Maria Bell Cutter available, apart from the fact she took her two nieces Stella Maria Richardson and Ellen (Nennie) Richardson into her household near Stratford, sometime around the start of World War One. Sadly their father Emerson Richardson deserted the family around the year 1900 at Swan Reach, and its likely their mother Ellen Vipond was having trouble feeding the family, so she had moved to Wattletree Road in Malvern in the eastern suburbs of Melbourne about 1915.
Mariah taught her two nieces the Millinery trade, which turned out to become a substantial part of these two sisters' livelihood, when they moved to Melbourne too. Stell and Nennie's niece, the late Joan Liddell Richardson, also happened to mention her great aunt Maria Bell Cutter insisted that her name was definitely pronounced "Mar-eye-ah" and not the traditional "Mar-ee-ah".
From the following newspaper articles, we can piece together firstly that Maria Bell Vipond, was an extremely "hands on" woman of her time, as she arranged a land Lease for farming property from 1883 - 1890 at Tambo in her own name, which was quite an extraordinary feat for a woman of this era. Similarly her soon-to-be betroved man, Thomas Bell Cutter, also arranged to Lease land in Tambo in 1883 too, which is possibly the means by which Maria and Thomas met, ie. living close by each other in the same district of Tambo. A closer look at the Title numbers, Thomas had Title 22A, and Maria had Title 28P, so without being able to locate a Parish map to date, it is fairly safe to say they probably lived in the same road, or even somewhere closer than the next hill or river.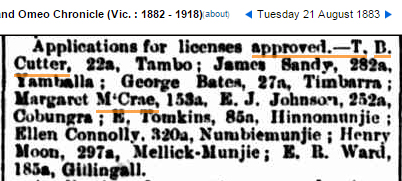 Farming Land Lease notices for Maria Bell Vipond and Thomas Bell Cutter in 1883, well before they were married.
It would appear Maria Bell Vipond was a very community minded individual, who believed it was worth giving credit where credit was due. Apparently in 1904, Mariah found herself in the situation she needed to make an Insurance claim, resulting from a serious house fire at her home in Macleod St., Bairnsdale, in September 1904.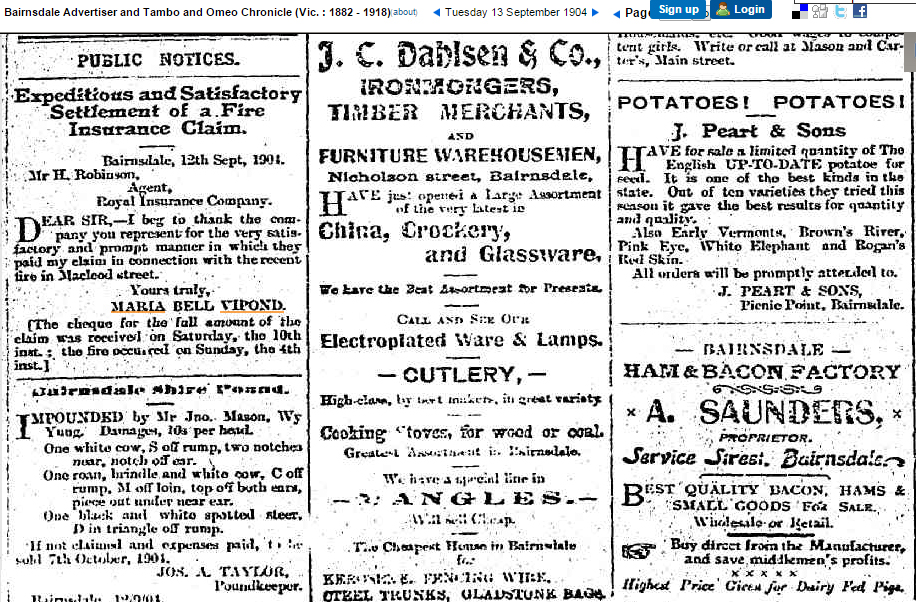 Newspaper cutting of above insurance claim of Maria Bell's home at Bairnsdale in 1904.
It seems to be an ironic coincidence, that the above Public Notice in the Bairnsdale Advertiser and Omeo Chronicle of 13th Sep 1904, placed in good faith by Maria Bell Vipond, shows an advert for Alexander Saunder's bacon supplies at bottom right, whose daughter Emily, married her husband Thomas Bell Cutter, some after Maria passed away. The Pearts shown in the Potatoes advert, were also related by marriage to the Saunders.
As far as Maria Bell Vipond's husband is concerned, it is likely, (but not confirmed), Thomas Bell Cutter may have been distant relation of some sort, as his mother shared the exact same namesake of his wife's mother, being also a "Mary Ann Bell", but from Tynemouth in Northumberland.
Marriage of Thomas Bell Cutter and Maria Bell Vipond in 1908.
Mariah Bell was born at Stratford, and she must have really liked the district, as she was the only one of her Vipond family, who ended up living in this immediate locality, in her later adult years. She married Thomas Bell Cutter in 1908, and they became well known cattle graziers and breeders.

Bullocks and Heifers for sale by Tom Cutter, from 1910 - 1918.
There is some mystery surrounding the actual residential location of Maria Bell Vipond and Thomas Bell Vipond, as the towns of Boisdale, Maffra, Briagolong, and Stratford, are in close proximity of each other, and all are mentioned around this time frame. The two 1914 Census listings that follow, implies the Cutters may have owned two properties in this area, the main farm called Bushy Park, and possibly a cottage or hat shop in Stratford, where Nennie and Stell Richardson probably worked and lived. Stratford itself is still on the main highway these days.

Census record of 1914, showing the Cutters in the electoral district of Briagolong.
Census of 1914 showing Stella Maria and Ellen (Nennie) Richardson living near Tom and Maria Cutter at Stratford.
Death record of Maria Bell Cutter nee Vipond who likely died in one of the homes of her brother William Vipond in Malvern, in 1920.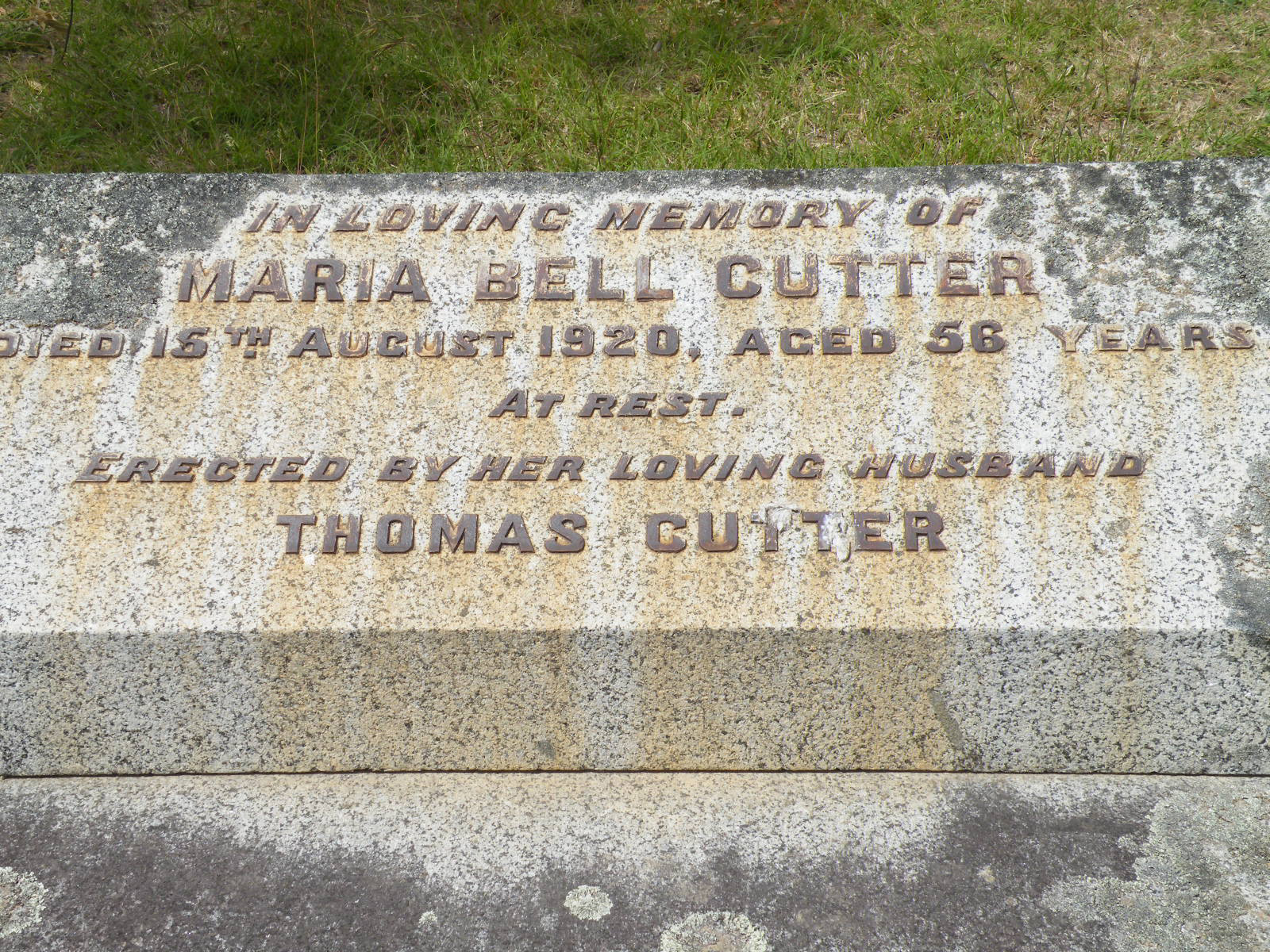 Headstone of Maria Bell Vipond at Bumberrah Cemetery.
THOMAS BELL CUTTER - TYNEMOUTH, NORTHUMBERLAND, ENGLAND.
From U.K. Census records, it has been surmised Thomas Bell Cutter came from a long standing farming background, his family lived at least a few generations at Shire Moor near Monkseaton, only a few miles from the North east coast of England. Thomas Bell Cutter had 7 siblings, and his father was George Cutter, and just to confuse the issue, his mother was also named Mary Ann Bell from Tynemouth, as was his wife's mother's namesake, another Mary Ann Bell who was from Alston. It appears Thomas Bell Cutter was the only one in his family who emigrated to Australia, however his second youngest sister, Elizabeth Ann Cutter married a William Charlton and went to Canada to live.
1861 Census showing the extended family of Thomas Bell Cutter at Shire Moor House, Monkseaton near the coast.
It would seem the Cutter family were quite well off financially, as Thomas Bell's grandparents Thomas and Mary Bell, ran the family farm of 196 acres at Shiremoor, where he lived as a youngster, and they employed 2 agricultural labourers in 1861. Ten years later Thomas Bell cutter is noted below at aged 16 as House Servant, and the family farm employed an indoor farm servant, a general servant, and a nurse.

1871 Census showing the extended family of Thomas Bell Cutter at Shire Moor House, with 5 siblings.
A relatively recent photo of the Cutter's Shire Moor House, Courtesy Cathy Charlton, Canada, taken 1989, per ancestry.com
It appears Thomas Bell Cutter emigrated to Australia on board The Boomerang the following year, which landed in Sydney in New South Wales in November 1872. Basically no official records have been located as to the whereabouts and life of Thomas since his arrival in Australia, yet he met up with and married Maria Bell Vipond, and lived in the Stratford area of Gippsland.
Emigration record of Thomas Bell Cutter in 1872.
We know Maria Bell Cutter nee Vipond passed away at Malvern in Melbourne in August of 1920, yet we are unsure as to why the Cutters sold their "Bushy Park" farm at Boisdale, only five months before Maria's death. Perhaps Maria may have developed some serious health problems, or possibly she was just visiting the family in Melbourne when she died, or maybe they were in the position to retire altogether from grazing, as Thomas was 65 years old in 1920.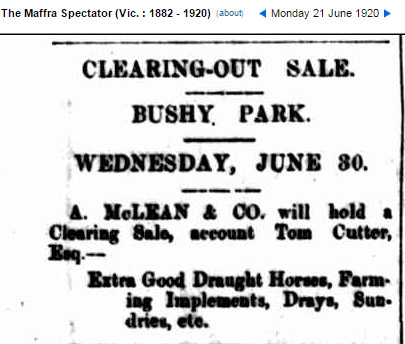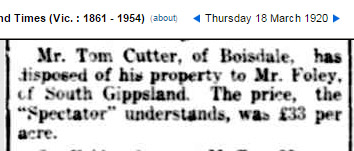 The above newspaper cuttings are the last known references of Thomas Bell Cutter, being a Grazier near Stratford. The Victorian Census records show Thomas Bell Cutter was living in Scott Street in the big township of Bairnsdale in 1927, still noted as a farmer. At the age of 70, Thomas Bell Cutter remarried Emily Alice Saunders in 1925, the eldest daughter of Alexander Saunders and Alice Melbourne. Emily Alice and her family arrived in Victoria on board the Kent, on the 23rd Sep 1852, Emily being the eldest of 11 children in total.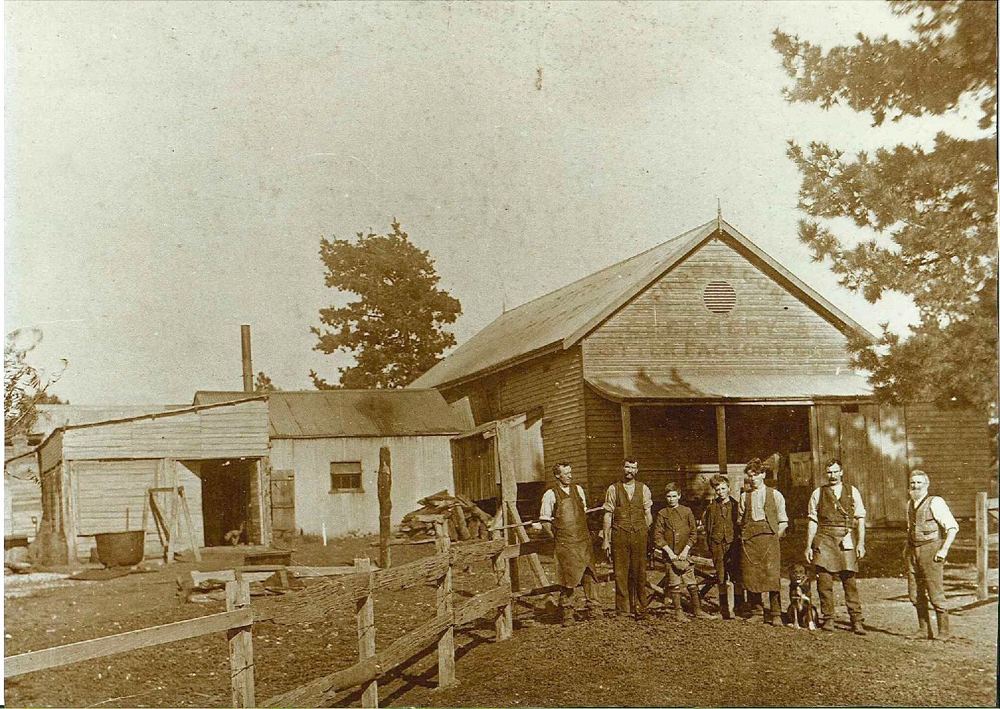 Alexander Saunders on right, in front of the butter factory at Traralgon, he converted to cure bacon.
The Saunders were a well known family who cured and sold bacon from their own converted butter factory in the township of Traralgon in central Gippsland, and they ran two family operated shops over the years, in Rosedale and Bairnsdale.

Census of 1927 showing Emily Alice and Thomas Bell Cutter, married and owning their two houses in Bairnsdale.
One may gather from census and other records, Emily was quite a clever and very independent woman of her time, as after their marriage, Emily is noted as having a house in McLean Street Bairnsdale in 1927, and Thomas had a house in Scott Street Bairnsdale, and he was still listed as a farmer. The 1928 census indicates they were both together at the Scott street residence. Summing up it appears Thomas Bell Cutter had had two wives and no children, before he passed away some years later aged 95, and he was buried at Bairnsdale cemetery in 1950, and Emily was buried at Mentone in 1961, a bay side suburb of Melbourne.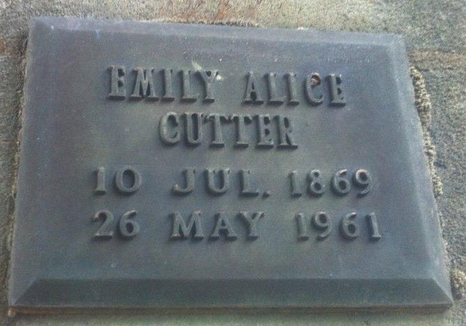 Burial plaque of Emily Alice Cutter nee Saunders of 1961, at Springvale Cemetery Victoria - Courtesy Billiongraves.com


JAMES ALBERT VIPOND - FRYERSTOWN VICTORIA AUSTRALIA.
James Albert Vipond was the sixth child of James Vipond and Mary Ann Bell, and he was born on the Victorian Gold Fields on 16th Aug 1870 at Fryerstown, about 80 klms north of Ballarat. Few records or family recollection have been located regarding James Albert Vipond, as he died quite young in rural Victoria in East Gippsland.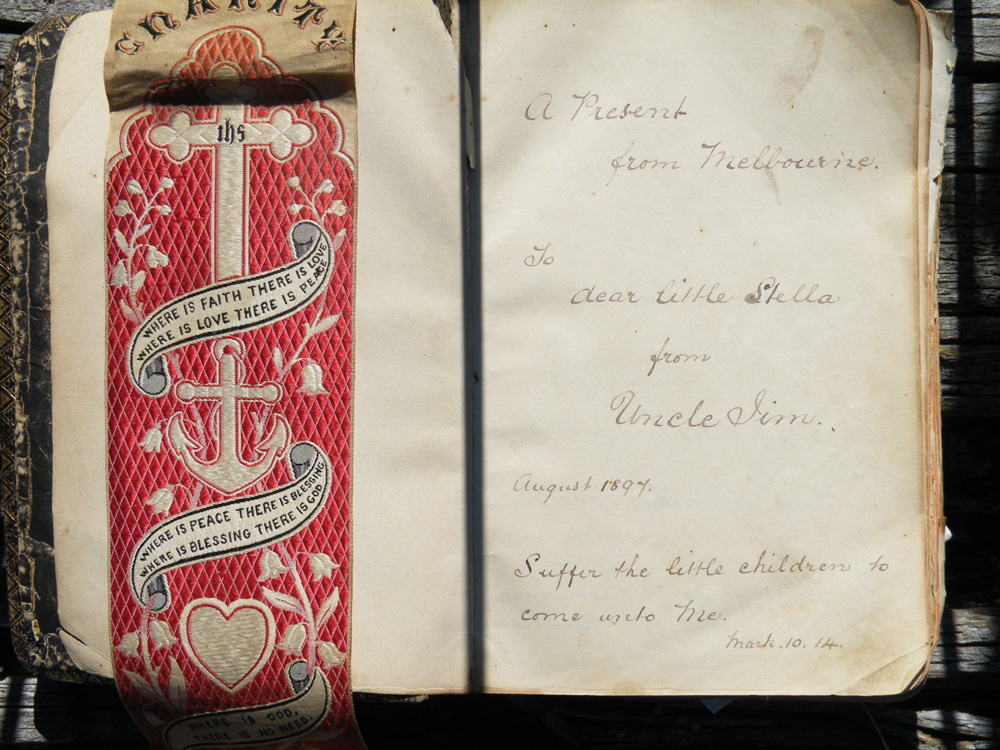 Stella's bible and bookmark - a special gift from uncle James Albert Vipond.
From the above image of a very special gift from Jim Vipond to his niece Stella Maria Richardson, divulges he did spend some time in Melbourne in 1897, and like his older brother William Vipond, he too also had a close relationship with the Richardson family form swan Reach, especially also with Stella Richardson aged 8 in 1897.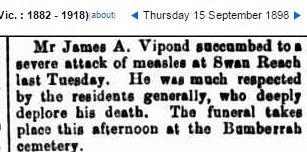 Sadly, James Albert Vipond only lived to 28 years, and died of the Measles, in his home town of Swan Reach in 1898.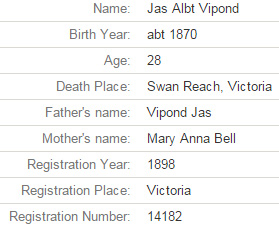 James Albert Vipond died at Swan Reach in 1898, per this notice, and his headstone at Bumberrah Cemetery as below.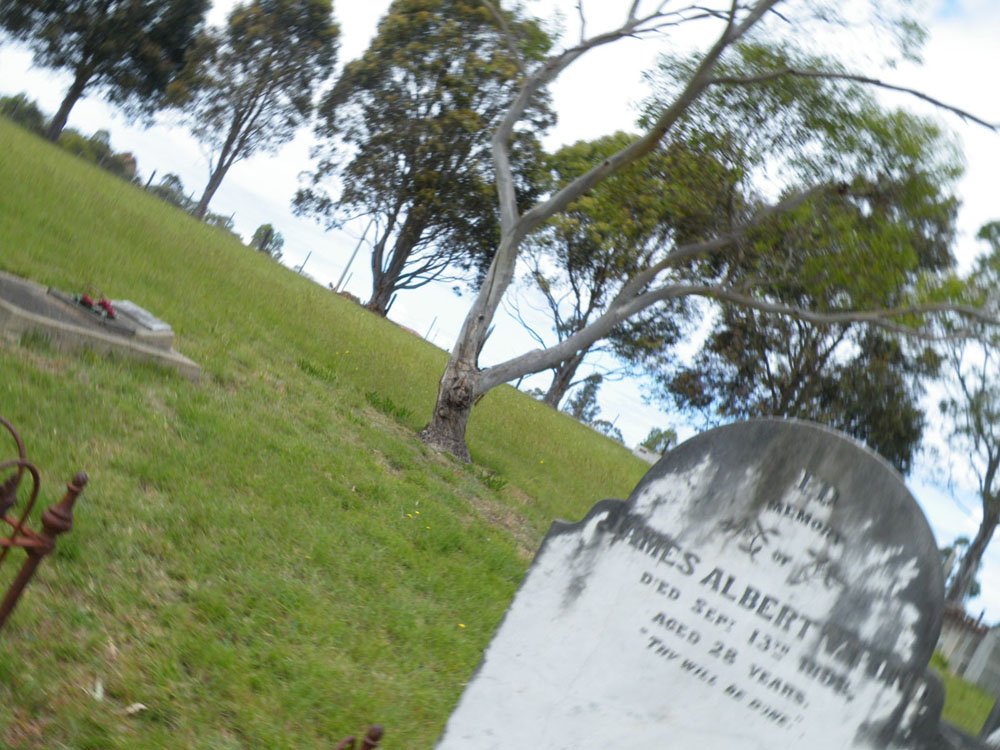 Headstone of James Albert Vipond at Bumberrah Cemetery - no records of a marriage or children have been located for Jim Vipond.


Back to Site Index.


Background into Lead Ore Mining in Northern U.K.


Background into the Gold Rush days near Ballarat Victoria.

From Joseph Richardson born 1721 at Alston, U.K.

From John Richardson's descendants from 1863 born in Australia.

From John Allison born in 1801, Alston U.K.


From John Armstrong born in 1705, Haltwhistle U.K.


From Thomas Bell born 1806 of Allendale, U.K.


From James Broadwood born 1796 of Northumberland, U.K.


From William Calvert born 1791 at Kirkhaugh, U.K.


From John Clementson born 1692 in Garrigill, U.K.


From William Coulson born 1760 in Cumberland, U.K.


From Robert Cochrane born 1778 in Eglington, U.K.


From Edward Hewitson born 1794 in Kirk Linton, U.K.


From John Liddell born 1880s in Ninebanks, U.K.


From Joseph Parker born 1810 at Allendale, U.K.

From James Rowe born 1765 in Cornwall, U.K.


From Nicholas Vipond born 1655 in Alston, U.K.


Letters from by James and William Armstrong in the 1860s.
Email here re enquiries, corrections, or input to this site