From James Rowe born 1765 at Camborne, Cornwall, U.K.

Richardson / Vipond / Rowe Australian connection.
John Victor (Jack) Richardson born 1887 Lucknow Victoria at Nicholson in 1922 married Sarah Ann (Annie) Liddell born 1896 in Bairnsdale. Jack's father Emerson Richardson (born Alston in 1853) married Eleanor (Ellen) Vipond (born Alston in 1860), the daughter of James Vipond and Mary Ann Bell, both natives of Alston. James and Mary Ann Vipond's eldest daughter Margaret Ann Vipond born at Alston UK in 1856, married John Rowe, the third son of James Rowe and Lavinia Terrill, both natives of Camborne in Cornwall in the south west of England.

Introduction to the Rowe Family Tree

Our family connection with the Rowe family from Camborne in Cornwall, is quite exceptional, and outside of our basic web site policy and focus on Lead Ore Mining families from Cumberland, Northumberland, and Durham, who worked the Victorian gold Fields, and later moved on to farm in East Gippsland. When one considers the probability of a Copper Miner like John Rowe from Camborne in Cornwall in England, actually meeting a young lady Margaret Ann Vipond from Alston, some 450 miles away, the odds are fairly close to zero.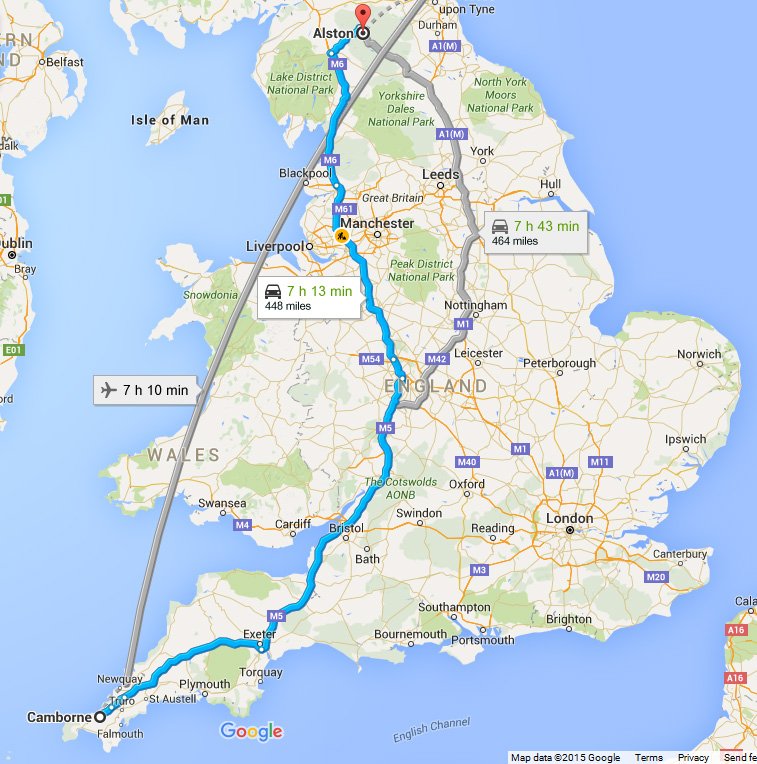 Google map showing localities of Camborne in Cornwall, in relation to Alston, Cumberland.
Not only was the Rowe family places of origin were from Mawgan and Camborne in Cornwall in the south west part of England, but they were predominantly a family of Copper Miners, whose immediate Australian descendants mainly settled and lived near Castlemaine, Fryers Creeks, Fryerstown, and Campbells Creek, and later on in the northern suburbs of Melbourne.
Map of Fryers Creek Division of 1860. Courtesy http://www.lisaroberts.com.au.
Golden Point and Forest Creek were on the edge of nearby Castlemaine in the Fryers Creek Mining Division, and the following classic photo also portrays an excellent impression of how so many early Victorian Mining settlements were laid out, with a mixture of Miners houses, cottages, huts and tents, spread across this pioneering rural landscape.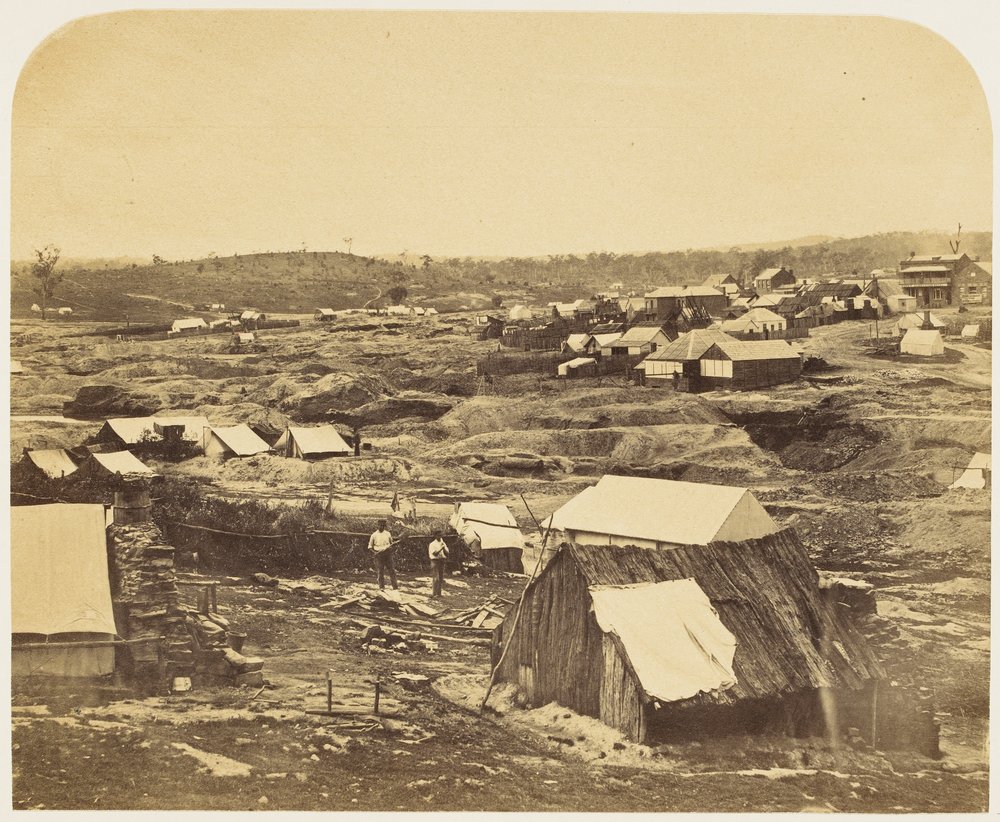 Golden Point near Castlemaine, circa 1862, Courtesy State Library of Victoria, photo by Hermann Deutsche.
As a matter of respect to the fact that John Rowe's father James Rowe, and his uncles John, Edward, Hannibal, and Phillip emigrated to Victoria, became very well renowned as "The Rowe Bros", regional gold mining pioneers south of Castlemaine, plus there is a wealth of relevant historical information, our researcher has taken much pride in presenting the following Rowe family references.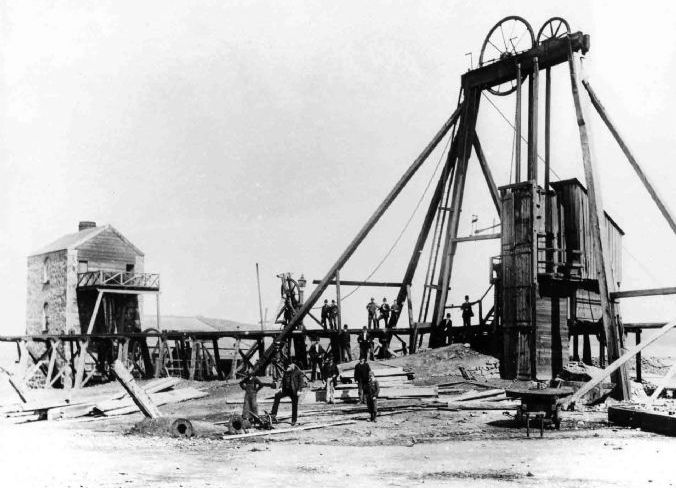 An old photo of the new east shaft of the Dolcoath Mine near Camborne. Courtesy miningartifacts.org


JAMES ROWE AND WIFE GRACE RAWLING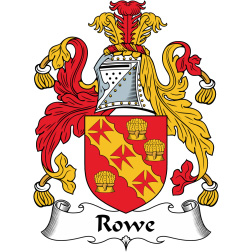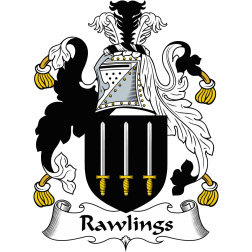 Family Crests for Rowe and Rawling.
As with many early family ancestors, relatively few records are found. According to Ancestry.com our first known James Rowe, was born on 6 Oct 1765 in Camborne, Cornwall, and married Grace Rawling, and he died in October 1840 in Liskeard, Cornwall. Although not confirmed, it is likely James was either a Tin or Copper miner, as this part of Cornwall is renowned for it rich mining history from around this period. Camborne still operates a School of Mines which was established in 1888. Later generations of Rowe family members were known to be involved in the local Copper mining industry in particular, before they emigrated to Australia for the Gold Rush in the 1860s.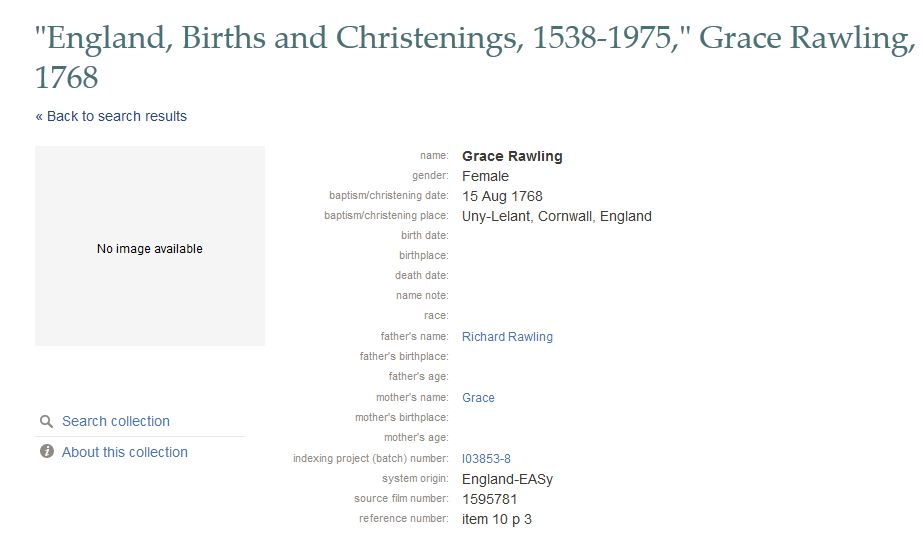 Birth record of Grace Rawling. Courtesy Ancestry.com
Certain Ancestry.com researchers list this James Rowe as having another two wives in addition to Grace Rawling, namely Alice Williams and Mary Thomas, also noting James having up to 13 children in total. In order to save confusion, and retain focus upon our Australian Rowe descendants and activities, the following generation sections only list a relevant immediate family branch or member, ie. not all siblings.
We highly recommend this thorough listing of the
Orchard Rowe & Kitto families.


JAMES ROWE ( the Second ) AND WIFE JANE ORCHARD
One of James and Grace Rowe's sons, was another James ( mentioned here as James the Second ), who was born on 11 Oct 1795 in Camborne, Cornwall. James the Second married Jane Orchard in May 1821 at Mawgan, being the daughter of Phillip Orchard and Jane Hitchens from Crowan, about 5 miles from Camborne. James the Second and Jane are believed to have had 6 sons and 3 daughters, 4 remained in Cornwall, after John, Phillip, Edward William Hitchens, Hannibal Orchard, and James the Third, emigrated to Victoria, Australia. The 1841 Census has James listed as a "Steam Engine Man" and their eldest son James the third noted as a Copper Miner.

1851 Census of Jane Rowe and remainder of the children who had not yet left home in Camborne.
According to this great Orchard Family History by Ken Stewart, our James Rowe the Second was a Tin Miner living at Goonhilly Downes at the time of their marriage, and Jane's home was at Grade, near Mawgan. However family vocations did change in time, as his children James, Hannibal and Grace all worked the local Copper Mines. Little did James and Jane know, that some of their family would become Aussie Diggers, in due course.

The Ancestry records shown here are believed to be fairly accurate, as to the details of James and Jane Rowe's children.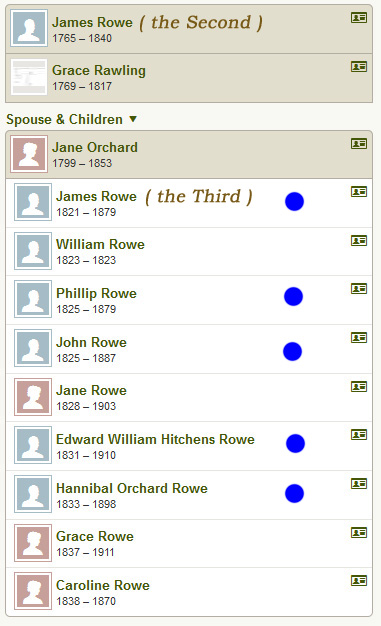 The 5 Rowe brothers who emigrated to Victoria, highlighted here in blue.
It was these 5 adventurous entrepreneurial brothers, who became well known as the Rowe Bros, and have been described as "Mining Magnates of Castlemaine" in historical writings, and are listed individually further below in Generation 4. James Rowe the Second apparently died in 1863 in Ilsington, Devon, well after his wife Jane passed away at Camborne in 1853.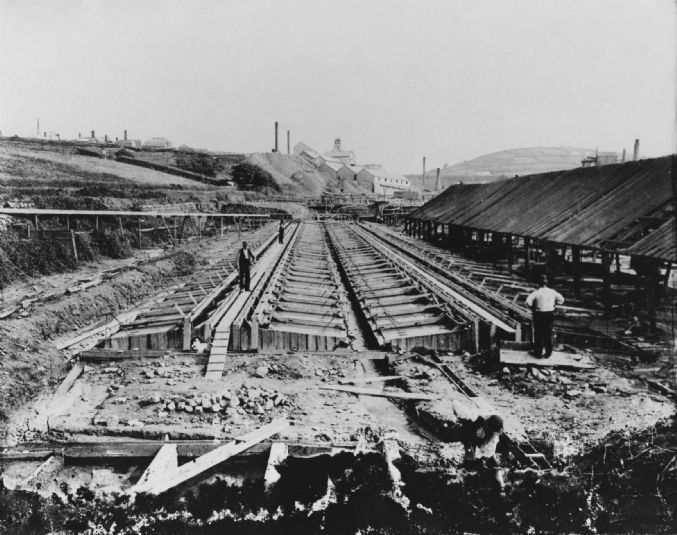 Carpenters at the same Dalcoath Mine building rag frames for the fine ore. Courtesy pinterest.com.


JAMES ROWE ( the Third ) AND WIFE LAVINIA TERRILL
If our Ancestry.com records are correct our James Rowe the Third, was actually the first born child to James and Jane Rowe in Generation 2 above. James the Third was born 3 Jun 1821 in Mawgan in Meneage, Cornwall, England and well after raising 8 children with his wife Lavinia Terrill in his home town, as well as another 4 children on Victorian Gold Fields in Australia, he passed 16 Dec 1879 at Golden Gully, Fryerstown, Victoria, Australia.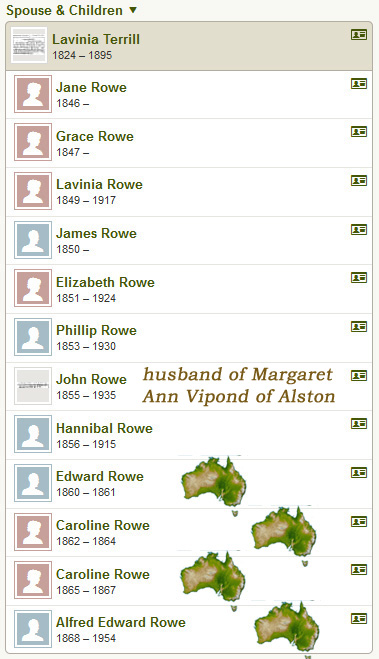 Timeline of James Rowe and Lavinia Terrill.
James the Third married Lavinia Terrill in Feb 1845 at Camborne - Lavinia was born on 27 Mar 1824 in Camborne in Cornwall, and at the age of 71, she died at Fryerstown, and was buried there in May of 1895. Like many pioneering Gold Miners in Victoria, they endured the harsh climate as best as possible, however they sadly lost their first Australian born daughter Caroline at the age of 2 at Fryers Creek.
Speaking of harsh climates, Cornwall has one too in its own way. The following Census is the first official known record of our Rowe family branch being involved in the Copper Mining industry near Camborne.
1851 Census for James Rowe and Lavinia Terrill and the beginning of their family in Cornwall UK.
After much time spent looking over official Victorian Passenger Lists, it has not been confirmed which of the 5 Rowe brothers arrived first at Hobson Bay in Melbourne, however the following 3 images outline the voyage of James the Third, Lavinia, and family, in simple visual terms.
Emigration record of John Rowe, his parents James and Lavinia Rowe and 8 siblings, arriving in Melbourne on 29 Jan 1859, on board HMS Black Eagle.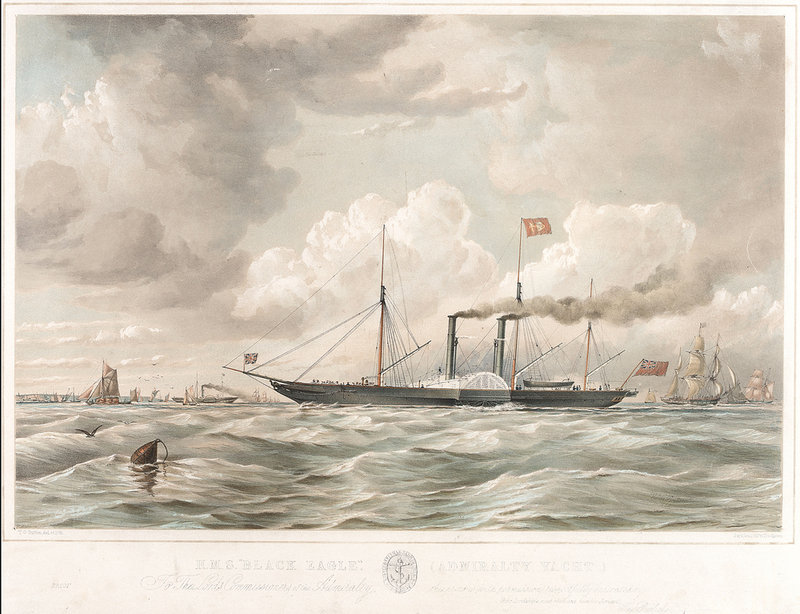 HMS Black Eagle. Courtesy snipview.com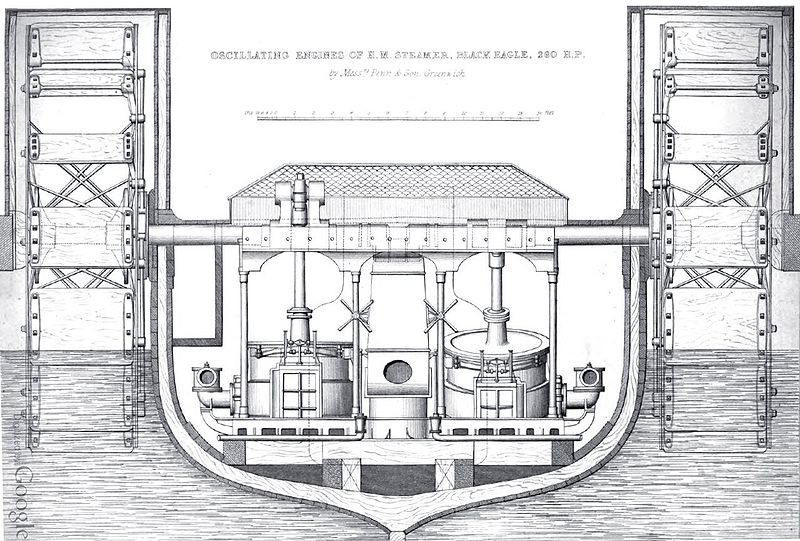 HMS Black Eagle was a steamer renamed in 1843, originally built and named HMS Firebrand for the Royal Navy in 1834.
This diagram of the Black Eagle's oscillating engines, by the engine designer is Courtesy Wikipedia.
Tracing and confirming details of movements of James the third, wife Lavinia, and their children during this time frame after their voyage to Australia is difficult, however going by their children's record, this Rowe family, spent most of their time at Fryerstown and Fryers Creek, and a few of the older one had an attraction to Essendon and Moonee Ponds in Melbourne in their later years. Some mining records have been located in the name of "J. Rowe", however these could be either relating to James the Third, or his younger brother John Rowe.

Gold Mining lease notice of 1864 for J. Rowe at Fryerstown. Courtesy Victorian Government Gazette.
There is quite an extensive overview of the Rowe Brothers Gold mining activities, after the listings of James the Third's siblings further below this Generation. Research has found no more confirmable references of James the Third or Lavinia Terrill, apart from their Will and death records.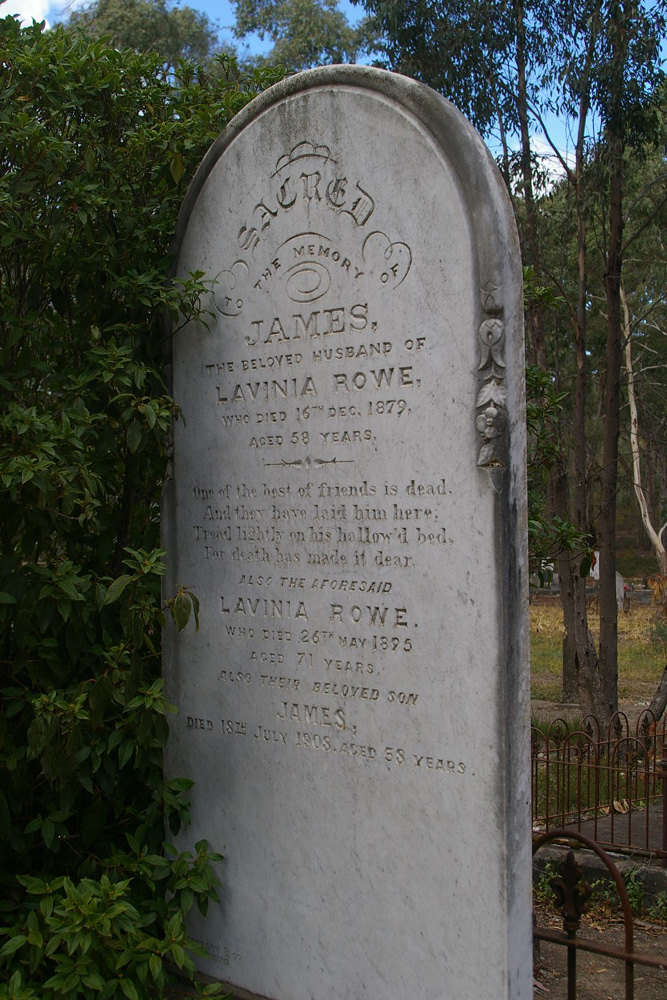 Headstone of James & Lavinia Rowe & son James at Fryerstown Cemetery. Courtesy Carol's Headstone Photographs.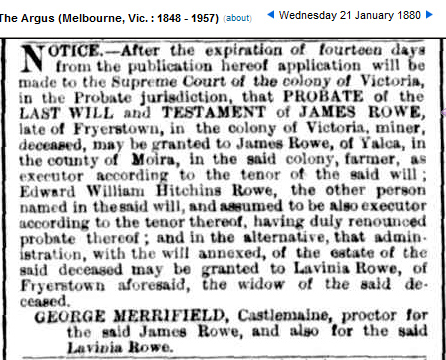 Will and Testament notice for James Rowe of Fryerstown in 1880.
Death notice in Melbourne's Argus newspaper of 1895.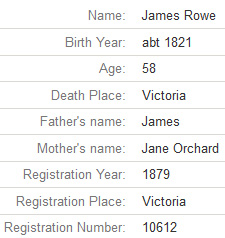 Death records from Ancestry.com for James Rowe the Third and his wife Lavinia Terrill.
The Rowe Brothers Overview
To save any confusion, we refer to James the Third's brother John as "Uncle John", as he was the uncle of James the Third's son John, who married our Margaret Vipond as outlined in Generation 4 below. After arriving in Melbourne on numerous different voyages, these 5 Rowe brothers and 2 sisters Grace and Caroline from Cornwall, soon realised that the region around Fryerstown near Castlemaine was regarded as one of the highest Gold production regions of that time, and they formed a few individual Gold Mining Companies there, including the renowned "Rowe Brothers". The township of Fryers Creek was apparently originally named after Peter Fryer who built a hut on the creek in 1851, and was later renamed Fryerstown about 1856.

Rowe Brothers listing at Cattle's Reef in the Victorian Government Gazette of 1873.


UNCLE JOHN ROWE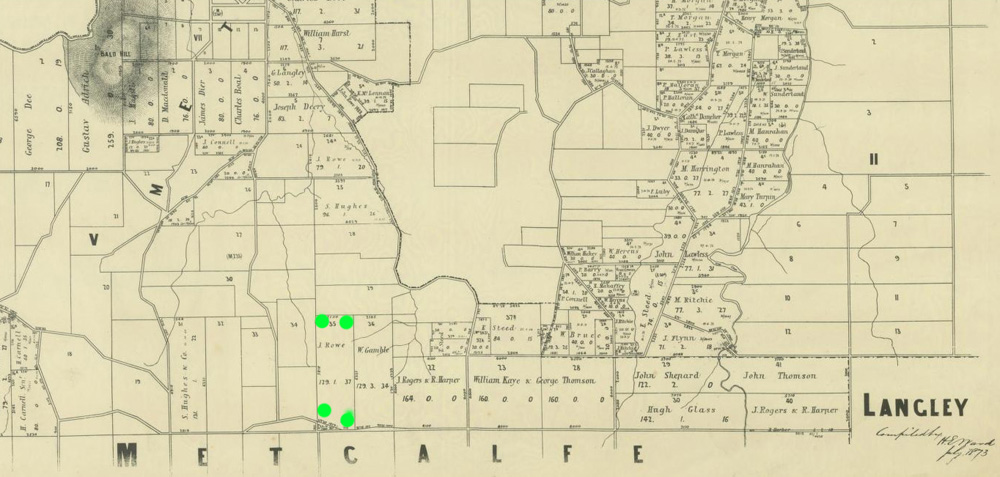 Parish map of circa 1870s showing in green, John Rowe's property at Metcalfe. Courtesy State Library of Victoria.
We believe Uncle John Rowe was born at Mawgan in 1825, married 3 times, and 7 of his 10 children were born either at Fryers Creek or Taradale. In their early days in the district, he managed a quartz crushing business that apparently did not pay very well after some time, so he turned to farming at Metcalfe. Sadly, Uncle John was gored to death by an infuriated bull on his farm in 1887.
A Cornwall Newspaper report of John Rowe senior's death at Metcalfe Victoria in 1887.


EDWARD WILLIAM HITCHENS ROWE
Edward Rowe was born on 26 Nov 1831, married Elizabeth Mary Prouse from Devon, and they had 9 of their 10 children at Fryers Creek. He received the Hitchens moniker from his mother's mum, Jane Hitchens.
2015 photo of Edward William Hitchens Rowe's property "Limbruk", built circa 1863 at Taradale.
Edward Rowe's homestead on 37 acres was for sale in 2015. The historical notes mentioned
"Originally built by Edward Rowe for his family, and built with the wealth created from its close proximity to one of the region's richest goldmines, 'Mosquito', where more than 43,581 ounces of gold were mined in 1871 alone." The house also has an underground cellar that can hold up to 5000 bottles of wine, boasts a private tennis court and a very nice lake, so we know for sure that Edward W. H. Rowe definitely enjoyed the rewards of 20 years hard work digging for gold. Wellington University also notes a reference to Edward being involved in the Black Hawk Gold Mine too.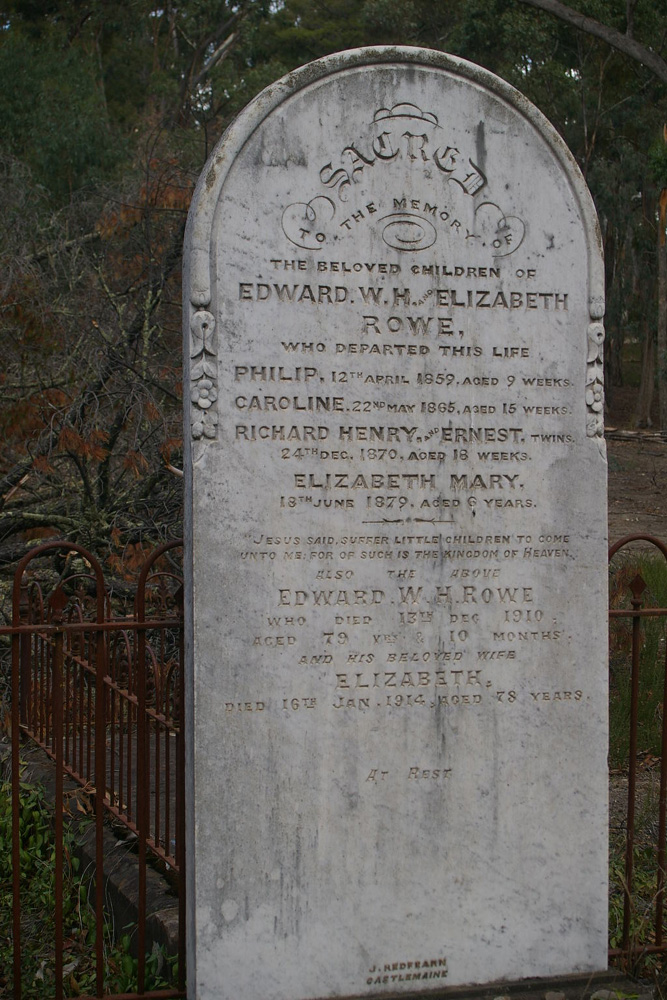 Headstone Of Edward William Hitchens & Elizabeth Rowe & children at Fryerstown Cemetery.
Courtesy Carol's Headstone Photographs.


HANNIBAL ORCHARD ROWE

Hannibal Orchard Rowe was born at Camborne in Cornwall in 1833, married a local Cornish girl, Mary Temby, and had one daughter in Victoria. Records indicate he appeared to be a very community minded man, and at one stage was the Lord Mayor of Castlemaine.
Hannibal Orchard Rowe in mayoral robes. Courtesy family history booklet by Lesley Morton.
One record has been found regarding Hannibal being involved with a Victorian Parliament sitting, in his position from 1863 as Chairman of the Castlemaine Mining Board along with his brother James Rowe representing the family mining claim. A thesis study by Joan Hargraves of Deakin University Victoria states "in 1885 a London syndicate indicated its interest in purchasing the mines owned by Hannibal Rowe, and on the market for the past three years However, the syndicate, which was prepared to invest the sum of 100,000 pounds for deep lead exploration, did not pursue the sale. As an indication of the parlous state of local mining Rowe's mines, worth 72,500 in the 1860s, were on the market for 7250 in 1885". Later Hannibal ran a large fruit orchard at Castlemaine North, which suffered badly in the drought breaking floods there in Jan 1889.


PHILLIP ROWE
Mining Surveyors Report of Sep 1869 showing Phillip Rowe's own company. Courtesy Victorian Government Gazette.
Little info has been located about Philip Rowe in Australia, yet we know he was also born at Camborne in Cornwall in Nov 1825, married a Cornish girl named Mary Ann Nicholls, and they had a boy and a girl before the family emigrated. It appears Philip probably ran his own small company or partnership at Nuggetty Gully in 1874, and was involved in the Cattle Reef gold mine at Fryers Creek earlier on.
Record of Philip Rowe staking a claim at Spring Gully not far from the claim of James Vipond at Nuggetty Gully in 1872.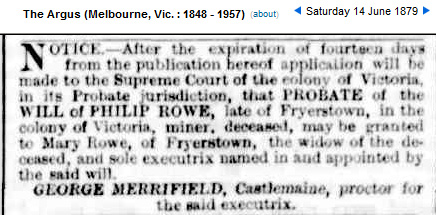 Will and testament notice for Phillip Rowe.
Rowe Bros on the Gold diggings near Fryerstown Victoria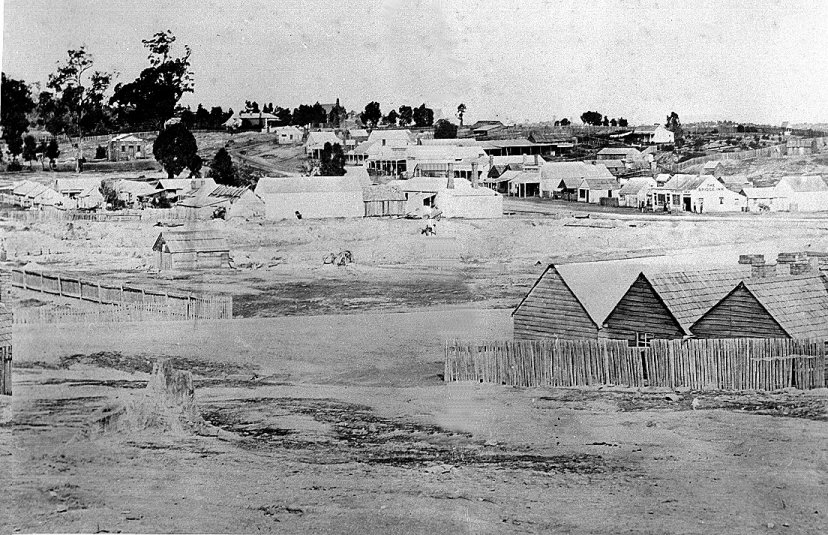 Fryerstown looking South West - Circa 1859-1860. Courtesy and more old Fryerstown photos Dave Timson.
Mining surveyors reports show the Rowe Brothers had formed their own mining company at based Fryers Creek near Castlemaine, and became renowned for working their successful Mosquito Gold Mine, extracting sizable well paying amounts of gold from crushing quartz. The Rowe Brothers, became known locally as mining magnates of this region, and at an opportune time bought the neighbouring Duke of Cornwall mine, when its owners were in financial trouble.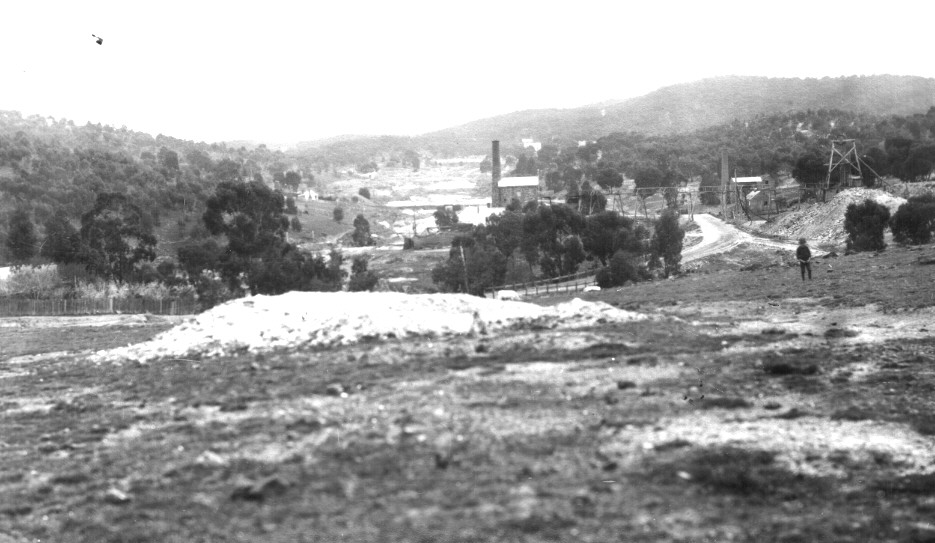 Duke of Cornwall Mine Fryerstown - Circa 1860. Courtesy and more old Fryerstown photos Dave Timson.
According to the Friends of Mount Alexander Diggings web site,
"On the opposite side of the road, near the brow of the hill, is an unspectacular heap of waste rock (or mullock), the remains of the Rowe brothers' Mosquito Mine. This mine was spectacularly rich, but the Duke of Cornwall was a monumental failure. The Duke of Cornwall was a foreign company floated in England, predicting it would show the locals a thing or two. True to its boast the company erected extremely powerful and spectacular mining equipment, including a 25-inch cylinder Cornish beam engine, a large crushing battery and several large furnaces. The company was soon in trouble, though - no gold and all the investors' money spent.
Less than 200 metres away, the Rowe brothers fortunes were increasing daily.
A visiting journalist in 1870 wrote of the Mosquito Mine -
'For nine years its owners have been working steadily on, declaring large dividends every month … and now they have every chance of becoming something very like millionaires. I am prepared to believe almost everything of this claim, especially as I have heard of a Ballarat visitor being helped away breathless with astonishment at what he had seen, and it takes a great deal to make a Ballarat speculator breathless'.
In 1875 the Rowe Brothers purchased the failed Duke of Cornwall mine and its splendid plant for £1850.
The Mount Alexander Mail called it the cheapest mine and plant ever sold in this district."
Another review
According to Chris Theyer,
"Fryer's Creek just south of Castlemaine was rushed late in 1851. The creek adjacent to the Lodden field had about 8,000 diggers in the initial rush and this area remained a favourite spot throughout the golden era through the 1850's. The lawlessness that was evident in most of these rushes was no stranger to Freyer's Creek, and particularly brutal crimes were committed there. By 1853 the area was becoming more civilized.
It was at Fryers Creek in 1855 that a large nugget, 'Heron's Nugget' weighing 1,680 ounces was found. This event rekindled interest in the field and a good stream of diggers continued to work this area throughout the 1850's. By the end of the decade the surface gold was beginning to peter out and it was obvious that more sophisticated methods of gold recovery were required. The capital required needed larger companies to raise finance and many organizations looked to England for this finance.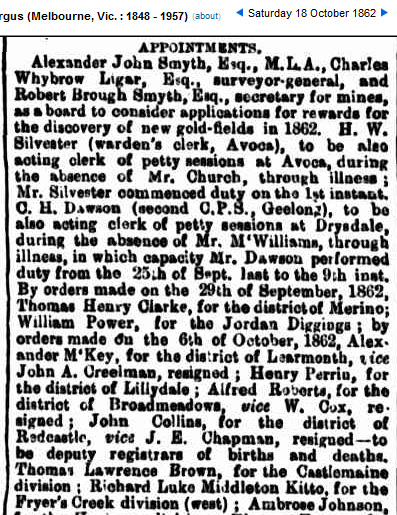 Mining Surveyor appointment of Richard L.K. Kitto at the Fryers Creek Division in 1862
Richard Luke Middleton Kitto was a Cornish immigrant who was an engineer and surveyor from Redruth, Cornwall. He arrived about 1856, and engaged in mining activity. He was appointed the Mining Registrar at Fryer's Creek in 1860. Kitto obtained the lease of the Duke of Cornwall Quartz Mining Company. It was his intention to raise capital to form a company to recover the gold believed to be at depth.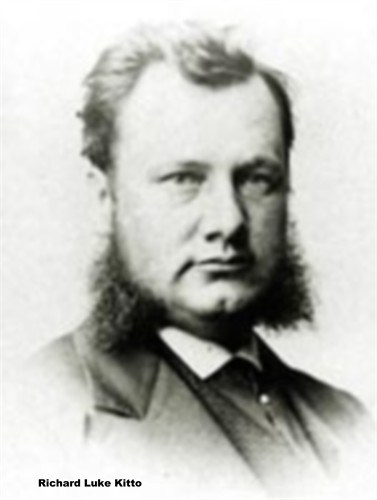 Richard Luke Middleton Kitto. Courtesy Ancestry.com
In 1867 he took leave and went to England to raise the capital required. As a result of his efforts the 'Australian United Gold Mining Company' was formed and a prospectus issued in 1868. Kitto returned to Australia as the Manager and Superintendent of the company and proceeded to purchase for the company the Duke of Cornwall Mine and the Central Mine at Malmsbury. Kitto estimated a return of 200% profit on invested capital. His credentials were without question, and it is clear that his belief in the project was genuine.
Plaque in honour of Richard Kitto and the Rowe Bros. Courtesy Ancestry.com
When he arrived back in Australia mining companies in the area were booming. What was different about the way he went about constructing the infrastructure at the mine site was that it was an almost complete replica of a Cornish mine site. The engine house was large and well forward in construction and the two boilers were progressing well. Offices and storerooms were also under construction.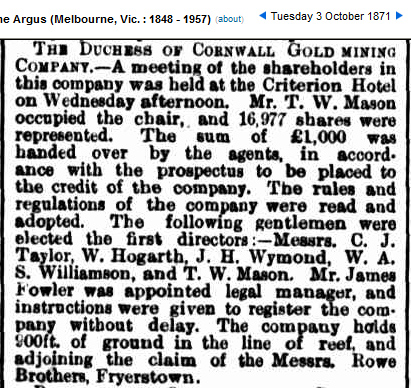 Newspaper report of the Duchess of Cornwall Gold Mine shareholders meeting, when it was still flourishing in 1871.
His first report to the directors in London reported that he had cut into the Cattle's lode and had a considerable amount of quartz gold on his desk as he wrote the February monthly report. Initially the gold returns were satisfactory and during the first year gold recovered was valued at 9,000 pounds. The company had its share of breakdowns and this caused concern to the directors.
At the start of 1870 the reality that the mine was not going to be the bonanza that was hope was evident. Areas of the lease were let out to tribute. A system where miners worked for a percentage of the golden take. Kitto began to report to directors that the results the mines were achieving poor results. Because mine all around the Duke of Cornwall were giving good returns, Kitto was still expecting this mine to produce. His optimistic outlook was conveyed to the directors in London.
The directors agreed to his request and provided a further cash input of 15,000 pounds. Kitto continued to report on the neighbouring mines giving good returns, to keep both his and the directors optimistic outlook focused. Unfortunately the Duke of Cornwall was going from bad to worse. Debts were accruing and the 15,000 pounds input was exhausted.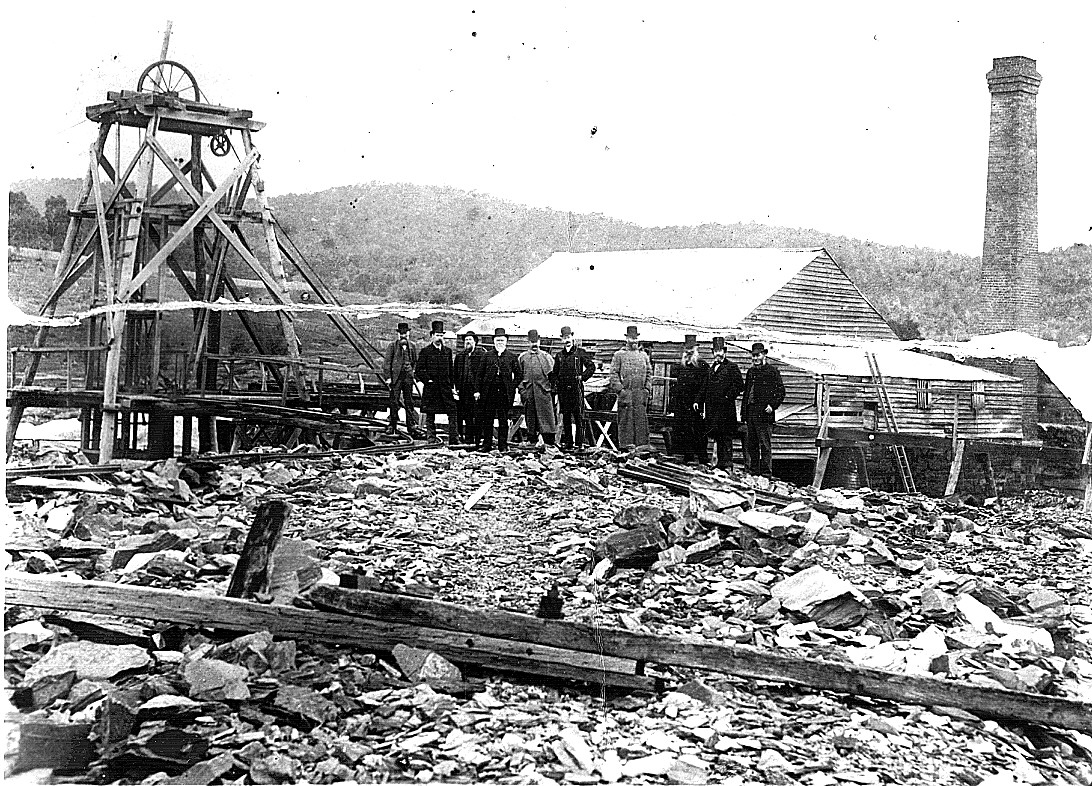 The Golden Eagle mine Fryerstown - Circa 1860. Courtesy and more old Fryerstown photos Dave Timson.
At an extraordinary meeting in London it was reported that the total debt had blown out to 99,000 pounds. Only 3,000 pounds was available for distribution. In due course the Duke of Cornwall mine was forced to close. In September 1871 the Duke of Cornwall was sold for some 14,000 pounds. The new company the Duke of Cornwall Mining Company, began operating shortly after, but with the same result of before. A general lack of gold from the mine was obvious and in July 1873 the owners were forced to sell the mine again. This time the local Rowe Brothers bought the mine for the bargain price of 1,850 pounds. 100,000 pounds had been expended for little return.

Lease transfer of the Rowe Brothers claim in 1875 at Castlemaine. Courtesy Victoria Government Gazette.
The Rowe Brothers operated the Duke of Cornwall mine mainly as a facility to extract ore from their adjoining leases quite successfully. However by 1900 all the Rowe Brothers properties were up for sale, including the Duke of Cornwall mine. Several owners are recorded from that time. Today, Freyersfield is a small, sleepy community tucked away in a slumbering valley. The buildings that are left reflect a more modern era, but the cemetery reveals in intimate detail the hardships that were an everyday occurrence in the era. Today the Duke of Cornwall Mine is registered with the National Trust and is a popular tourist attraction."
We obviously can't leave the girls out - Along with sisters Grace Devonshire nee Rowe and Caroline Gelme nee Rowe, all Rowes of this generation married and had numerous children mainly in the Fryerstown district. Some of this following generation moved and lived out their lives in the suburbs of Melbourne, naturally with numerous grandchildren.


JOHN ROWE AND WIFE MARGARET ANN VIPOND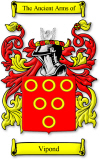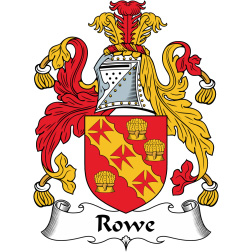 Family Crests for Vipond and Rowe.
John Rowe was born in 1855 in Camborne Cornwall, and he married Margaret Ann Vipond in 1877 in Victoria, who was born in Oct 1856 in Alston, Cumberland, to James Vipond and Mary Ann Bell. John was the son of James Rowe and Lavinia Terrill. Noted as a farmer on the official passenger list, James and Lavinia Rowe emigrated with their whole family from Camborne Cornwall, on board the Black Eagle, arriving in Melbourne in 1859, when John Rowe was only 3 years old. As some emigration records about the rest of James Rowe's siblings are difficult to confirm, we are not sure exactly who followed who to the Victorian Gold Fields, however all his (surviving) brothers and sisters except for Jane Rowe, came to same region of Fryerstown.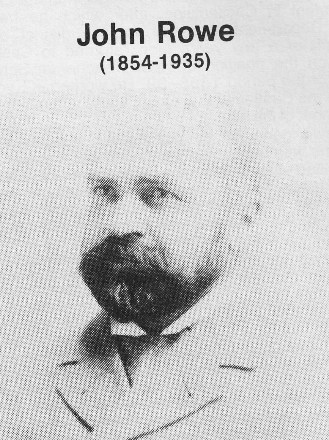 A rare portrait of John Rowe born Camborne Cornwall U.K. in 1854, husband of Margaret Ann Vipond, with special thanks to Margaret Hardy.
Records show Margaret Vipond's family were around the same region as John Rowe's family around Fryerstown, Fryers Creek, and Nuggety Creek near Castlemaine on the Victorian gold fields between 1870 and 1874, so one may agree these circumstances as to how and where they met so far from their home towns in England, and eventually married on the other side of the world in Australia, are also quite exceptional.
Frontispiece of Vipond family bible from 1855, showing the children of James Vipond and Mary Ann Bell.
Courtesy of Family of William John Richardson of Warragul Victoria.
Firstly, in regards to the movements of Margaret Ann and her Vipond family, we know they were located at Stratford, East Gippsland in 1864 when Maria Bell Vipond was born, and the Vipond family ended up nearly 500 kilometres away at Fryerstown Gold fields, where the last son James Albert Vipond was born in 1870. From mining records around Fryers Creek of this period, we know their father James Vipond was working the Gold fields at Fryers Creek and Nuggetty Gully from 1870 to at least 1874. Unfortunately, we have no indicators or clues as to how and where our Margaret Ann Vipond may have met with her future Cornish husband John Rowe, however when you review the fact that most of her Vipond siblings in Australia were into teaching, and that John Rowe was a Truant Officer from a young age, it is possible (but not provable), they may have met at the Fryerstown School in their teens.
Fryerstown School - Circa 1890s. Courtesy and more old Fryerstown photos Dave Timson.
It appears newspaper cuttings from the Fryers Creek region, obviously suggest our Vipond family probably moved away from the Gold Fields, back to East Gippsland somewhere around 1874 - 1875. Family recollections confirm historical records of the Bairnsdale Shire, which state Margaret Ann Vipond, was a teacher from quite a young age, and she initially taught about 20 young pupils at the Nicholson Primary school number 1716, along with her brother John Vipond, for a few years from around 1875 - 1877. So the theory goes, seeing that Margaret Ann's siblings in their twenties, were all able to buy farms and housing investments at Swan Reach back in East Gippsland, its likely their father James Vipond did very well gold mining at Nuggetty Gully around 1874, and may have been able to provide such financial investment assistance to all his children.
Margaret Ann Vipond probably had no other option than to resign as a teacher by the Education Department, due to her pending marriage to John Rowe and having children, as was often the case back in those days. Margaret Ann Vipond and John Rowe were married in Victoria in 1877, and they had 3 sons on the Gold Fields at Fryerstown from 1878 - 1884, and a daughter Florence Lavinia in 1886 at Hawthorn in Melbourne. Unfortunately little Florence passed away the next year at Springvale, believed to be the property of William Calvert, on the Mitchell River near Bairnsdale. The informant was Emerson Richardson, Margaret Ann's brother-in-law.
Death Certificate of Florence Lavinia Rowe in 1887 near Bairnsdale. Courtesy Ann West of Brisbane.
Sadly Margaret died the following year at Kyneton aged 30, after only being with John Rowe about 10 years. After Margaret's death in nearby Kyneton, John moved on, and had a further 2 marriages and 3 more children around the Castlemaine region, where he lived out his life, and passed away in 1935.
Death notice of 1887 for Margaret Ann Rowe nee Vipond, wife of John Rowe, truant officer.
Two years later John Rowe married Margaret Bowman, and they had one son and two daughters between 1890 and 1903. Margaret passed away in 1914, and in 1915 he married a younger cousin Annie Louisa Rowe.

Victorian Government Gazette notice for John Rowe's promotion in 1896.
This newspaper cutting informs us John Rowe received a promotion to become the Mines and Machinery Inspector, in 1896, and coincidentally ended up as the Mining Inspector for the Castlemaine Mining Board his uncle Hannibal Orchard Rowe was chairman of, many years before.
Newspaper cutting of John Rowe working as the District Mining Inspector for the Castlemaine Mining Board in 1907.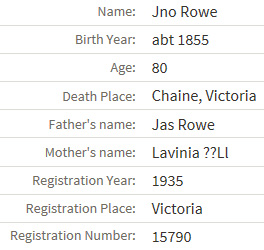 Death record of John Rowe at Castlemaine in 1935.


Back to Site Index.


Background into Lead Ore Mining in Northern U.K.


Background into the Gold Rush days near Ballarat Victoria.

From Joseph Richardson born 1721 at Alston, U.K.

From John Richardson's descendants from 1863 born in Australia.

From John Allison born in 1801, Alston U.K.


From John Armstrong born in 1705, Haltwhistle U.K.


From Thomas Bell born 1806 of Allendale, U.K.


From James Broadwood born 1796 of Northumberland, U.K.


From William Calvert born 1791 at Kirkhaugh, U.K.


From John Clementson born 1692 in Garrigill, U.K.


From William Coulson born 1760 in Cumberland, U.K.


From Robert Cochrane born 1778 in Eglington, U.K.


From Edward Hewitson born 1794 in Kirk Linton, U.K.


From John Liddell born 1880s in Ninebanks, U.K.


From Joseph Parker born 1810 at Allendale, U.K.

From James Rowe born 1765 in Cornwall, U.K.


From Nicholas Vipond born 1655 in Alston, U.K.


Letters from by James and William Armstrong in the 1860s.
Email here re enquiries, corrections, or input to this site