Richardson / Liddell / Parker Australian connection.
John Victor Richardson (Jack) born 1887 Lucknow Victoria at Nicholson in 1922 married Sarah Ann Liddell (Annie) born 1896 in Bairnsdale. Annie's uncle Joshua Liddell born 1840 in West Allendale U.K. at Hexham in 1862 married Ann Parker born East Allendale in 1841.
Parker Family Tree


JOSEPH PARKER & MARGARET PARKER & MARGERY MEWS
Our earliest confrimed Parker family member is Joseph Parker born in 1810 in Allendale Northumberland U.K. Perhaps some personal family insight from one of Joseph's great great Grandaughters, (with thanks to) Karen Litton, who did some research whilst in Australia in 2000, who is quoted as posting -
I was doing some browsing on the Victoria BMD Index website and noticed that Joshua's brother Joseph Liddle ALSO went to Australia with him - his death is indexed in 1910 (#3965) and he must have married and had children there too. Ann Parker was the daughter of Joseph Parker (not James) and Margaret Parker (she was Joseph's cousin). Margaret died in September 1842 aged 30 following the birth of her youngest child. Ann had two brothers : John (1835-1896) was a farmer at Allendale and a Methodist preacher. Nicholas (1837-1900) was a lead and silver refiner and was sent to India in the late 1860s to help set up a refinery there. However, the project was a failure and he returned to the UK via the newly opened Suez Canal in 1870. He and his wife Jane lost their three eldest children on the voyage back (they died at sea). Later, Nicholas was a newsagent in county Durham. The youngest child was Margaret, born 1842 and I think she died very young. Ann's father Joseph remarried in 1844 and had 8 more children with his second wife, one of whom was my great-great-grandfather.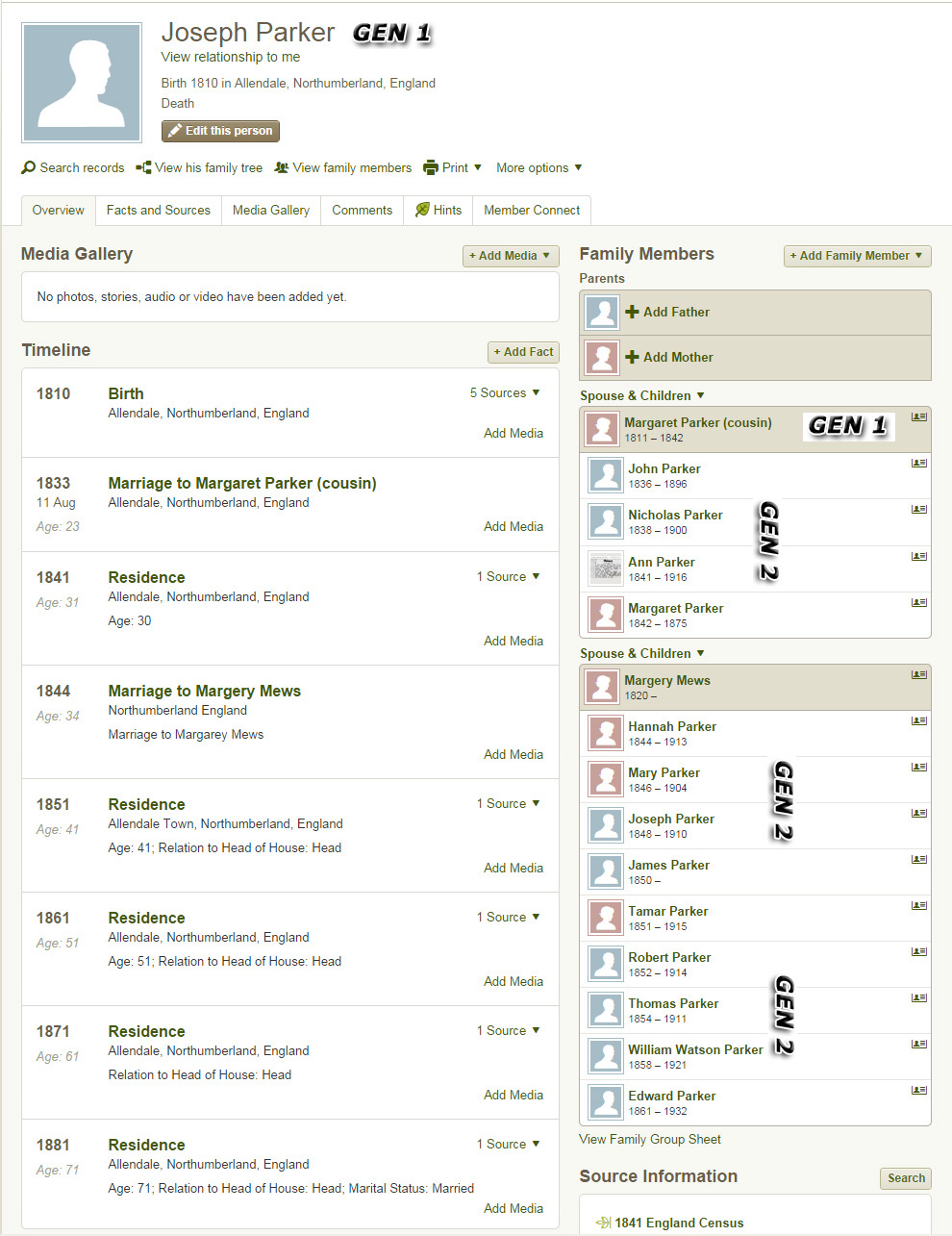 Timeline of Joseph Parker born in Allendale U.K. in 1810.
Joseph Parker apparently firtst married a cousin Magaret Parker, and they had four children, John, Nicholas, Ann, and Margaret (junior). His wife Margaret died at the time of the birth of their second daughter in 1842. Two years later he remarried Margery Mews from Allendale and had another nine children with Margery. Joseph's occupations on Census records range from Lead Ore Smelter and Refiner, and later in the 1870s he managed to secure a 13 acre farm as well.

Census record for Joseph Parker in Allendale for 1851.
Census record for Joseph Parker in Allendale for 1871.

Census record for Joseph Parker in Allendale for 1881.
For more info re Joseph and Margaret and Margery Parker, and their children,
please view Ancestry.com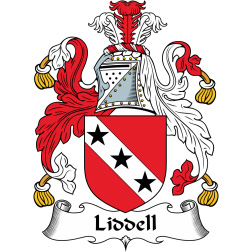 Family Crests for Liddell and Parker.


ANN PARKER & JOSEPH LIDDELL
Reviewing the record of other members research of Ancestry.com into all these Parker children, only Ann Parker, the third child from Joseph's first marriage, has been confirmed as emigrating to Victoria in the Gold Rush era.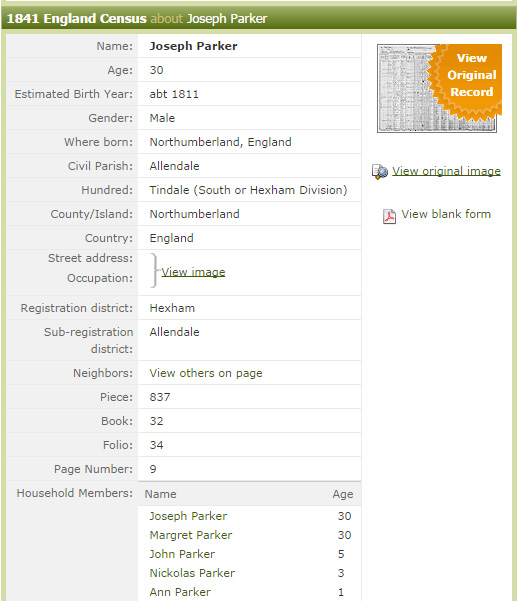 Census record of 1841 showing Ann Parker age 1 from Allendale electoral district of Tindale.
Timeline of Ann Parker and her life and movements in the U.K. and Victoria Australia.
Joshua Liddell and Ann Parker were married on the 6th November 1862, the marriage registered at Hexham in Northumberland U.K., so it was probably at the Registry Office. They travelled togethher on board the Great Tasmania to Hobsons Bay Melbourne in1863 and made their way to the Gold Fields near Ballarat.
Joshua Liddell and Ann Liddell nee Parker (listed as Little) emigration record arriving in Victoria on 27 March 1863, on board the Great Tasmania.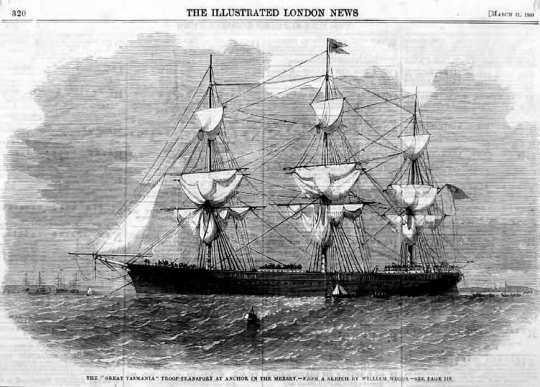 A sketch by William Woods of the Great Tasmania published in 1809.


CHILDREN OF
ANN PARKER & JOSEPH LIDDELL
Family of Joshua and Ann Liddell nee Parker.
From the birth records of their 5 children, we are able pinpoint their whereabouts and movements on the Gold Fields during this period. Their frst daughter Margaret Parker Liddell was born at Scarsdale on the 9th Aug 1863, and their second child was Joshua Coulson Liddell born at Spring Creek on the 3rd December 1864. Unfortunately there are about 5 Spring Creeks in the state of Victoria, including one near Stawell where the family spent their later adult years. Joseph Watson Liddell was next, born at Piggoreet on 2nd September 1866, the town where his uncle John Liddell ran the Try Again Hotel with his wife Jane Lee. Then came John Lee Liddell born on 10 February 1872 at Piggoreet, and the family moved away from the Gold Fields to Stawell, where Ethel Mary Elizabeth was born on 20th March in 1882. Sadly John Lee died at Stawell at the age of 9 years in 1881.


Review more about Joshua Liddell and Ann Parker.
Joshua worked as a ganger, a maintenance man for the railways, where the family were home based at Deep Lead station, on the edge of Stawell. The famly also owned nd ran a farm later at Glenorchy in the same district.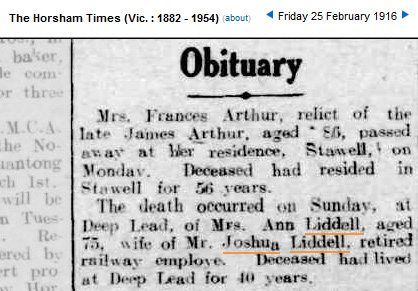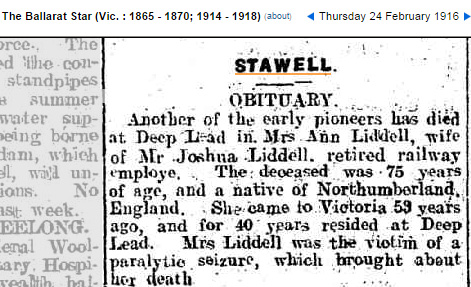 Obituary in two regional newspapers of Ann Liddell nee Parker, from Deep Lead via Stawell in 1916.


Back to Site Index.


Background into Lead Ore Mining in Northern U.K.


Background into the Gold Rush days near Ballarat Victoria.

From Joseph Richardson born 1721 at Alston, U.K.


From John Armstrong born in 1705, Haltwhistle U.K.


From Thomas Bell born 1806 of Allendale, U.K.


From James Broadwood born 1796 of Northumberland, U.K.


From William Calvert born 1791 at Kirkhaugh, U.K.


From John Clementson born 1692 in Garrigill, U.K.


From Robert Cochrane born 1778 in Eglington, U.K.


From William Coulson born 1760 in Cumberland, U.K.


From Edward Hewitson born 1794 in Kirk Linton, U.K.


From John Liddell born circa 1780 in Ninebanks, U.K.


From Joseph Parker born 1810 at Allendale, U.K.


From Nicholas Vipond born 1655 in Alston, U.K.
Email here re enquiries, corrections, or input to this site