From Joseph Richardson born 1721 at Alston, U.K.

A brief Richardson Family History - from Alston U.K. to Victoria, Australia.

INTRODUCTION

Without going overboard on displaying a lot of early U.K. Birth, Marriage, and Census record, our Richardson family tree diagram 1 shown here, outlines step by step generations, from Joseph Richardson born 1721 in Garrigill (Generation 1) through to the first Richardsons, John Richardson and Hannah Allison (Generation 4), to emigrate to Australia.

Diagram 1 - Richardson family tree.
Click to view enlarged image, then Backspace key or browser button to return here when done.
John Victor (Jack) Richardson born 1887 at Lucknow in Eastern Victoria, at the left above, was our first direct Richardson family member to be born in Australia, to survive and start a new family of Richardsons (Generation 7) in Victoria. All others shown above were either from Cumberland, Northumberland or Durham counties in Northern U.K.
Diagram 2 - Our immediate Richardson Generations 1-4.
This diagram is included specifically to clarify how some early family links by marriage in the U.K., have followed a similar pattern of family marriages in later years in Australia. It includes both specifically outlines the family structure and the family roots of Mary Hetherington, and also clearly indicates previous Richardsons family ties, on both Joseph's fathers and mothers sides. It is also of interest to observe, this is the first known direct Calvert family link (Mary Calvert born 1704) with the Richardsons in the UK. This Richardson / Calvert family tie coincidentally rekindled itself in 1922, in Nicholson, Victoria, via Jack Richardson's marriage to Sarah Ann (Annie) Liddell, per her father being William Coulson Calvert Liddell, who also happened to be a grandson of a Mary Watson.
Diagram 2A - Our extended Richardson Generation via Mary Hetherington's grandparents, John and Jane Richardson, and their daughter Rachel, the mother of Mary Hetherington per diagram 2.
One may naturally consider the practicalities of this era, going back even one or two hundred years, when it was quite common to marry into neighbouring families from a very close proximity to home. In these times, most folk did not usually venture many miles from home for work or social activities, unless they were extremely wealthy and owned a horse. It was not unusual for siblings and cousins to intermarry a few hundred years ago, however it is interesting to note numerous common threads of surnames, which continued especially in the later 1800's in Australia.


JOSEPH RICHARDSON & ANN METCALF
Diagram 1 shown above, actually outlines our earliest known Richardson family link from the U.K., being that of Joseph Richardson, born 1721 in Garrigill, (4 miles from Alston), and his marriage on 27th Jan 1756 to Ann Metcalf of Alston, of no confirmed birth details.

Alston Parish Marriage record - courtesy www.genuki.org.uk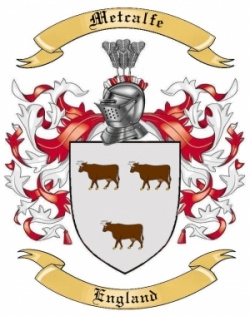 Family Crests.
Its a long time ago, and pre U.K. Census records, so info on Generation 1 is quite scarce,
before the invention of photography too.


JOSEPH RICHARDSON (JUNIOR) & MARY HETHERINGTON
Joseph Richardson and Ann Metcalf also named their only son Joseph Richardson (Junior), who was born in Alston in 1762, and married Mary Hetherington on 12th Dec 1789, who was born 1766 in Alston. Mary Hetherington was the youngest daughter of William Hetherington (born 1726 Barugh UK - died 1808 Cumberland) and his wife Rachael Richardson, (born 27 Dec 1744 in Beckfellicar Castle, Sowerby - died 12 Jan 1801 in Alston), and Mary passed away Aug 1832 in Alston.

Baptism record for Mary Hetherington on 13th Dec 1766.
Mary's mother Rachael Richardson was possibly related in some way to her husband Joseph
Baptism record for Joseph Richardson (Junior) on 27th Jan 1762.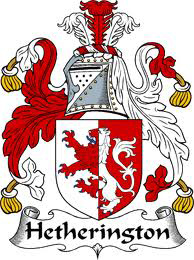 Family Crests.
Alston Parish Marriage record - courtesy www.genuki.org.uk


JOSEPH RICHARDSON (the third) & MARGARET WATSON
Our third consecutive Joseph Richardson in a row, was born in 1792 in Nenthead, about four and a half miles from Alston. Joseph the third had a younger sister Tamar Richardson, who was born in 1803 in Alston, so it appears likely the Richardson family moved around locally, to get work in the Lead Ore Mines. Joseph Richardson (the third) married Margaret Watson in Alston on the 21st Oct 1822, and had two sons and three daughters (Generation 3) in Alston or nearby Garrigill, as shown here in Diagram 3.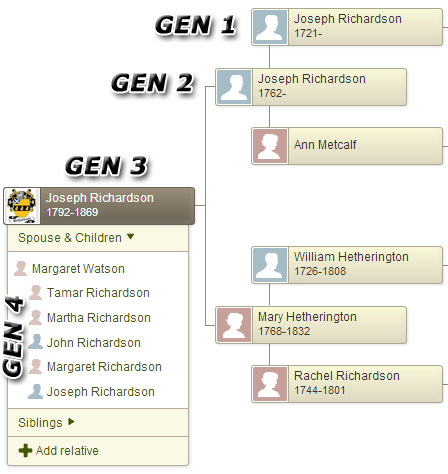 Diagram 3 - Family tree of Joseph Richardson the third.

Alston Parish Marriage record - courtesy www.genuki.org.uk
Joseph (The third) and Margaret's first born was Tamar, who did not marry, and died in 1849, but her next sister Martha married Thomas Robinson, and had a daughter Hannah. Their third child John Richardson married Hannah Allison, and they were the first Richardson family to emigrate to Victoria Australia, to participate in the Victorian Gold Rush. Then came Margaret in 1830, and she married Robert Irwin from Alston, and had two sons Joseph and Hetherington, and then two daughters, Margaret and Hannah.
Next image is that of the Census Record of 1841 for Joseph Richardson and Margaret Watson, and their family in Alston.
Here Joseph is 48 years old and still working as a Lead Miner, and his young son John is in the same profession. It was quite common for young boys to start working as Ore washers from the ages of around 8-16, then they progressed to heavier work. And yes, they lived next door to a quite wealthy family, the Watsons, probably related, and noted as living by Independent means, the daughter Mary is mentioned as a F.S. (Female Servant) of the household.
Basically Joseph Richardson the third died in Alston in 1869, and Margaret Richardson nee Watson passed away 3 years later in 1872 also in Alston. Some additional information regarding this couple is included further below, which portrays their later years and family involvements, with their son John Richardson and his wife Hannah Allison and family.


ENOCH NALL & TAMAR RICHARDSON
Joseph Richardson (Junior) and Mary Hetherington had another child too, a daughter Tamar, was born in Alston on the 10th Feb in 1803, whom married Enoch Nall, who was also born in Alston in 1796.
Immediate family of Tamar Nall nee Richardson in Alston U.K. from 1803.
Enoch and Tamar Nall had 6 children, Elizabeth Nall born 1822 in Cumberland, Tamar Nall junior born Alston 1826 and died 17 Jan 1904 in Durham, John Nall born 1827 in Cumberland, Fanny Nall born in early 1833 and died in Apr of the same year in Garrigill, Enoch Nall Junior born 1837 in Alston, and youngest son Mathew, born about 1842 in Alston. Tamar Nall nee Richardson passed away in Oct in 1869, in Alston UK.
Timeline summary of Joseph and Mary Richardson's daughter Tamar Nall nee Richardson in Alston U.K. from 1803.
It is highly likely we have some distant relations from this particular Nall family branch, whom are yet to be traced.
Circa 1880s - The former Dissenting Chapel at Loaning Head, Garrigill, after conversion to a cottage. The original Dissenting Chapel was superseded by the Redwing Chapel in 1756 where numerous family births & marriages were recorded.


Children of Joseph Richardson and Margaret Watson.
TAMAR RICHARDSON (Junior)
Joseph Richardson and Margaret Watson had five children, the eldest being Tamar (named after her aunt), born 1822 in Garrigill, and Tamar died quite young and unmarried at Penrith U.K. in 1849.

Baptism record of Tamar Nall (Junior) in Garrigill U.K. at the Redwing Chapel in 1822.


THOMAS ROBINSON & MARTHA RICHARDSON
Tamar's next sister Martha Richardson, was born in Garrigill in 1826, married Thomas Robinson born in 1819 in Alston, and they had a daughter in Alston, Hannah Robinson in 1859. Martha died in Alston in 1897 and Thomas passed away in 1879, also in Alston.

Census record of Martha Robinson nee Richardson, and her family in Alston U.K. from 1861.


ROBERT IRWIN & MARGARET RICHARDSON
In 1830 Margaret Richardson was born in Alston, and married Robert Irwin (1835 - 1872), having two sons Joseph Irwin and Hetherington Irwin, then two daughters Margaret and Hannah.

Census record of Margaret Irwin (spelt Herwin here) nee Richardson, and her family in Durham U.K. from 1871.


JOSEPH RICHARDSON (The fourth)
Youngest son Joseph (The Fourth) was born at Garrigill in 1830 and died unmarried in Alston in 1897. Looking at his timeline here, one may presume he was a family orientated person, as he lived with his elderly widowed mother after his father died, and then with his widowed sister Martha Robinson in their later years.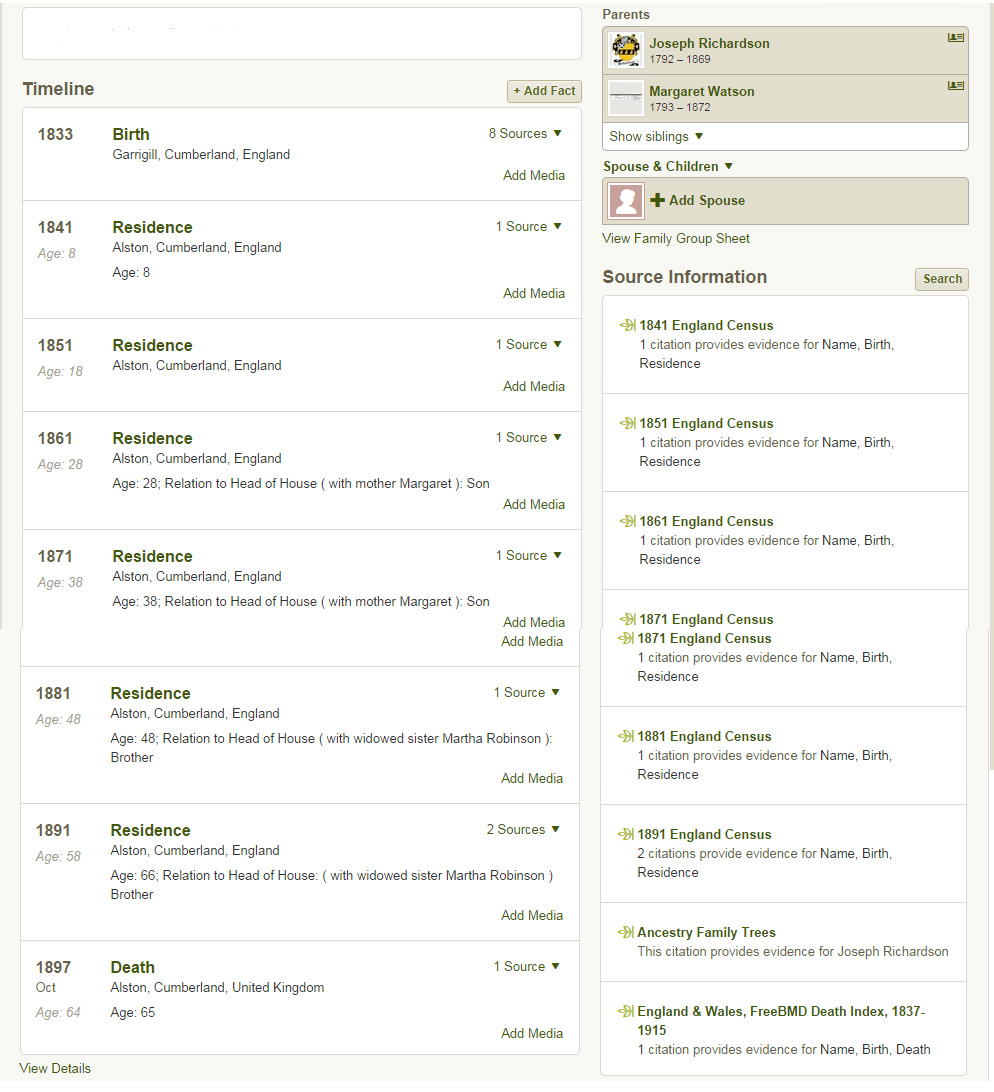 Personal timeline of Joseph Richardson the fourth.


JOHN RICHARDSON & HANNAH ALLISON IN THE U.K.
Family Crests.
John Richardson was actually the third born child and first son of Joseph (The third) and Margaret Richardson nee Watson, and a key figure in the Richardson family in Australia.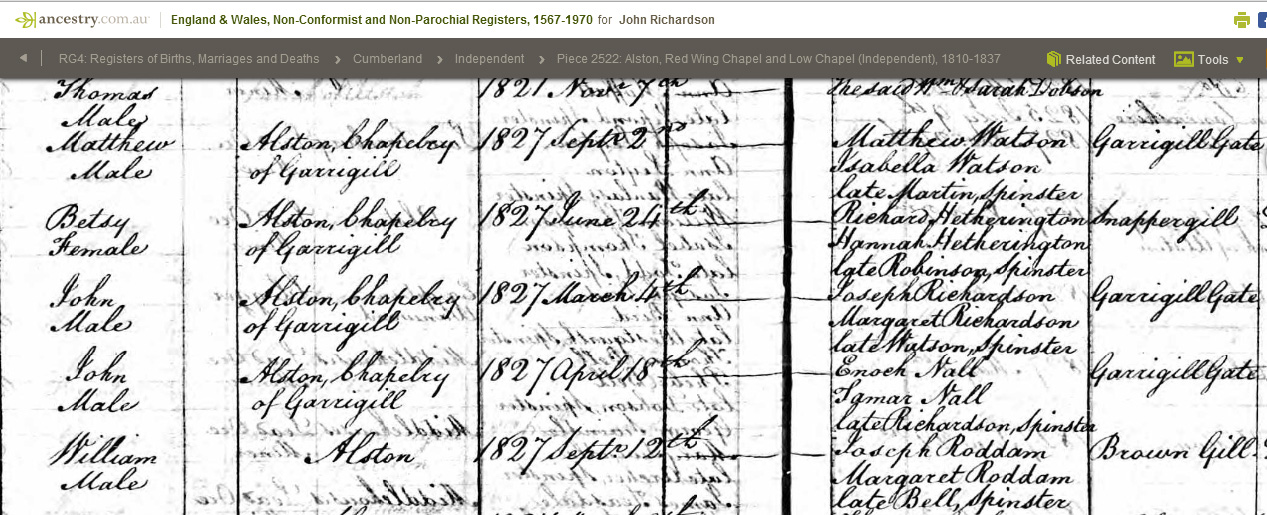 The fourth listing "John male" shown above is the Birth record of John Richardson born at Garrigill Gate in 1827, son of Joseph Richardson and Margaret Watson, the first adult Richardson male to come to Australia, along with is wife Hannah Allison and their family in Aug 1862. The next "John male" immediately below our John Richardson, happens to be that of John Richardson's first cousin, John Nall, being Enoch Nall and Tamar Richardson's eldest son. Note the other family names living in this neighbourhood also, being Nall, Hetherington, Watson, Bell, Martin, Robinson, some of their descendants and relations intermarried decades later in Victoria.
An early Census listing of a very young John Richardson, aged 14, living with his parents Joseph Richardson and Margaret nee Watson, and his 4 siblings in Alston in 1841.
The following is a Census record for the same year, of his future wife Hannah Allison.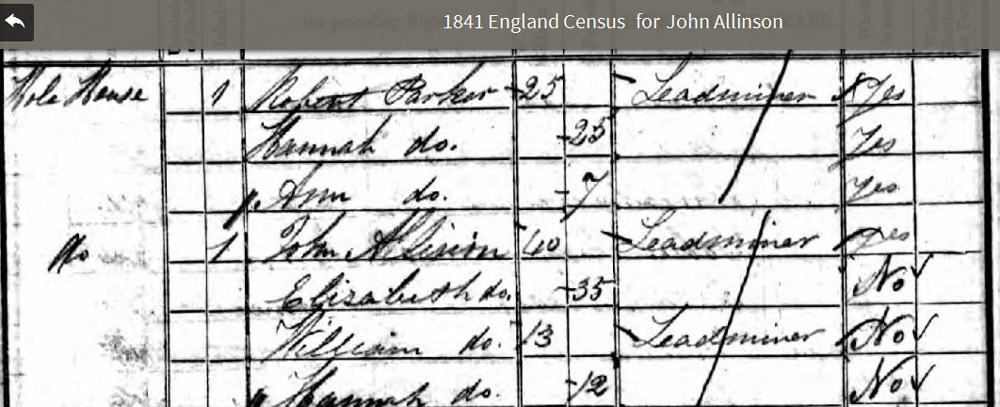 1841 Census of Hannah Allison aged 12, and her parents and brother William aged 13 at Alston.
John Richardson married his wife Hannah Allison on 24 May 1849 at St John church in Garrigill. Hannah Allison's parents were John Allison, born 1801 in Alston, and Elizabeth ( Betty ) Anderson, born 1806 at Middleton in Teesdale. Hannah's only sibling was William Allison born 1828 we believe in Harwood or Teesdale.

Two Marriage records of John Richardson and Hannah Allison in Alston in 1849.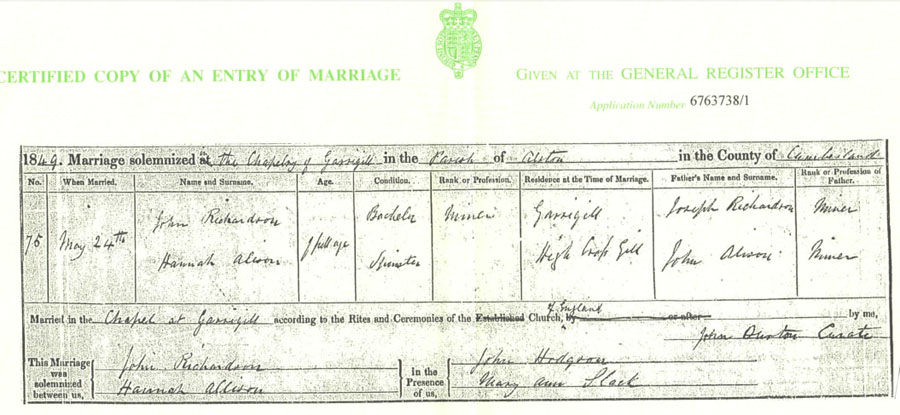 By the time of the 1851 Census Hannah Allison had been married to John Richardson for a couple of years, and they lived with John's father Joseph at Alston,and had had their first child Sarah Richardson in 1850.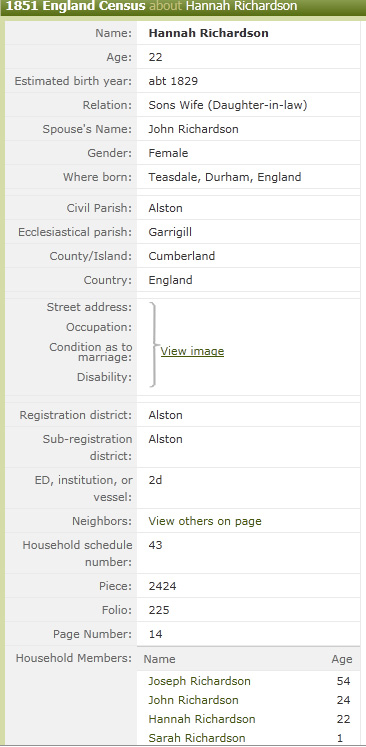 Also by 1851, Hannah's father John Allison had passed away, her mother Elizabeth was woring the family farms of 50 acres, and her brother was a Lead Ore Miner, both living at High Crossgill farm south of Garrigill.
1851 Census record of Elizabeth Allison nee Anderson, and her son William near Garrigill.
The next relative Census record of 1861 indicates John and Hannah Richardson were still living with John's father Joseph, and they had expanded their family, with the additions of Emerson and Elizabeth Richardson, the children's grandfather Joseph officially noted in the same household as a Lodger.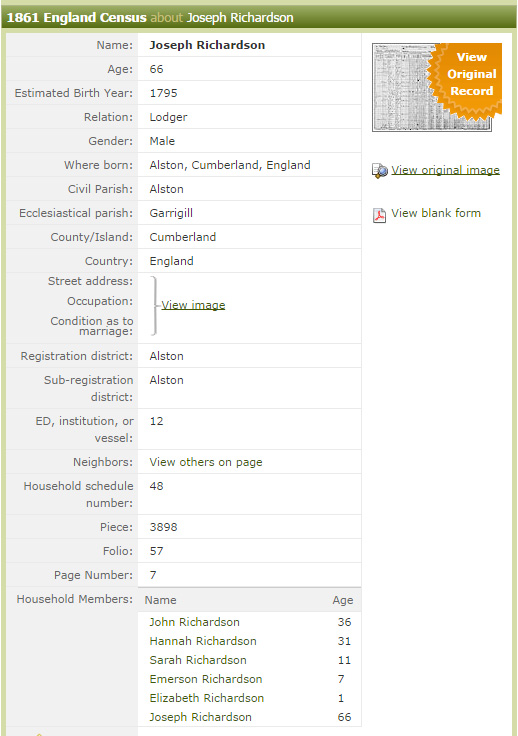 The following year found John and Hannah Richardson nee Allison, and their 3 children, Sarah, Emerson, and Elizabeth Richardson, all emigrated to Australia on board the S.S. Great Britain in 1862. This family were our first Richardson generation to emigrate to Australia. Surprisingly, quite a few records have been located in reference to this couple, however, seemingly endless researching, has been unable to locate or confirm much info about John Richardson's time in Australia, or even a death record for him.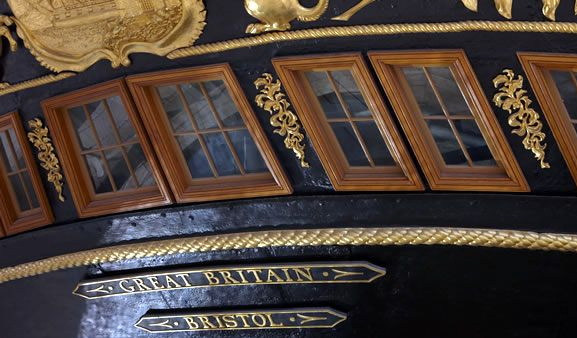 The SS Great Britain
Nowadays a great tourist attraction.
As shown on the Passenger List here, they travelled on board the Great Britain, with their three young children, Sarah aged 11, Emerson aged 8, and little Elizabeth, aged 2. The average voyage from England on such a sailing ship in these times, took about 3-4 months. The more modern steam clippers of the day, boasted the travel time to be under 40 days, and the steam companys advertised this point.

Original Passenger list record for the arrival of the Richardson family at Hobsons Bay Melbourne in 1862.
Sarah, Emerson, and Elizabeth were all quite young to encounter such a long sea voyage from England to the other side of the world, yet they all survived to eventually marry and have children of their own in Australia. Naturally, only Emerson's children carried on the Richardson surname. Sarah married twice, firstly having two sons with William Bell, and after he died then Sarah married Joseph Race, and Elizabeth married Robert Cochrane.
Photo of Ballarat East taken by Daintree around 1861. Courtey State Library of Victoria.
John Richardson is quite a common name, however, after delving into a few other namesakes of John Richardson in this region during this time frame, eliminating the one at Geelong who was a Member of the Legislative Assembly, and another who was at Specimen Hill whose wife was a milliner in 1858, it is highly likely some or most of the following records, relate to our John Richardson.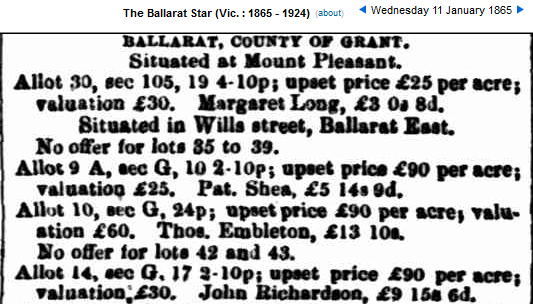 Land sale notice of a property of John Richardson in Wills St Ballarat East in 1865.
Ballarat City records indicate that Wills St was renamed Mair St, which now crosses the main street of Ballarat, not far from Richardson St.
From the birth records of his last 2 daughters Hannah Richardson born Smythesdale in 1863 and Mary Ellen Richardson born in 1865 at Ballarat East, we know the Richardsons probably moved from Smythesdale to Ballarat East around the mid 1860s. Sadly Hannah and Mary Ellen Richardson both died very young.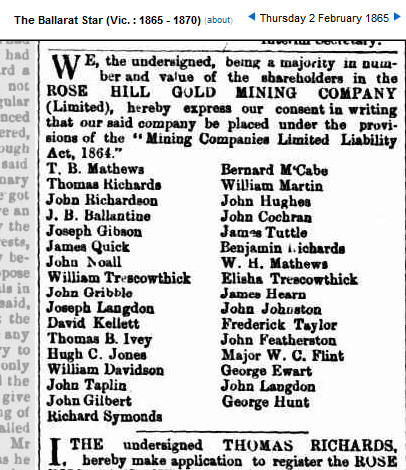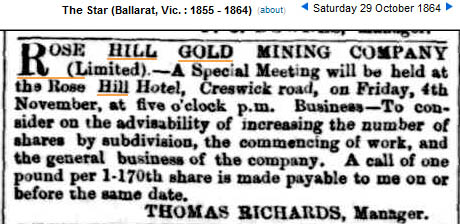 The Rose Hill mine was about a mile from Wills St, Ballarat, believed to be located somewhere between Creswick Rd and Learmonth Rd, just north of the township.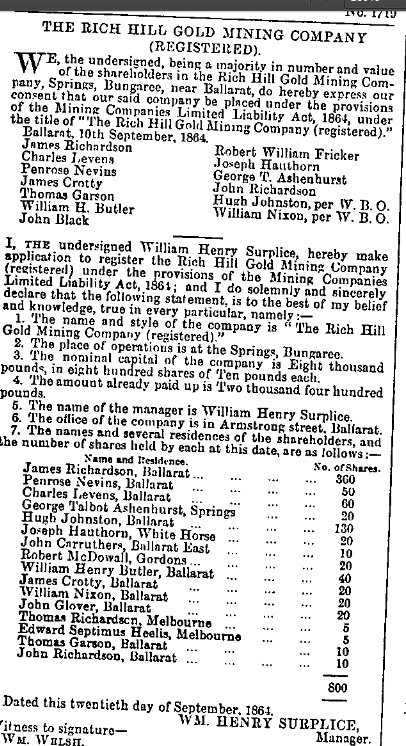 John Richardson holding shares at the Rich Hill Gold Mining Company in 1864 at Bungaree, 5 miles from Ballarat East.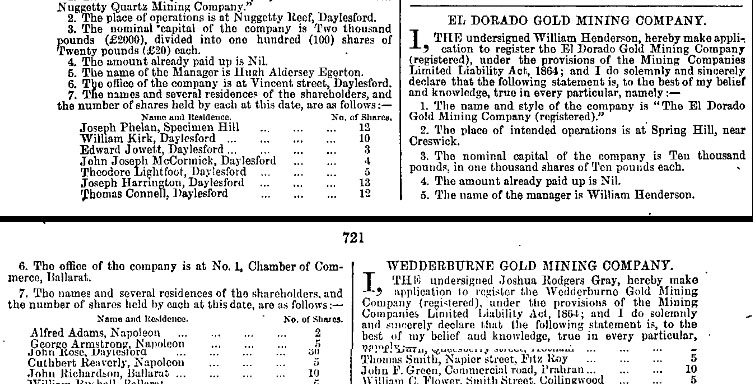 John Richardson and relative George Armstrong with shares in the El Dorado Gold Mine at Spring Hill in 1865.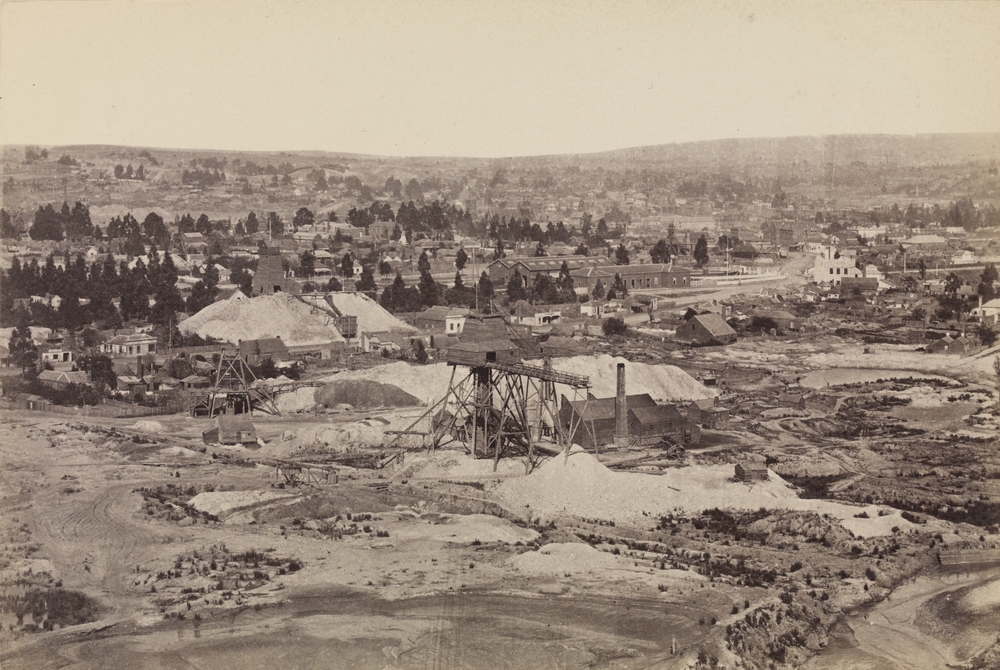 Ballarat East was a thriving area in many ways by 1870. Courtesy State Library of Victoria.
In actual fact, the death record of his daughter Mary Ellen in 1868, is last known confirmed official record located for John Richardson, after checking a mountain of Census and Death records in Australia, and the U.K.. From his wife Hannah's death details, John must have died before 1901, as Hannah was noted as a widow then.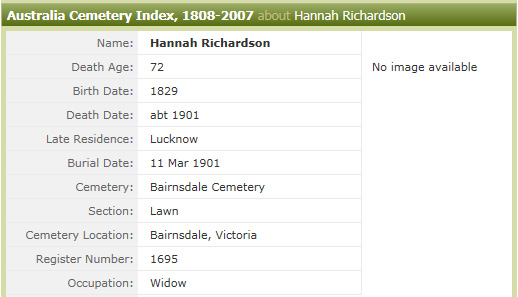 Unfortunately the last surviving Richardson who would have known Hannah, and possibly her husband John too, we believe was grand daughter Ellen (Nennie) Richardson who died in 1980, so there is little known about this couple and their lives and adventures in Australia - not even a photo. So at this point, it is important to list some known facts, about John and Hannah's children, in order to explain who is who in the only other document located regarding Hannah in Australia ie. her death notice in the Bairnsdale Advertiser and Tambo and Omeo Chronicle of 9th March 1901.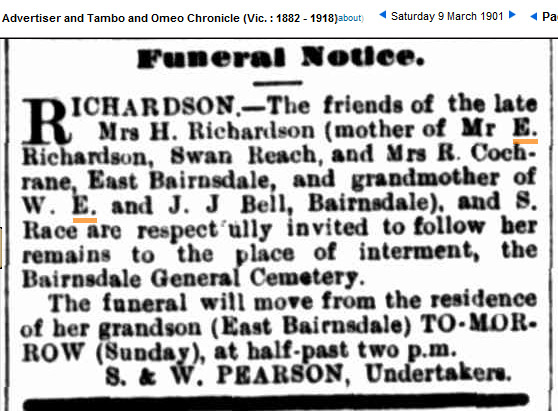 Another very important point to mention, is that John and Hannah's only son Emerson, would have been regarded as the head of the family back in those days, and since his father John had passed away, it is highly likely Emerson organised his mothers funeral, the invitations and procession, and probably also worded the funeral notice itself shown above. From this old newspaper cutting, it can also be presumed that Emerson and Sarah had quite a close family connection, from the fact that Sarah (Bell) passed down the name of Emerson, to her son William Emerson Bell.
When this particular death notice was located during the research process, it turned out to be a vital clue in tracing Emerson Richardson's two surviving siblings, his older sister Sarah Richardson born 1850 in Alston, and younger sister Elizabeth Richardson born 1861 also in Alston.


BELOW AT LEFT - SARAH & EMERSON & ELIZABETH RICHARDSON BORN IN ALSTON U.K.
AND HANNAH & MARY ELLEN RICHARDSON BORN IN VICTORIA AUSTRALIA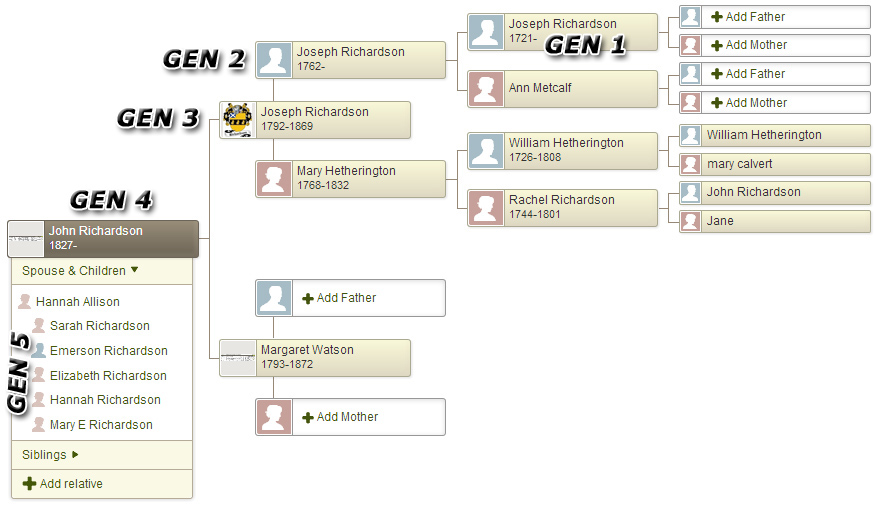 ELIZABETH RICHARDSON BORN IN ALSTON U.K.
No official Birth Registration has been found for Elizabeth, however she was born in Alston in 1861.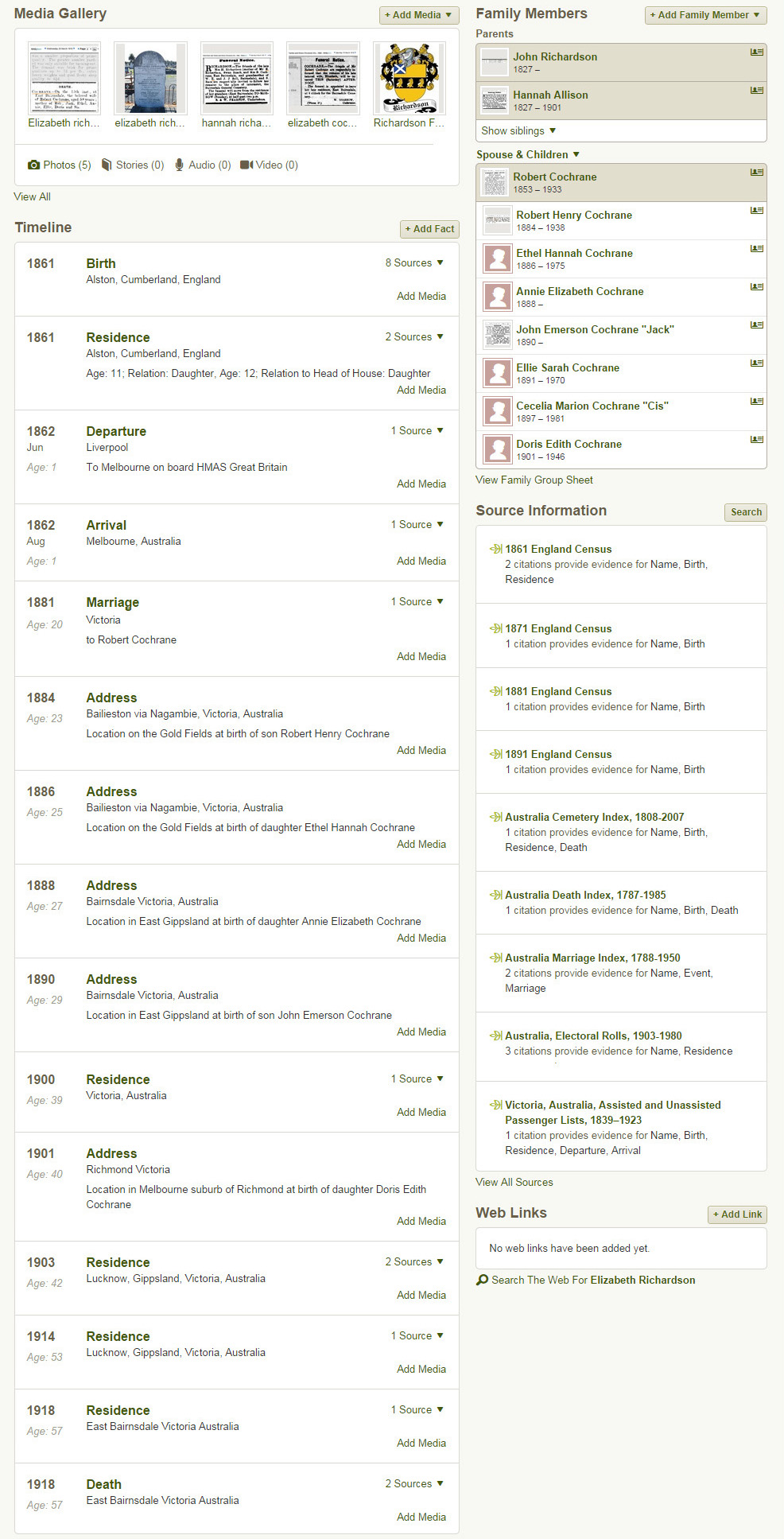 Timeline summary of Elizabeth Cochrane nee Richardson, showing her family growth in Australia.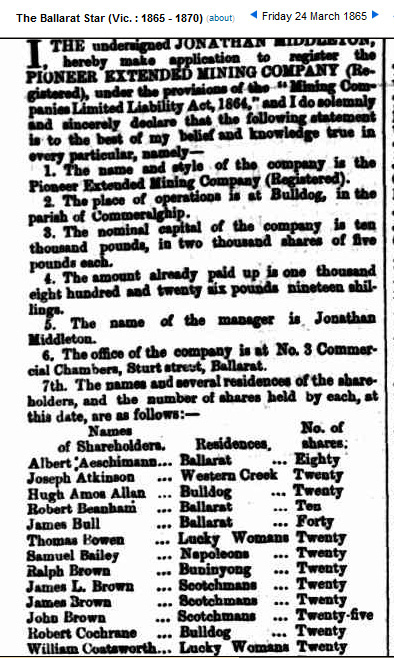 Gold Mining Shares held by Robert Cochrane, while living at Bulldog near Ballarat in 1865.
Elizabeth's husband Robert Cochrane was a well respected community member after being a digger near Ballarat. He became a farmer and hop grower at Lucknow in East Gippsland, a Bridge building contractor with brother John, Justice of the Peace, Bairnsdale Shire Councillor and Shire President (1893), President of the Bairnsdale Pastoral and Agricultural Society, and President of the Gippsland Hops Growers Association. As a matter of interest, both William and John Russell Calvert also resided for terms as the Bairnsdale Shire Presidents.
An error in the Shire accounts.
Elizabeth launches a barge.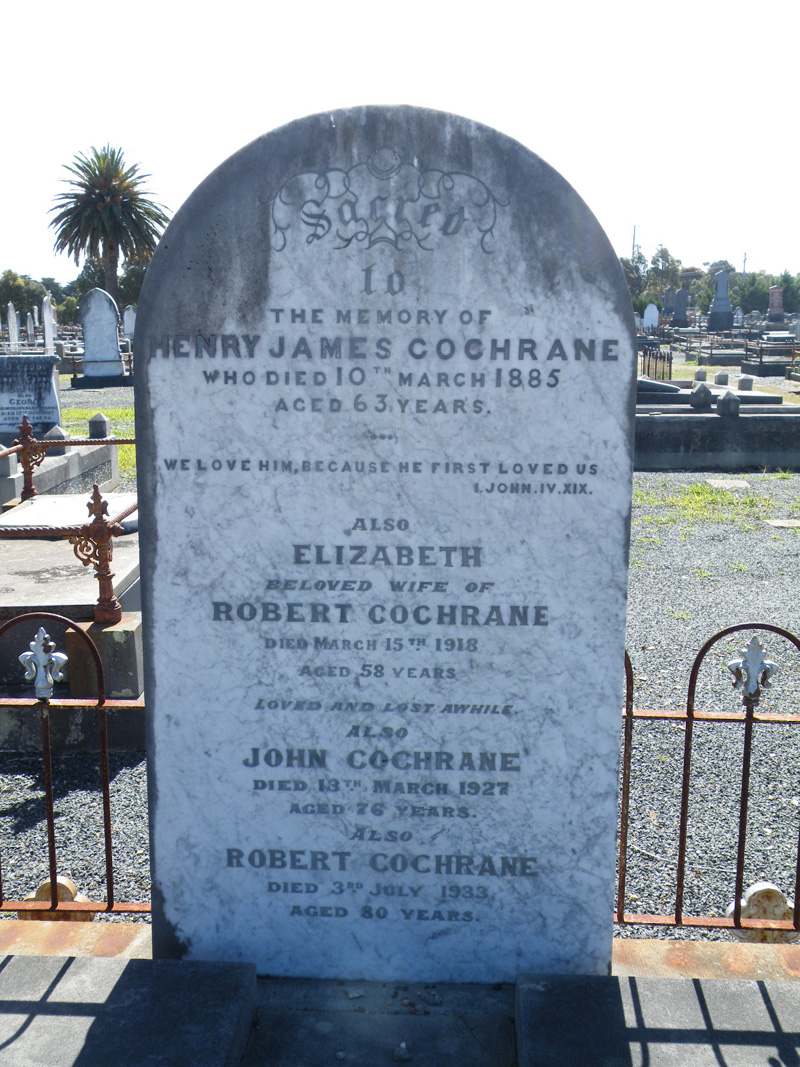 Headstone at Bairnsdale cemetery of Elizabeth Cochrane nee Richardson, her husband Robert Cochrane, his brother John, and their father Henry James Cochrane.
For more info re Robert Cochrane's family


Our dear departed aunty Joan Liddell Henderson nee Hopkins nee Richardson recalled she often visited and played with the Cochrane girls in Richmond, Melbourne, in her early childhood years (1920s & 1930s), however she was never told if or how they were related. In fact, Emerson's sister Elizabeth married Robert Cochrane in 1881 in Victoria, who is the Mrs R Cochrane invited to Hannah's funeral, per her death notice.


SARAH RICHARDSON BORN IN ALSTON U.K.
Likewise with her sister Elizabeth, no official Birth Registration has been found for Sarah Richardson, however she was born in Alston in 1850.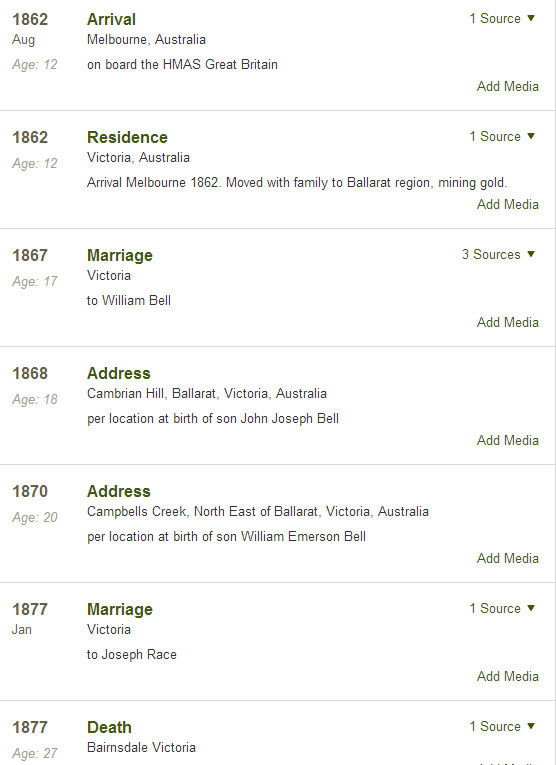 Timeline summary of Sarah Race nee Bell nee Richardson in Australia.
The invitation of "S. Race" was more difficult to locate, but "Grandmother of W.E. and J.J. Bell" turned out to be a vital tracing clue. Further investigation divulged that S. Race was actually Emerson's older sister Sarah, who married William Bell from Allendale, had two boys William Emerson and John Joseph Bell. Sarah's husband William was and engine driver, and was killed in a horrific accident at a mine in 1869.
Believe it or not, there were two men both named William Bell, whom both died in mining accidents, both at Scarsdale Victoria, within about two months of each other, so the only way to initially identify and confirm which one was our Sarah's husband, was to purchase their wedding Certificate of 1867.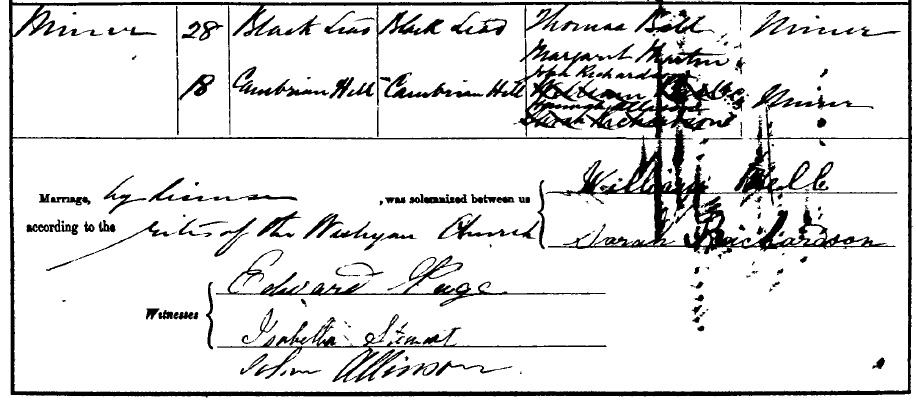 Sarah Bell nee Richardson's wedding Certificate of 1867.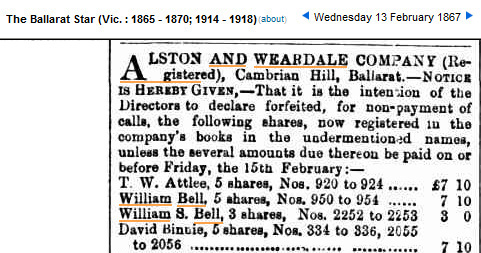 William Bell's Shares of 1867 in the Alston and Weardale Gold Mine at Cambrian Hill, where William and Sarah's second son John Joseph Bell was born the following year.

Most likely the advert William Bell answered re Engine driver position at the Speculator Gold Mine.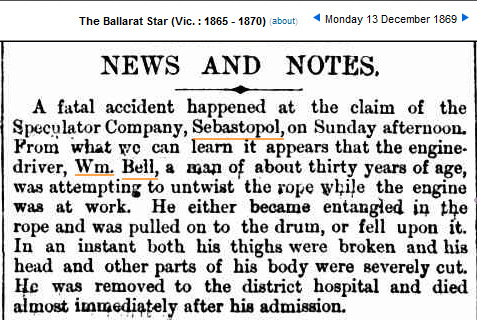 Newspaper cutting re death of Sarah Richardson's first husband William Bell in 1869.
For more info re William Bell's family


JOSPEH RACE & SARAH BELL NEE RICHARDSON
Unassisted passenger record for Joseph Race in 1865 on board the SS Great Britain.
Sarah Bell nee Richardson remarried Joseph Race in 1877 after her first husband William Bell died, and she sadly passed away in the same year she married again. It would appear Joseph Race had plans to become a farmer in East Gippsland, according to this newspaper cutting of 1877.

Graziers License for Joseph Race approved in 1877 by the Bairnsdale Shire.
It has been a little difficult to trace some Victorian records of Joseph Race, although he did remarry Matilda Hood 8 years after Sarah died, and he was a descendant of another Richardson family branch from nearby Weardale, as shown here.
These different Richardson and Watson family branches here, stemming from John Ritson Richardson and Ann Moses, were noted as from Brotherlee next to the Wear River, which is about 16 miles South East of Alston.


EMERSON RICHARDSON BORN IN ALSTON U.K.
From minimal family recollection in the introduction, his Passenger List details, and the information already mentioned surrounding Emersons involvement in his mothers funeral, further research has cast more light on other aspects about Emerson Richardson.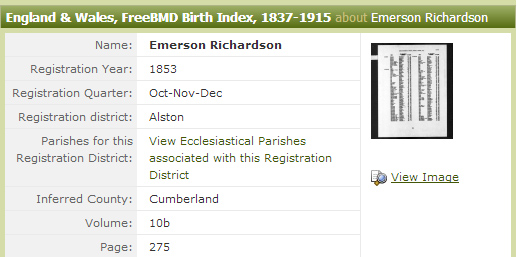 Official U.K. Birth record of Emerson Richardson in 1853. His marriage certificate states he was actually born at Garrigill Gate, 4 and a half miles from Alston.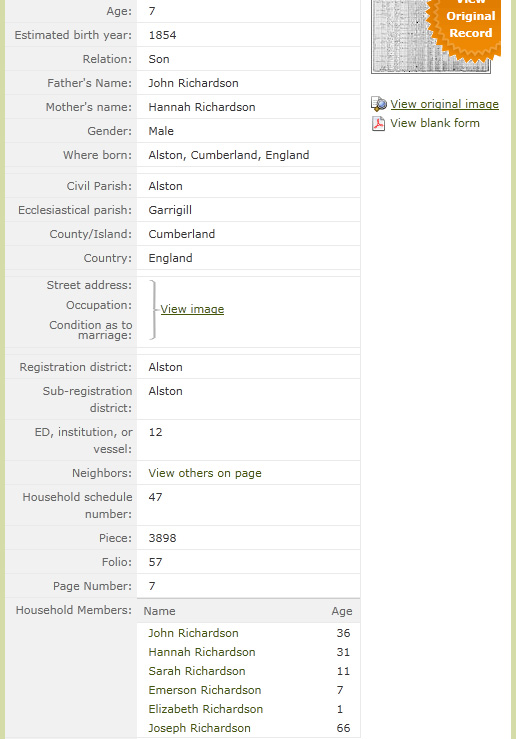 U.K. Census records indicate, in 1861 at the age of 7, Emerson was living with his parents in Garrigill, only a few miles from Alston, with siblings Sarah (11 years) and Elizabeth, only 1 year of age. His grandfather Joseph Richardson (the third), aged 66 and a retired Lead Ore Miner, is recorded as being a "lodger" in the family household.
Young Emerson's emigration document into Australia reads as follows :-
Name: Emerson Richardson
Estimated Birth Year: abt 1854
Age: 8
Arrival Date: Aug 1862
Arrival Port: Melbourne, Australia
Departure Port: Liverpool
Ship: Great Britain
Nationality: English
From the birth records of his two sisters Hannah & Mary Ellen born on the Victorian Goldfields, we know Emerson was about 9 years of age while living with his family at Smythesdale south west of Ballarat in 1863, the heart of the Victorian Gold fields, and was aged 12 when they lived at Ballarat East in 1865. As it turned out, Emerson's older sister Sarah Richardson, married William Bell in Victoria in 1867, at the tender young age of 17. William and Sarah's first born John Joseph Bell, was also born in that same region, in 1868 at Cambrian Hill, just South of Ballarat, and their second son, William Emerson Bell, was born in 1870 at the gold mining town of Campbells Creek, about half way between Ballarat and Bendigo. So we can assume this is the period and region he started get to know his nephews quite well.
Investigations into the movements of Emerson's future wife Ellenor Vipond (Ellen) and her parents James Vipond and Mary Ann Bell, found the Viponds spent quite some time around Nagambie between Ballarat and Bendigo up until around 1864 when the Viponds were located in Stratford in East Gippsland when Maria Bell Vipond was born there. So one may presume Emerson and Ellen may have met in this area of the Goldfields, or a bit later on when the whole Richardson family moved to Swan Reach in East Gippsland. Regardless of where Emerson and Ellen met, they married at Swan Reach in 1885.
Emerson and Ellen's Marriage Certificate of 1885.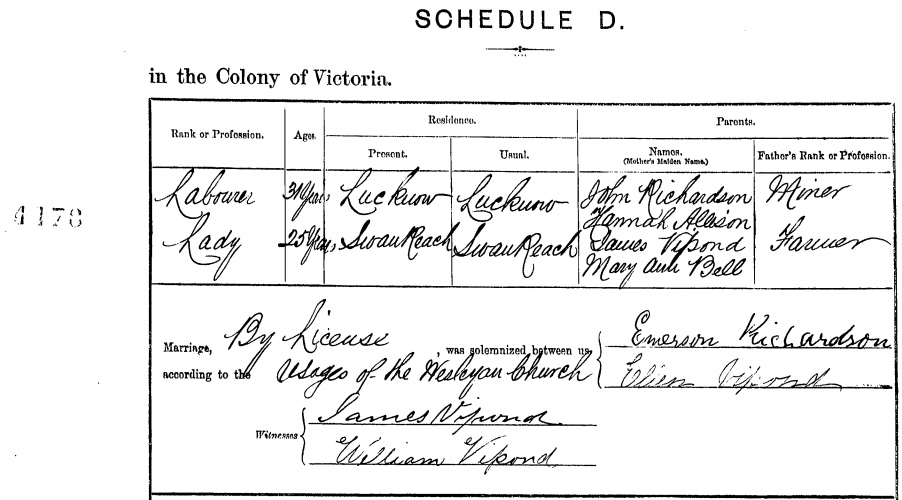 Emerson and Ellen Richardson had four children, John Victor (Jack) in 1887, Stella Maria (Stell) in 1888, William Allison (Will) in 1890, and Ellen (Nennie) in 1894. Family recollection recalled Jack having to leave school and go out to work in his mid to late teenage years, when Emerson left the family to fend for themselves, which calculates their separation to be about 1905-1910.
Emerson and Ellen Richardson still living together at Swan Reach in 1903.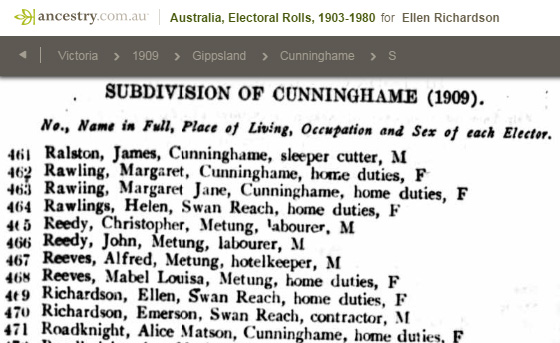 Emerson and Ellen Richardson still living together at Cunninghame (Lakes Entrance) in 1909, so it is fairly safe to say Emerson and Ellen actually separated about 1910 or shortly after.
In regard to Emerson's working life, from the year after they married, 1886, a number of regular listings appear in the Bairnsdale Chronicle newspaper, noting Emerson as a Contactor, hired for "Surface forming" and a supplier of gravel for road works to the Tambo Shire, his first known Tender account of 5 pounds 10 schillings and 8 pence was finalised and paid in November 1886. He appeared quite successful with Tenders and contracts, as the Tambo Shire regularly published his Tenders and Accounts approved for payment.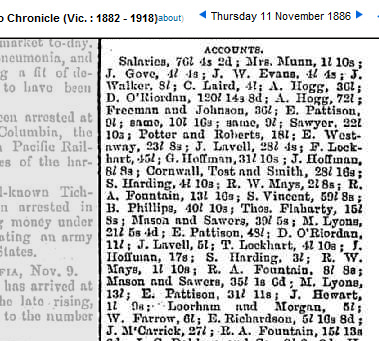 A well paid Emerson Richardson earning 5 pounds 10 shillings and 8 pence, working as a road gravel and maintenance contractor, for the Bairnsdale Shire in 1886.
Emerson's name is consistently listed in the Bairnsdale Chronicle or the Tambo or Omeo newspapers about every 2-3 months or so, quite a lot of such Tender jobs secured close to home, in or around Swan Reach, right up until Jan of 1918. In March of 1907, he was a witness in a Court dispute over the quality of part of a gravel contract, which states "Emerson Richardson, a contractor, residing at Swan Reach said he made a contract with Coate Bros to supply 600 cubic yards of gravel". Coate Bros are listed in the Shire accounts below of 1918, and appear to be a sizeable operation financially.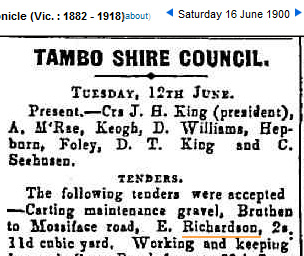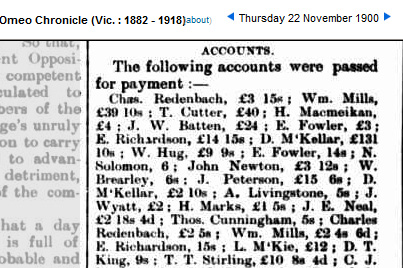 From these records of Tenders and Shire accounts, we know Emerson was still in the district till around 1918. At a glance on the above right cutting. T. Cutter was Thomas Bell Cutter, who married Ellen Viponds sister Maria Bell. Also T. Cunningham was Thomas Henry Cunningham junior, an uncle of Jack Richardson's wife Annie Liddell, on her mothers side of the family. It appears Emerson was also quite an innovative man, as he invented and patented a product called "Rabbi", designed to fumigate and kill rabbits, which were in plague proportions. He contested 3 other product inventors at a public demonstration at Lower Nicholson fumigating rabbit burrows, that was attended by 40 people.
Emerson Richardson demonstrating his rabbit killing product at Lower Nicholson in 1911.
Since Emerson separated from Ellen around 1910, we do know Emerson and Jack were living together in 1914 at Nowa Nowa past Bairnsdale, and his last known work contract was in 1918.

Emerson and son Jack living together at Nowa Nowa in 1914.
The last known record of Emerson Richardson working as a road maintenance contractor in 1918.
Courtesy National Library of Australia and the Bruthen and Tambo Times newspaper of 1918.
Emerson relocated sometime between 1918 and 1921 to West Gippsland, as indicated from the address on his letter of 1921. Its a hand written note to the War Office at the Victoria Barracks from "Brown Coal Mine", authorising son Jack, to collect his other deceased son William Allison Richardson's war medals.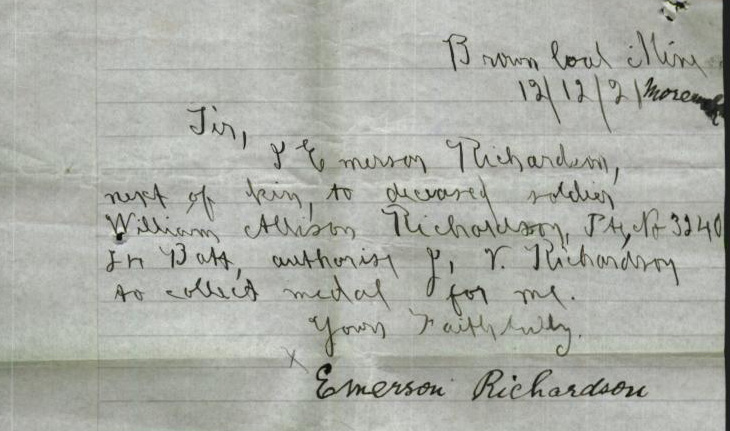 Upon perusal of Will's war record, one "British War Medal Service #3240" was issued on 19 Dec 1921, receipt signed by Emerson Richardson, and actually witnessed by son Jack Richardson, so it appears father and son completed this task together.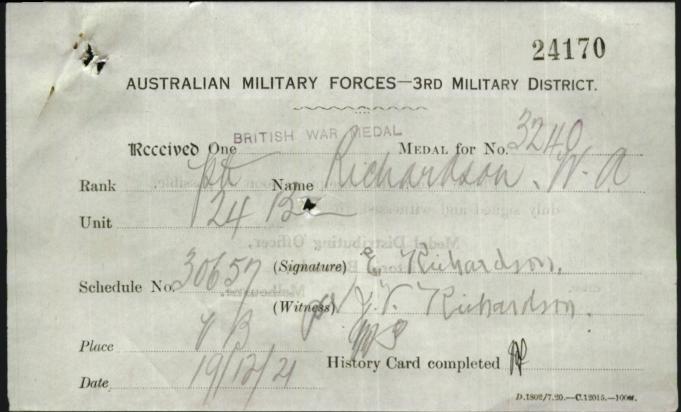 One may hope this combined effort by Emerson and son Jack, to attain Will's war medals, may have been a result of some small means of family reconciliation, as it is the only known contact of any kind, since Emerson was living with Jack in 1914 at Nowa Nowa, and before Emerson died in 1924. From Jack's enlistment record, Emerson' wife Ellen was living in Malvern in Melbourne in 1916, and their daughters Nennie and Stell were still living at Stratford with her aunt Maria Bell Vipond. Jack actually applied separately, and signed solely for receiving his two personal War service medals somewhat later, on 13 May 1922.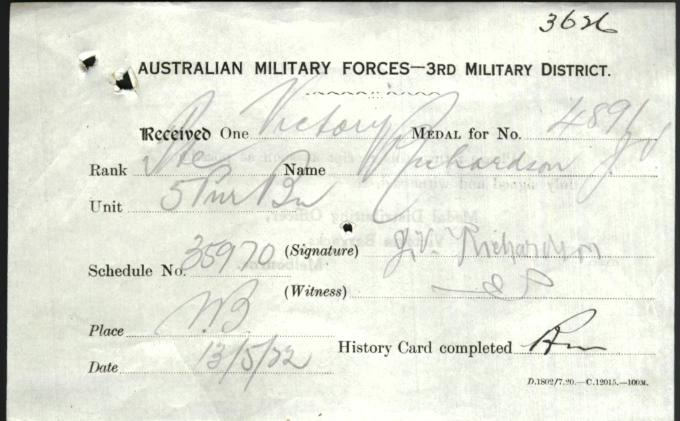 Brown Coal Mine is a tiny rural township, just a bit over 10 kilometres north of Morwell, boasts mainly cow paddocks, and a huge Electricity Power Station. Brown Coal Mine was actually renamed Yallourn North in 1947.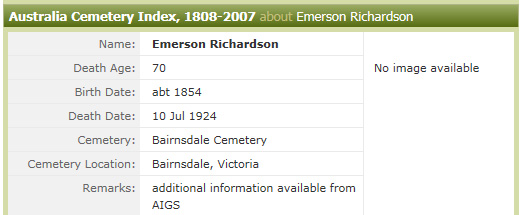 Emerson's death record of 1924.
ELLENOR VIPOND (ELLEN) - WIFE OF EMERSON RICHARDSON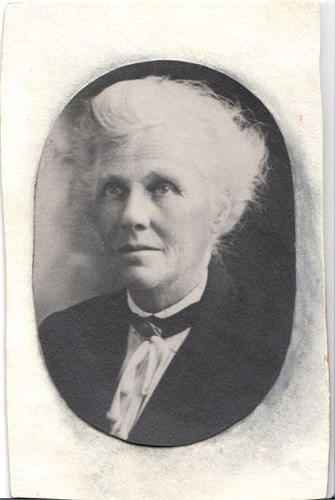 Emerson Richardson's wife Ellenor Vipond - circa 1930.
Ellenor Vipond ( Ellen ) was born on the 16th of August 1860 in Alston Cumberland, to James Vipond and Mary Ann Bell. Her fathers first wife Ann Shaw was born in the 1840's, and together they had eight children. After Ann Shaw passed away, James and Mary Ann Bell married, and had 4 children in Alston, John, Margaret Ann, William, then Ellen herself, between 1855 and 1860 in Alston, Cumberland.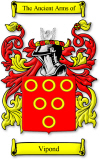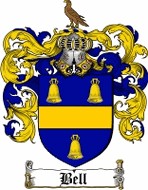 Family Crests of Ellen's parents, James Vipond and Mary Ann Bell.
Frontispiece of James and Mary Ann Vipond's family bible from 1855, probably started in Alston, Cumberland, England.
Shortly after the Vipond family emigrated to Australia, they settled briefly in Stratford in Gippsland Victoria, where their first Australia born child was born in 1864, daughter Maria Bell Vipond.
Emigration record of Ellenor Vipond aged 1, travelling on board the Great Britain in 1863, with her mother Mary Ann Bell, and 3 siblings. No emigration record to date of Ellen's father John Vipond has been found, however U.K. Census records, show the family were all together in Alston in 1861.
One may also assume the word of "Gold Fever near Ballarat" obviously came to Stratford too, as their youngest and last child James Albert Vipond, was born in 1870, at Fryerstown, a gold boom town, about halfway between Ballarat and Bendigo.
It appears this particular Vipond family moved back, actually to East Gippsland, in the early to mid 1870's, as some interesting notations were made during Cunningham family interviews at Tambo Upper in the late 1990s, in regards to the Liddell and Vipond and Cunningham family connections.
Timeline for Ellenor Vipond from her birth in Alston U.K. in 1860.
Ellen's eldest sister Margaret Ann Vipond, initially taught about 20 young pupils at the Nicholson Primary school number 1716, between 1875 and 1879. This "School" was in reality, a bark hut at Nicholson, about 12 feet wide by 18 feet long, administered under a local lease arrangement, of 1 schilling per year.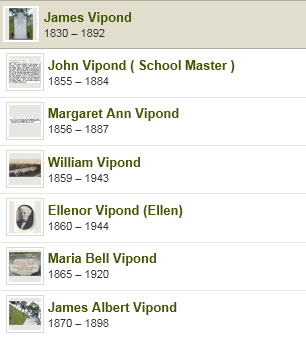 Ellen's family members, father James Vipond at the top, followed by the rest of her siblings.
As it turned out, Ellen's eldest brother John, was noted as being a star player, for the Bairnsdale Cricket Club, in the locally renowned "Challenge Cup" of 1876. In the same year of 1876, John Vipond became the first recorded School Master (Principle) of the same bark hut school at Nicholson that his sister Margaret taught in, and he taught many local children there until he passed away in 1884.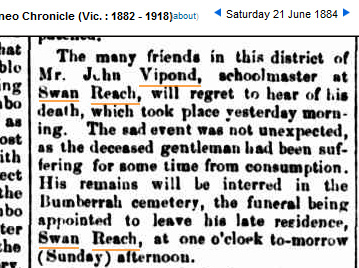 Death notice of John Vipond in 1884.
We can assume the Vipond family had a special and particular interest in supporting local education. Some time later, in June of 1896, John and Margaret's next youngest brother William Vipond, was referred to by the Bairnsdale newspaper as per "Mr William Vipond has been appointed a member of the board of advice for the school district of Bumberrah riding of the Shire of Tambo". As it turned out, William Vipond played a key role, in supporting Ellen Richardson and her children, after they moved to Melbourne early during World War I, and they ended up living in one of William's investment houses in Malvern.
Headstone of Ellen Richardson nee Vipond buried with brother William at Bumberrah Cemetery, Victoria.
From family recollections, Ellen Richardson (nee Vipond), has been portrayed and described as a very caring, gentle, and positively encouraging type of lady. As a direct result of her husband Emerson's alcohol problems, she was apparently a very involved initial and keen local member of the international "White Ribbon Movement", associated with the Womens Christian Temperance Union, which began in 1882. This group supported families, in particular wives, sisters and brothers of alcoholics at that time. Ellen was actually on her way to a local White Ribbon meeting of this movement on the day she passed away in 1901.
For more info re the Vipond family


NB. The next Richardson page includes Gen 5 & 6 of our Australian Born descendants.

Part 2 Richardson family descendants born in Australia.
Other family links -


Back to Site Index.


Background into Lead Ore Mining in Northern U.K.


Background into the Gold Rush days near Ballarat Victoria.

From John Allison born in 1801, Alston U.K.


From John Armstrong born in 1705, Haltwhistle U.K.


From Thomas Bell born 1806 of Allendale, U.K.


From James Broadwood born 1796 of Northumberland, U.K.


From William Calvert born 1791 at Kirkhaugh, U.K.


From John Clementson born 1692 in Garrigill, U.K.


From William Coulson born 1760 in Cumberland, U.K.


From Robert Cochrane born 1778 in Eglington, U.K.


From Edward Hewitson born 1794 in Kirk Linton, U.K.


From John Liddell born 1880s in Ninebanks, U.K.


From Joseph Parker born 1810 at Allendale, U.K.

From James Rowe born 1765 in Cornwall, U.K.


From Nicholas Vipond born 1655 in Alston, U.K.


Letters from by James and William Armstrong in the 1860s.
For a much more detailed review of these Richardson family branch lines, please review at your web hosts research,
Starting at J.V. Jack Richardson and his wife Annie Liddell per ancestry.com.au
Email here re enquiries, corrections, or input to this site