Richardson / Vipond / Allison Australian connection.
John Victor Richardson born 1887 Lucknow Victoria at Nicholson in 1922 married Sarah Ann Liddell born 1896 in Bairnsdale. Jack's father Emerson Richardson (born Alston in 1853) was the only son of John Richardson (born 1827 at Alston ) and his wife Hannah Allison (born 1829 to John Allison and Elizabeth Anderson at Middleton in Teesdale) who married at Garrigill in 1849. John Allison was the only known son of Fenwick Allison and Isabella Slack from Garrigill in Cumberland from around the 1780s. According to Joe Pesdoc, an Ancestry researcher, Fenwick Allison was the youngest of 3 sons of William Allison, born 1729 at Alston, and William's wife Mary Slack, born 1733 at Rumble, Alston. No official record of Fenwick Allison's parents have been found to date. It is also not known if Mary Slack and John Slack shown here were related in any way.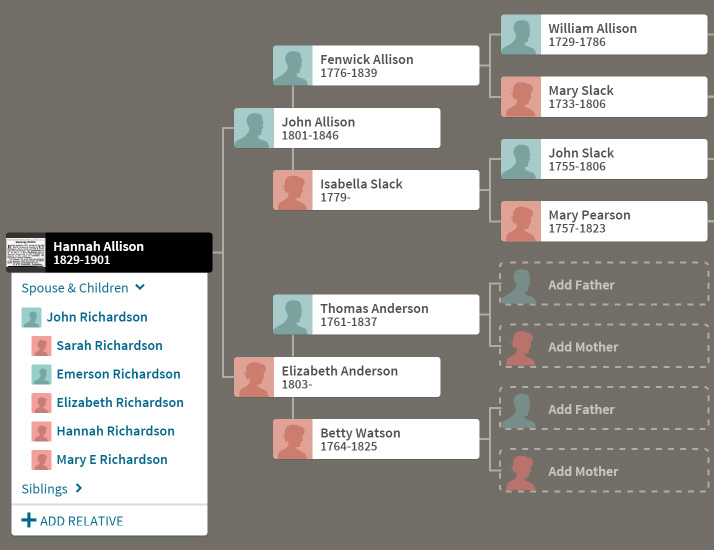 Timeline of Hannah Allison's ascendants as described above. Courtesy Ancestry.com
NB. There is a second confirmed direct link to the Allison family, through one of Hannah's aunts Eleanor (Ellen) Allison, a cousin of John Allison, as noted in Generation 2 below. Eleanor, known as Ellen, was born at Alston in 1797 to Thomas Allison (Hannah's grand uncle) and Eleanor Robinson, and Ellen married William Calvert from Kirkhaugh.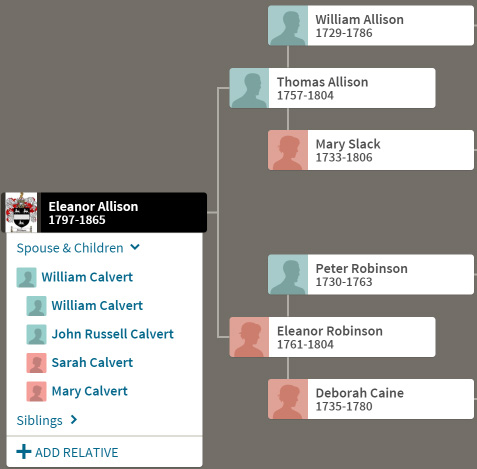 Timeline of Eleanor Calvert nee Allison. Thomas Allison shown here, and John Allison above were brothers.
NB. The following two Allison / Richardson family connections are still being researched.
A third Allison female family connection, being from the marriage of Phillis Allison, daughter of Joseph Allison and Margaret Barnfather, to John Teasdale, son of Joseph Teasdale and Isabella Richardson, is best outlined for Ancestry members,
via this link.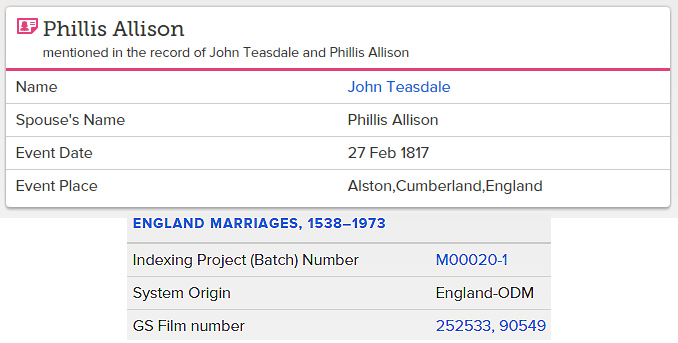 Marriage record of John Teasdale and Phillis Allison in 1817 at Alston. Courtesy FamilySearch.com
A fourth Allison female family connection, being from the marriage of Martha Allison, daughter of Cuthbert Allison and Anne Walton, to Nicholas Vipond, son of John Radcliffe Vipond and Mary Hullick, is best outlined for Ancestry members,
via this link.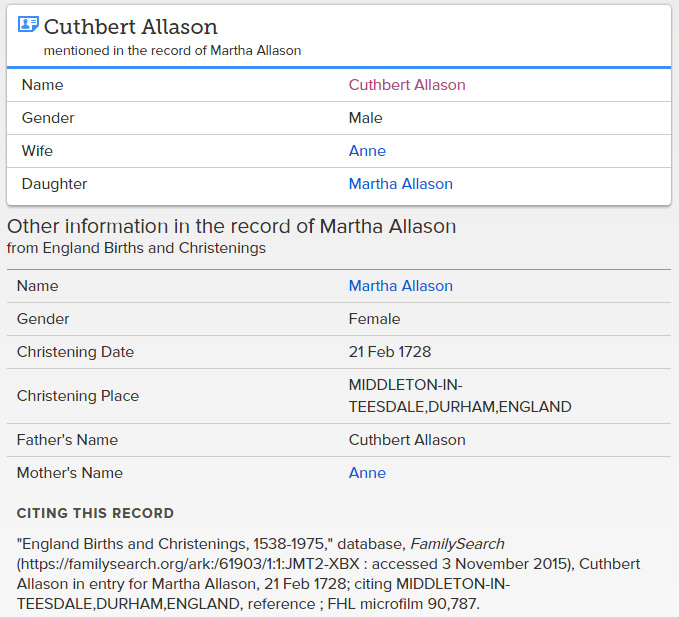 Christening of Martha Allison at Teesdale in 1728. Courtesy FamilySearch.com

Marriage details of Martha Allison to Nicholas Vipond at Garrigill in 1750. Courtesy FamilySearch.com
Allison Family Tree.


WILLIAM ALLISON AND WIFE MARY SLACK - ALSTON, CUMBERLAND.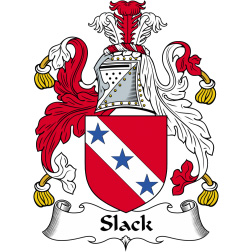 Family Crests for Allison and Slack.
William Allison and his wife Mary Slack were both born in Alston, Cumberland in 1729 and 1733 respectively. They married at Alston in 1754, and had 5 known children, being Isabel, Thomas, Mary Ann, and Fenwick all born in Alston between 1754 ad 1769, and a son either John or William or John William, born at Teesdale in Middleton in 1769 or 1770. Kindly note, records this old are often sketchy.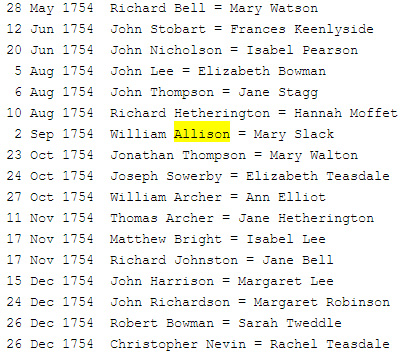 At Alston, William Allison and Mary Slack were married in 1754. Courtesy Genuki.com
Many other familiar family surnames are listed here too.
Ancestry.com records indicate their eldest son Thomas Allison married Eleanor Robinson at St Augustine Church at Alston on the 26 Apr 1780, and their youngest son Fenwick married Isabella Slack in 1801. A basic overview follows about Thomas and Eleanor Allison, however our focus is relevant towards Fenwicks' descendants, as Fenwick and Isabella Allison, have a more direct connection with the Richardson family, via the marriage of their grand daughter Hannah Allison to John Richardson, as outlined further below.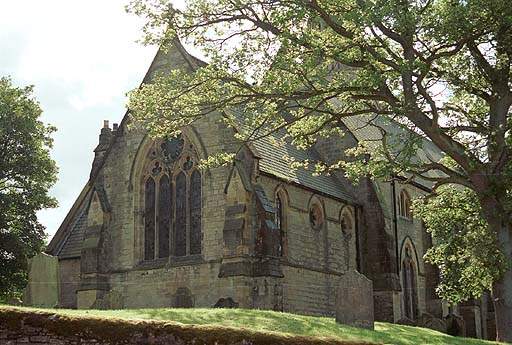 A modern day image of St Augustine Church at Alston. Courtesy visitcumbria.com
Obviously from the following timeline, Thomas Allison, father of Eleanor Allison who married William Calvert, and Fenwick Allison grandfather of Hannah Allison who married John Richardson, were actually brothers.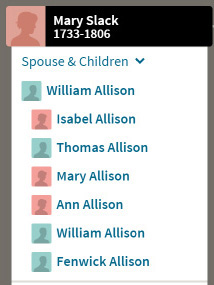 Family of William Allison and wife Mary Slack. Courtesy Ancestry.com


THOMAS ALLISON AND WIFE ELEANOR ROBINSON - ALSTON, CUMBERLAND.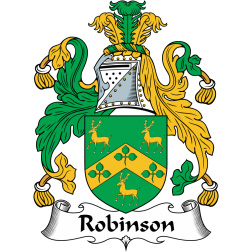 Family Crests for Allison and Robinson.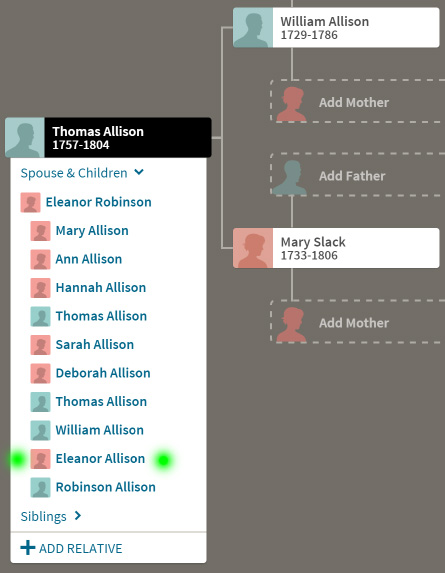 Family of Thomas Allison and Eleanor Robinson, with Eleanor Calvert nee Allison highlighted in green.
Thomas Allison, 1757 - 1804, and his wife Eleanor Robinson, both natives of Alston in Cumberland, had quite a large family, as indicated in the following image. Their last daughter Eleanor Allison, also an Alston native, born in 1797, married William Calvert from Kirkhaugh on 26 July in 1823, and had four children, all of whom married and emigrated to Victoria Australia, as detailed here.

Marriage of William Calvert (Jnr) and Eleanor Allison at Calbeck in 1823.


FENWICK ALLISON AND WIFE ISABELLA SLACK - GARRIGILL, CUMBERLAND.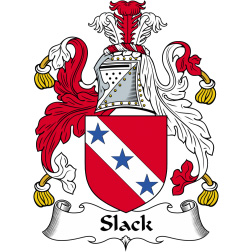 Family Crests for Allison and Slack.
With special thanks to RootsChat.com a fairly early Allison family connection, has been recently confirmed. Fenwick Allison is believed to have been born in 1776, going by related family records at Ancestry.com near Alston or Garrigill. In 1801, our Fenwick Allison married Isabella Slack, born in 1779 at Tynemouth Northumberland, the eldest daughter of John Slack and Mary Pearson of Tynehead, and according to Ancestry.com records, they had two children being, John Allison born in 1801 at Alston, and Jane Allison born at Garrigill in 1802.

Marriage record at Genuki.com for Fenwick Allison and Isabella Slack in 1801.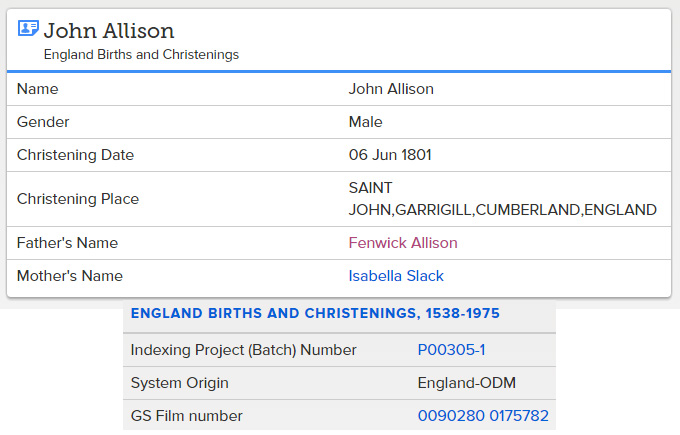 Christening record of John Allison in 1803 at St. Johns in Garrigill. Courtesy FamilySearch.org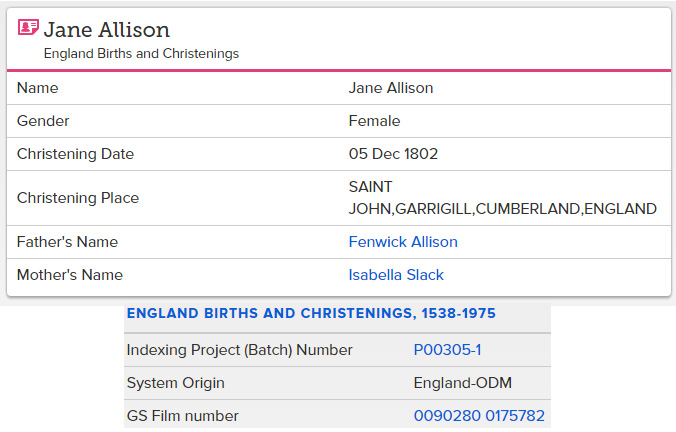 Christening record of Jane Allison in 1803 at St. Johns in Garrigill. Courtesy FamilySearch.org
Records show Fenwick and Isabella Allison spent much of their lives firstly in Alston, and later around Middleton in Teesdale and Harwood. Fenwick Allison passed away at Harwood, was buried at Middleton in Teesdale on 24 Apr 1839, aged 70 years.

Death record of Fenwick Allison from Harwood in 1858.
Although not confirmed, the most probable matching death record for Isabella Allison nee Slack is at Teesdale in the third quarter of 1854.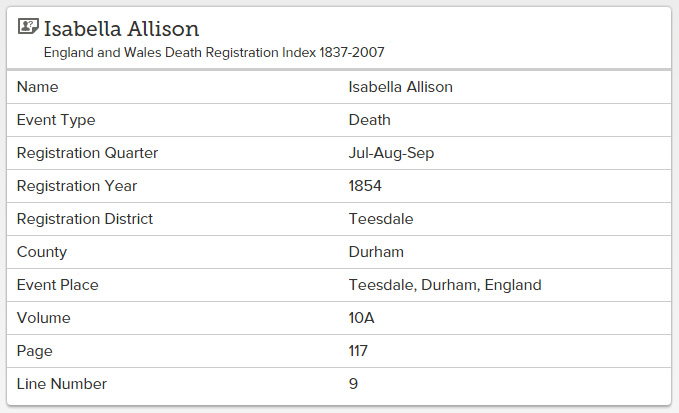 The most probable record of the death of Isabella Allison nee Slack at Teesdale.


JOHN ALLISON AND WIFE ELIZABETH ANDERSON - CUMBERLAND & DURHAM U.K.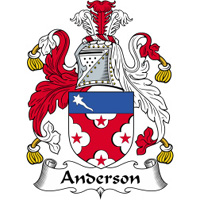 Family Crests for Allison and Anderson.
Looking into Ancestry.com and other record databases has not proven much in the way of confirmed results for John Allison and Elizabeth Anderson, apart from John was born in Alston in 1801. According to her birth record shown here, Elizabeth Anderson, known as Betty, was born in the neighbouring county of Durham, at Middleton on Teesdale on 1806, to Thomas Anderson of Forest, a miner originally from Cronkley in Romaldkirk, and his wife Betty Watson.

Handwritten Birth record of Betty Anderson in 1803. Courtesy FamilySearch.org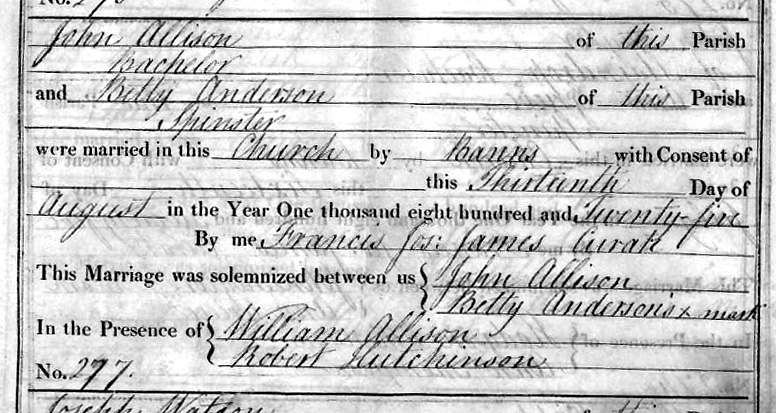 Marriage record of John Allison & Betty Anderson in 1825 at Middleton in Teesdale. Courtesy FamilySearch.org
John Allison married Elizabeth Anderson on 13 Aug 1825 at Middleton in Teesdale, and they had 3 known children, William Allison in 1827, Isabella Allison around 1828, and Hannah Allison in 1829 at Middleton in Teesdale.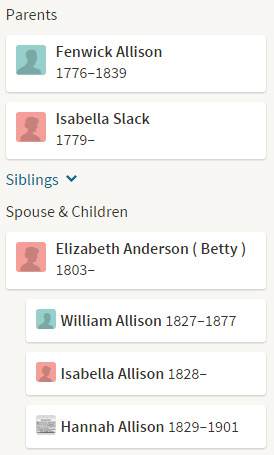 Timeline of family of John Allison and Elizabeth Anderson.
Some researching difficulties have arisen from a number of variations in the spelling of the surname, ranging from Allison, Alison, Allinson, Allanson, Ellinson, and even Minson on some UK records. On Hannah Allison's (John and Elizabeth's daughter's) wedding certificate in 1849 (shown below), the surname was spelt Alison, yet Hannah's signature was clearly signed Allison. However, much later on the other side of the world, the Australian WW1 service record of one of John and Elizabeth's great grandsons that they never met, was officially listed (typed) as "William Allison Richardson".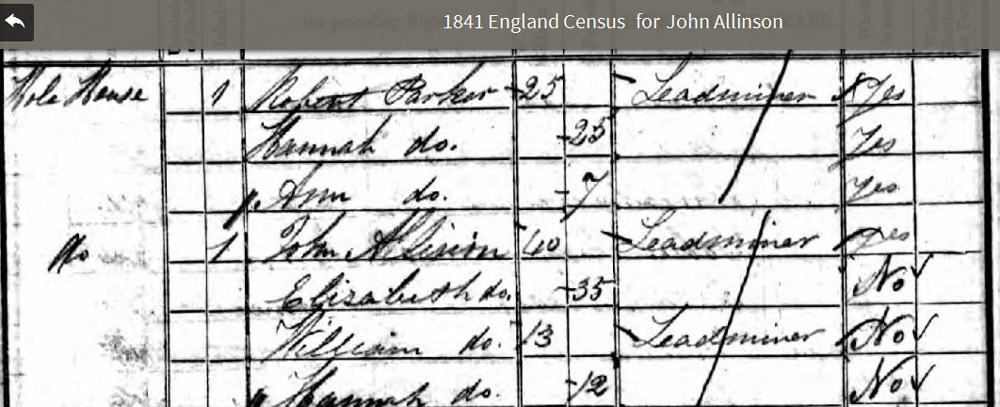 1841 Census record showing John and son William (aged 13) both working as Lead Miners, and living at Alston.
The following decade was to bring some major changes to the life of Elizabeth Allison nee Anderson, as outlined in the following documents. It's fairly safe to presume John and Elizabeth Allison moved away from Hole House Farm near Garrigill (as above), to reside at a farm known as High Crossgill near Alston, before it is believed John Allison passed away in Alston during the last quarter of 1846.

A modern day image of Hole House Farm via Garrigill. Courtesy Google Maps - Street View 2015.
The next Census in 1851 notes Elizabeth Allison as a widow, occupied as a farmer of 50 acres, living with her only son William (aged 23 - still a Lead Ore Miner), and an unknown lodger Daniel Holmes, aged 26. Her only daughter Hannah, has married John Richardson and left home by this point in time, and produced 3 grandchildren, Sarah, Emerson, and Elizabeth, whom are all living in the house of John's father (Joseph Richardson) in electoral district 12 of Alston.
There are numerous unconfirmed death records for an Elizabeth Allison and Allinson in this region in the 1860s and 1870s, so it is likely Elizabeth passed away before her children Hannah and William, emigrated to Australia.


ISABELLA ALLISON - HARWOOD DURHAM U.K.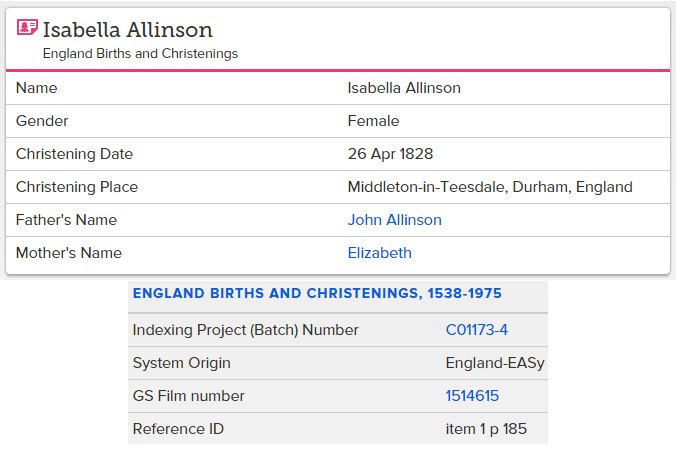 Christening of Isabella Allison at Teesdale in 1828.
Out of the 3 children of John and Betty Allison, details and records regarding Isabella Allison, have been the most difficult to locate & confirm. Also, as it is only of very recent times our researcher became aware she was part is this family branch, it seems starting with Isabella is the way to go. It is possible Isabella might have been a twin sister to her brother William, as they were both noted as living at Harwood, and both baptised on 26 Apr 1828 at Middleton in Teesdale.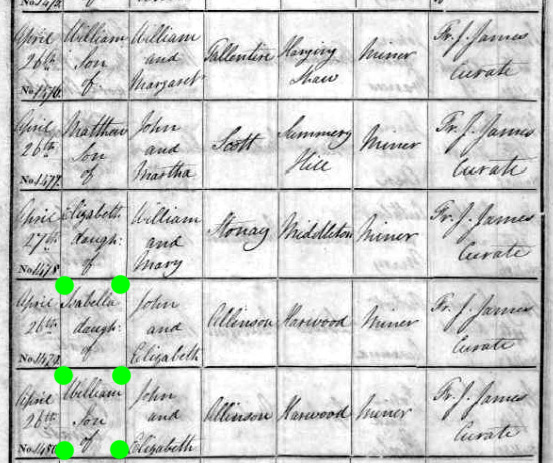 Baptisms of William and Isabella Allison at Teesdale in 1828 as highlighted in green.
After much diligent research, no further confirmable records have been found for Isabella Allison whatsoever, and going by the absence of her name in the family on the 1841 census shown above, it is highly likely she may have passed away at quite a young age, leaving her siblings William and younger sister Hannah as the only surviving Allison children.


WILLIAM ALLISON AND WIFE ANNA ISABELLA HUMBLE - DURHAM U.K.
It is only of recent times in 2015, our researcher is delighted that a few details of this Allison family have become known, including some confirmed information and knowledge that our Hannah Allison had a brother William, who brought his 3 children John, Thomas, and Isabella to Victoria too.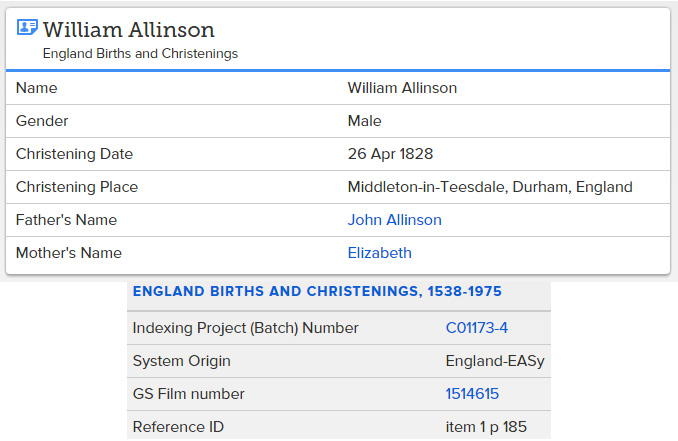 Christening of William Allison at Teesdale in 1828.
Starting with William Allison's wife, there have been difficulties simply confirming her Christian name(s) from a lack of Birth, Marriage, and Death nor definite Ancestry.com records in the UK located to date. Review of the death records of her children Thomas and Isabella shown below, indicate William Allison's wifes maiden name was "Humble", her Christian name was probably something like "Isabella Anna" or "Anna Isabella", however some other Ancestry.com researchers have her listed simply as "Hannah" or "Isobella". Most indicators are that our Humble maiden was from Durham County, born 1825-1830, and possibly passed away at Garrigill or Alston pre the 1861 Census. Such are the dilemmas of many a modern day family researcher!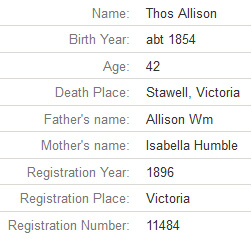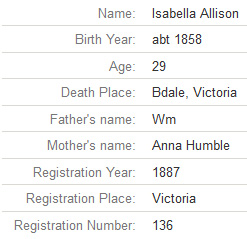 1851 Census listing of William Allison (a Lead Ore Miner) living with his mother Elizabeth on High Crossgill farm.
Sticking with the known facts from records, High Crossgill Farm via Garrigill of some 50 acres, was a well established Allison residence, as it was where Hannah Allison resided in 1849 when she married John Richardson, and also where her brother William resided, both before he married with his mother in 1851, probably after his wife and mother had died, where he raised John, Thomas, and Isabella in 1861, with the help of a hired Housekeeper, Sarah Stephenson.

Death record of Hannah Allison nee Humble at Alston in 1859. Courtesy Ancestry.com
Considering it appears Hannah Isabella Humble passed away at Alston in 1859, leaving her husband William Allison with 3 young children to care for, its understandable William chose that emigration to Victoria Australia, was a fair and reasonable call, with the future prosects of his family were concerned. William musthave experienced a distressing period between 1851 and 1861, as he and Hannah had 3 children during this time frame, and seeing hannah passed away in in 1859, his decision to emigrate to Australia in 1862, appears quite sound, as indicated below.

William Allison and his 3 children, at Garrigill, per the 1861 Census.
Considering word and news of so many Diggers becoming rich overnight from the Gold Rushes in California and Victoria were huge amongst UK Miners, one may gather considering both their parents had passed away, as had William Allison's wife, there was little to stop siblings Hannah Richardson and William Allison and their families from emigrating to Australia. The Allisons arrived in Melbourne at Hobsons Bay in July of 1862, and the Richardson clan landed the following month.

Arrival record of the Allisons in July of 1862 on board City of Melbourne. Courtesy Victorian State government records.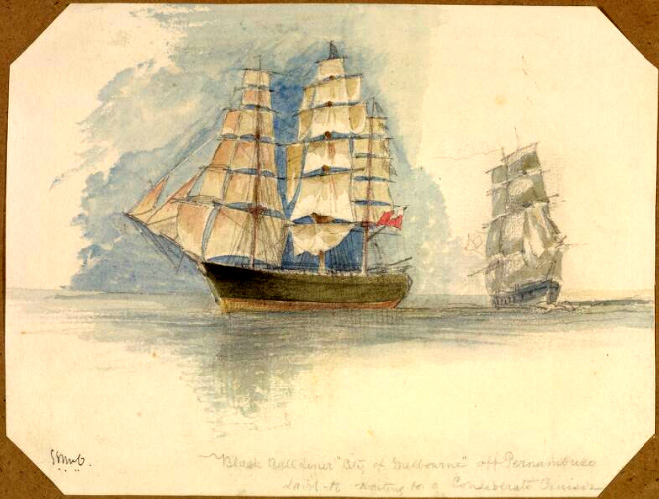 City of Melbourne painted by a later passenger George G. McCrae circa 1865. Courtesy National Library of Australia.
As with many pioneers of this era, tracing movements and scarce records can often provide poor results. It appears from the death records of William Allison's children and birth records of his 8 known grand children, the two regions of interest were Stawell ( originally Pleasant Creek ) on the Gold fields where William and second son Thomas passed away, with the remainder of these Allison descendants relocated to Bairnsdale in the 1880s and 1890s, very near to the Richardson family at Swan Reach. Ancestry.com members can view subsequent family branches per William Allison's family.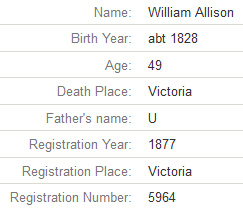 Death record of William Allison at Stawell Victoria, in 1877. Courtesy Ancestry.com

Death certificate of William Allison in 1877. Courtesy Ann West of Brisbane.
Their son Thomas Allison appears to have been quite successful as Mine Manager of the Extended Cross Gold mine at Stawell, however it seems he might have also been of a dubious character and nature, as outlined here.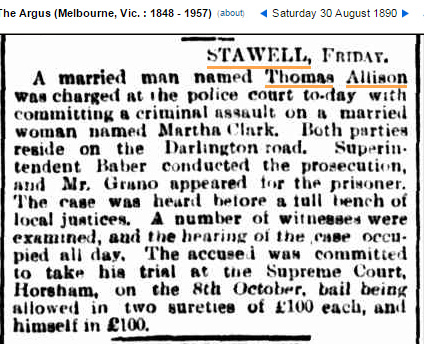 Summary of charges against Thomas Allison of Stawell in 1890.
Thomas Allison was accused of assault and rape of Martha Clark, who logically appears to have been the wife of a Mr Clark, a neighbour, and worker and investor in the Extended Cross Reef mine that Thomas Allison was the Manager of, during this time frame.
Read the full Trove Article re trial of Thomas Allison of Stawell, re this matter.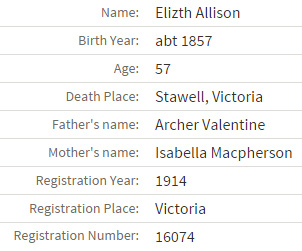 Death record of Elizabeth Allison nee Archer at Stawell in 1914.


HANNAH ALLISON AND HUSBAND JOHN RICHARDSON - ALSTON CUMBERLAND U.K.
Our first known official located record for Hannah Allison, is her birth record shown here.

Handwritten Baptism record of Hannah Allison in 1831. Courtesy FamilySearch.org
Also, it should be said a fair amount of info has been gathered regarding her husband John Richardson and his life and ancestors in Alston UK. However very few records have been confirmed about John Richardson's life in Victoria, not even a death notice. Secondly it is of significant importance to be aware that John Richardson, his wife Hannah Allison, and their three children, Sarah, Emerson, and Elizabeth, were our first Richardson family members from Alston to emigrate to Australia for the Victorian Gold rush. To save duplicating the available Richardson research, it is recommended to review our Richardson Family Part 1 (UK family) and Part 2 (Australian births).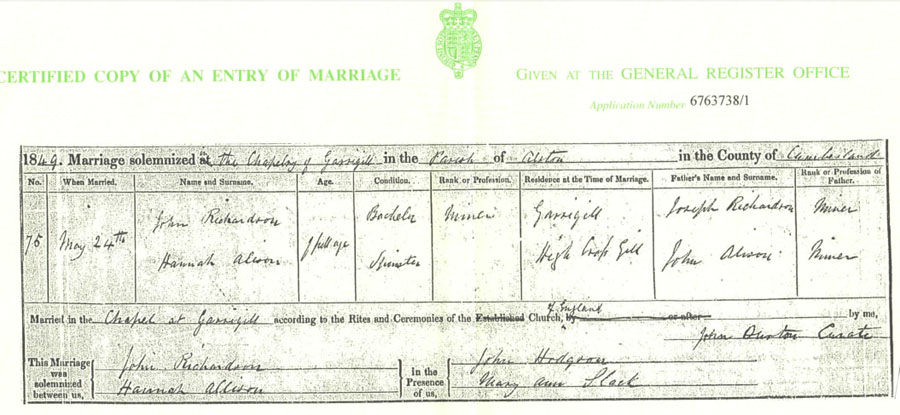 Marriage Certificate of Hannah Allison and John Richardson in 1849 at Garrigill. Courtesy Carolyn Taylor.

Two Marriage records of John Richardson and Hannah Allison in Alston in 1849.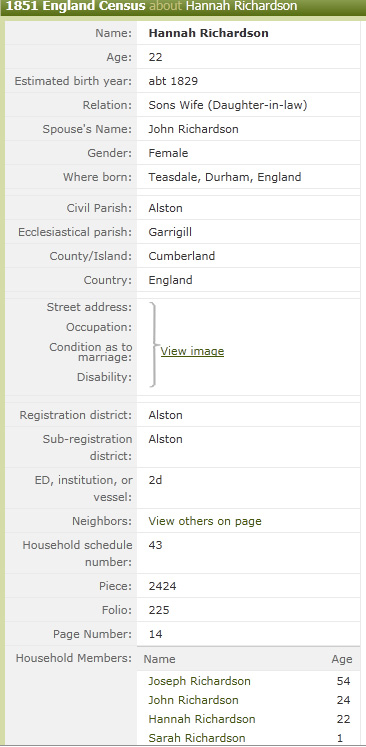 Ancestry.com summary of the Census record of 1851
By the time of the 1851 Census Hannah Allison had been married to John Richardson for a couple of years, and they lived with John's father Joseph at Alston, and had had their first child Sarah Richardson in 1850. Prior to the next census in 1861, Emerson and Elizabeth had been born, John Richardson had taken over as Head of the household, and his father was listed as a Lodger.

1851 Census of John Richardson and Hannah and their 3 children, Sarah, Emerson, and Elizabeth, living with his father Joseph Richardson, noted as a widow / retired Lead miner, at Garrigill via Alston.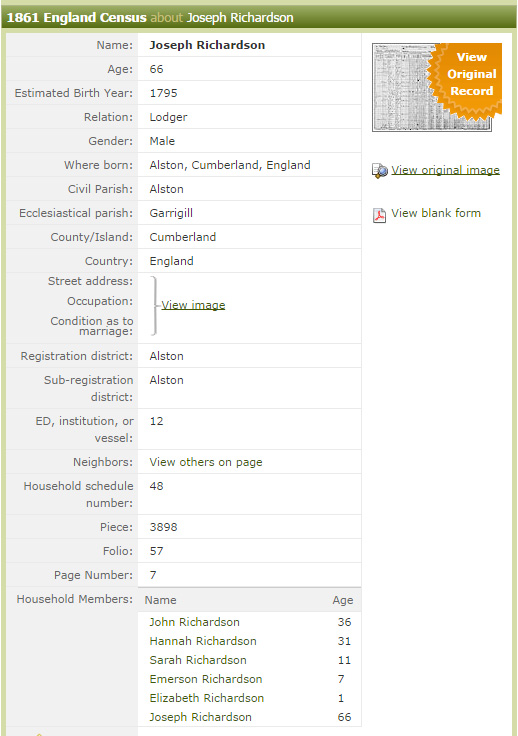 Our Richardson / Allison family circumstances at Alston in 1861.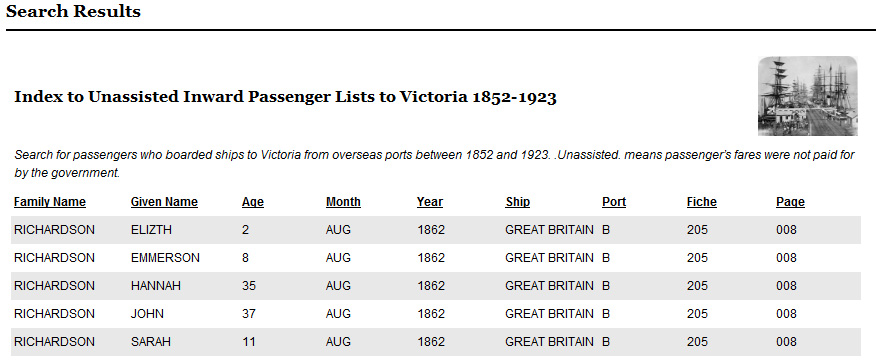 Richardson Family Arrival records
Per Victorian State Government record system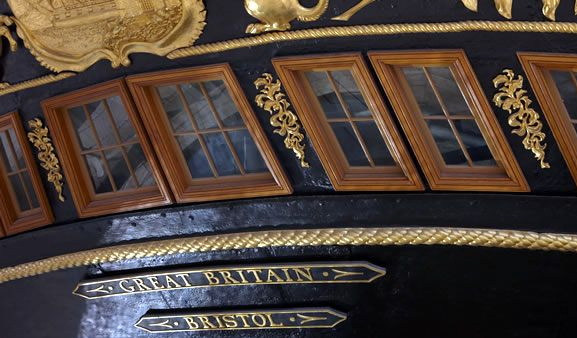 The SS Great Britain
Nowadays a great tourist attraction.
Briefly, as far as John and Hannah Richardsons' English born children are concerned, Sarah, Emerson, and Elizabeth, they all survived the long sea voyage to Australia, and spent their childhood years growing up on the Gold Fields, primarily near Smythesdale and Ballarat East. John and Hannah had two more girls, Hannah (junior) in 1863 at Smythesdale and Mary Ellen in 1865 at Ballarat East, but sadly, they both died under the age of 3.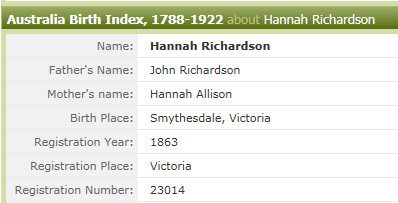 Birth Record of Hannah Richardson. Courtesy Ancestry.com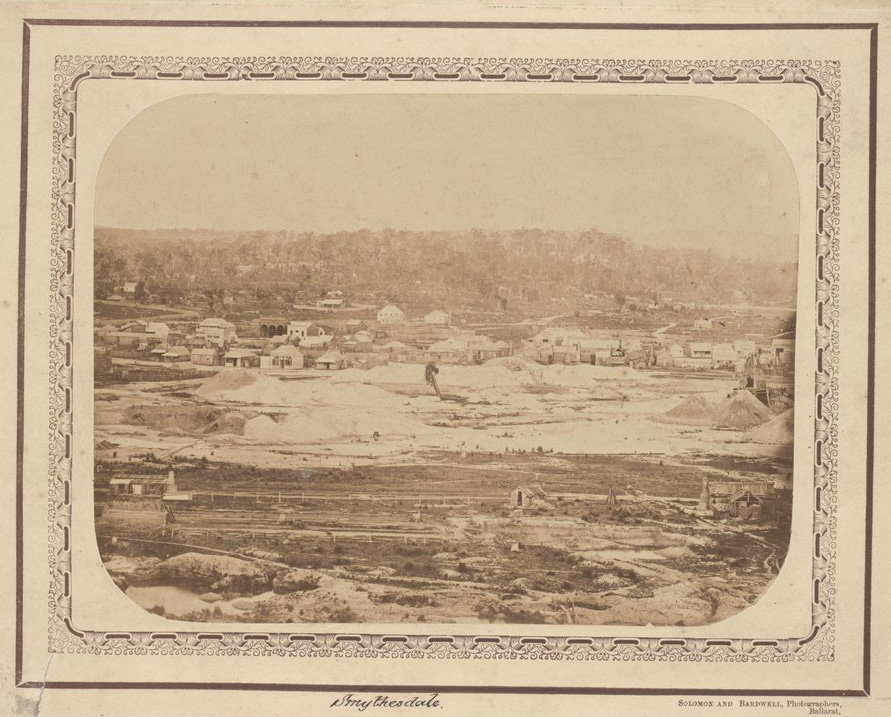 Smythesdale township circa 1861. Courtesy State Library of Victoria.
It should be mentioned to readers not familiar with this area of Victoria, the Winter climate is renowned as especially bitter and cold, and Summer suffers quite extreme heat. Not only did these two young girls have to battle to survive the weather conditions, there were also such issues as a lack of fresh clean food, health services, and probably contaminated creek and river water as well. Sadly, the loss of infants of our relations back in Northern England and in Australia were also quite common, as were mining accidents and work related health problems with the males, and females had to contend with the possibility of death during childbirth.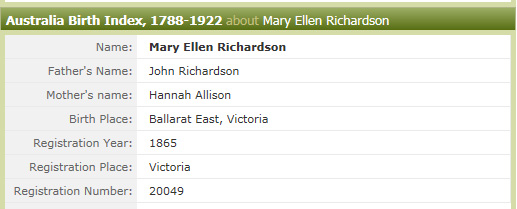 Birth Record of Mary Ellen Richardson. Courtesy Ancestry.com
We do know the 3 surviving English born Richardson children all married, however cannot ascertain exactly when John and Hannah moved away to the farming region of East Gippsland. By 1870, Sarah Richardson had married William Bell and was expecting her second son at Campbells Creek, near Castlemaine. It is possible the whole Richardson family was also in this region, as records shows they were very close to our Vipond and Rowe relations, who were quite successful gold miners of this district, about 70 kilometres north east of Ballarat. Further research is available about Elizabeth Richardson who married Robert Cochrane, and Emerson Richardson who married Ellen Vipond.
John Richardson is quite a common name, however, after delving into a few other namesakes of John Richardson in this region during this time frame, eliminating the one at Geelong who was a Member of the Legislative Assembly, and another who was at Specimen Hill whose wife was a milliner in 1858, it is highly likely most or all of the following records, relate to our John Richardson.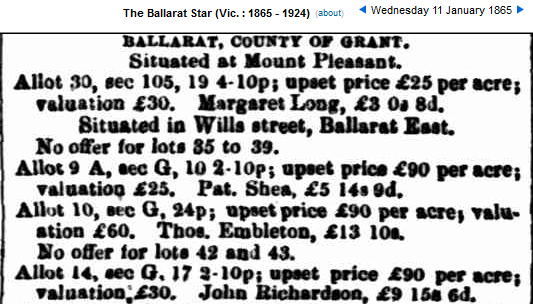 Land sale notice of a property of John Richardson in Wills St Ballarat East in 1865.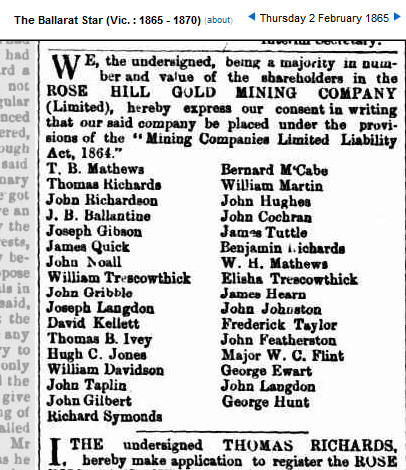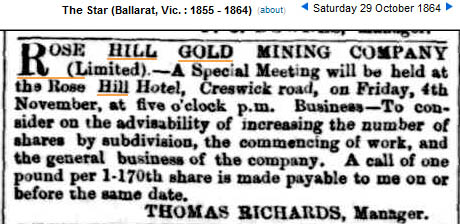 The Rose Hill mine was about a mile from Wills St, Ballarat, believed to be located somewhere between Creswick Rd and Learmonth Rd, just north of the township.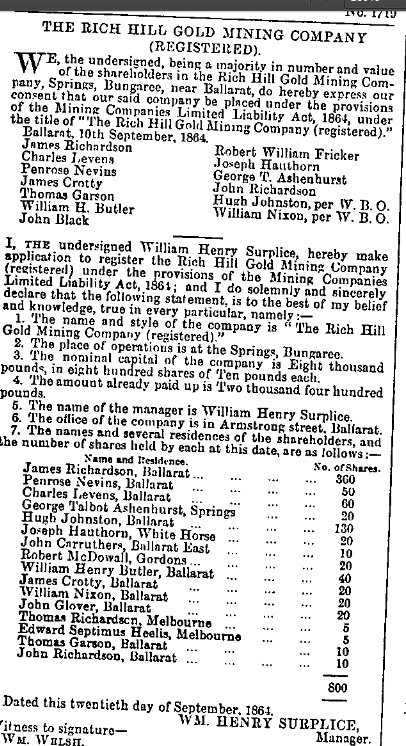 John Richardson holding shares at the Rich Hill Gold Mining Company in 1864 at Bungaree, 5 miles from Ballarat East.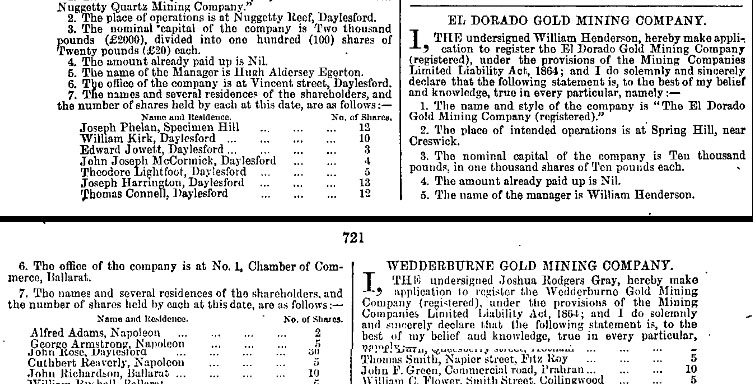 John Richardson and relative George Armstrong with shares in the El Dorado Gold Mine at Spring Hill in 1865.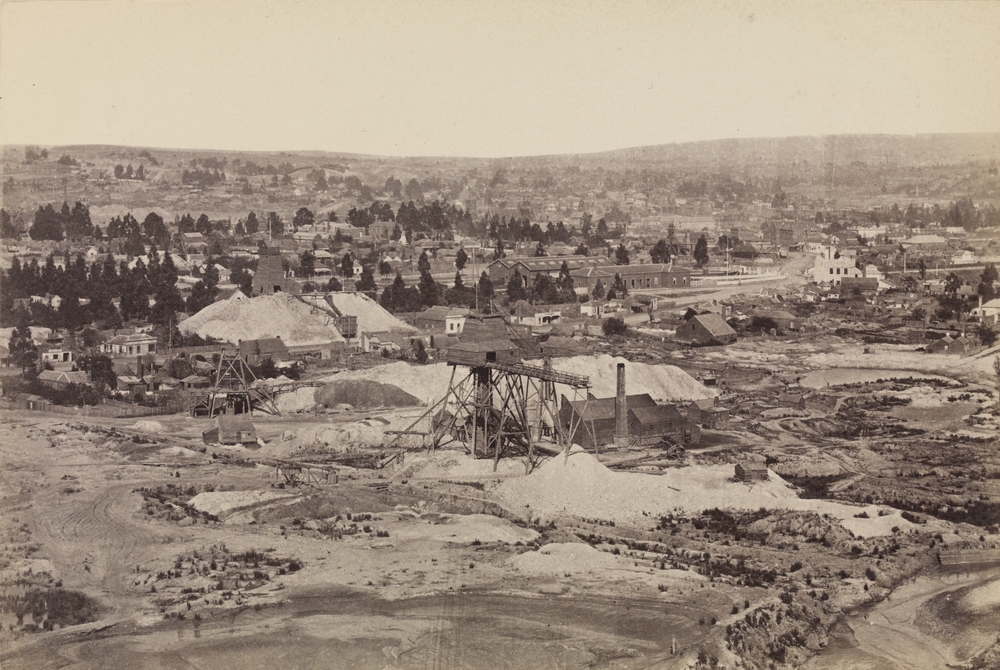 Ballarat East was a thriving area in many ways by 1870. Courtesy State Library of Victoria.
Unlike the passing John Richardson, a newspaper cutting about Hannah Richardson nee Allison's death notice has actually been located. It should be mentioned, this cutting initially provided numerous research hints, as the only family recollections regarding John and Hannah's only son Emerson, were his name being Emerson, he was an alcoholic, and he abandoned his wife Ellen Vipond and 4 children sometime around the year 1900. Twas like his name was taboo - Not even any of his siblings names or ancestors were known, and this cutting supplied our site researcher ( one of Emerson's 5 great grandsons ), enough leads to confirm connections with the Bell, Race, and Cochrane and other families.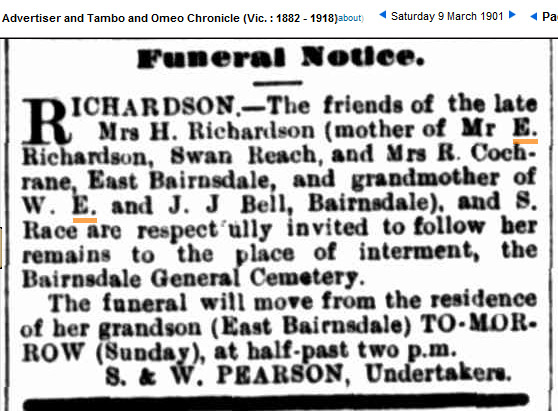 Hannah Richardson's death notice of 1901. Courtesy Bairnsdale Advertiser & Tambo & Omeo Chronicle.
NB. This death notice was most likely drafted by Hannah Allison's only son Emerson Richardson.


EMERSON RICHARDSON AND WIFE ELLEN VIPOND - ALSTON CUMBERLAND U.K.
Another very important point to mention, is that John and Hannah's only son Emerson, ( their only child who had any children ), would have been regarded as the head of the family back in these times. Since his father John had passed away, it is highly likely Emerson organised his mothers funeral, the invitations and procession, and probably also worded the funeral notice itself shown above. From this old newspaper cutting, it can also be presumed that Emerson and Sarah had quite a close family connection, from the fact that Sarah (Bell) passed down the name of Emerson, to her son William Emerson Bell.
To some, it may seem unusual his own children ( Hannah's other 4 grandchildren ) were not mentioned in this death notice of his mother, however his relationship with his wife Ellen Vipond was probably not on good terms at this time.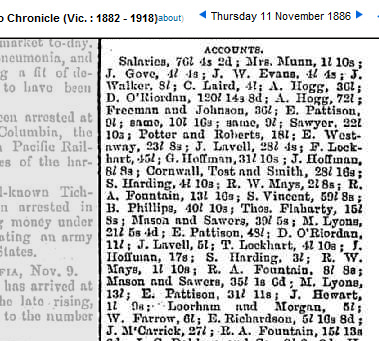 A well paid Emerson Richardson earning 5 pounds 10 shillings and 8 pence, working as a road gravel and maintenance contractor, for the Bairnsdale Shire in 1886.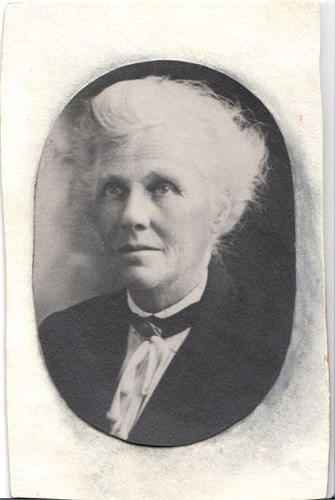 Portrait of Ellen Vipond taken about 1930.
For a more extensive overview of this Richardson family, please review here.


JOHN VICTOR RICHARDSON AND BROTHER WILLIAM ALLISON RICHARDSON - SWAN REACH,VICTORIA AUSTRALIA.
As a matter of due respect for Hannah Allison's only two grandsons, Will and Jack Richardson who both served in World War 1, the following info and images have been included as a special tribute. It is the general policy of this site not to cover too many generations into the 1900s, due to the time and work involved, however a special exception for the
Richardson descendants (Australian births) is included.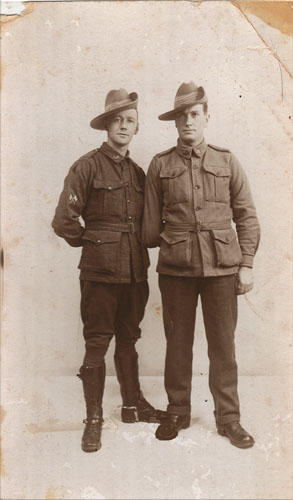 From left, brothers William Allison (Will) Richardson and John Victor (Jack) Richardson - early Feb 1917.
The above photo is the only known photo of William Richardson, and it surrounds quite sad circumstances when the photo was taken. Jack had his right arm amputated in France in 1916, and had just returned his home town of Swan Reach in East Gippsland. Jack's younger brother Will had spent most of his war effort on hospital ships near Egypt fighting the onset of diabetes, and had been in the Caulfield Military Hospital for about 7 months. Will passed away a few weeks after this photo was taken. Both John Richardson and Hannah Allison would have been very proud of their two sons, for sure.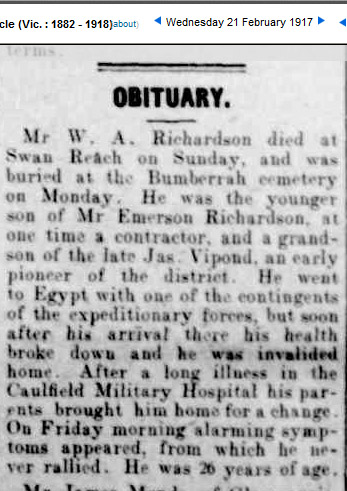 Obituary notice of William Allison Richardson of 1917.


Back to Site Index.


Background into Lead Ore Mining in Northern U.K.


Background into the Gold Rush days near Ballarat Victoria.

From Joseph Richardson born 1721 at Alston, U.K.


From John Armstrong born in 1705, Haltwhistle U.K.


From Thomas Bell born 1806 of Allendale, U.K.


From James Broadwood born 1796 of Northumberland, U.K.


From William Calvert born 1791 at Kirkhaugh, U.K.


From John Clementson born 1692 in Garrigill, U.K.


From Robert Cochrane born 1778 in Eglington, U.K.


From William Coulson born 1760 in Cumberland, U.K.


From Edward Hewitson born 1794 in Kirk Linton, U.K.


From John Liddell born circa 1780 in Ninebanks, U.K.


From Joseph Parker born 1810 at Allendale, U.K.


From Nicholas Vipond born 1655 in Alston, U.K.
Email here re enquiries, corrections, or input to this site