Australian Descendants of Thomas Henry Cunningham
Richardson / Liddell / Cunningham Australian connection.
John Victor Richardson born 1887 Lucknow Victoria at Nicholson in 1922 married Sarah Ann Liddell born 1896 in Bairnsdale. Sarah Ann Liddell was the third daughter ( born 1896 at Bairnsdale ) of William Coulson Calvert Liddell and Sarah Ann Cunningham. Sarah Ann Cunningham ( born 1896 at Bairnsdale ) was the third daughter of Thomas Henry Cunningham ( born 1837 at Ancoats Manchester U.K. ) and Margaret Murphy, born 1843 at Kiandra, Snowy River, in southern New South Wales.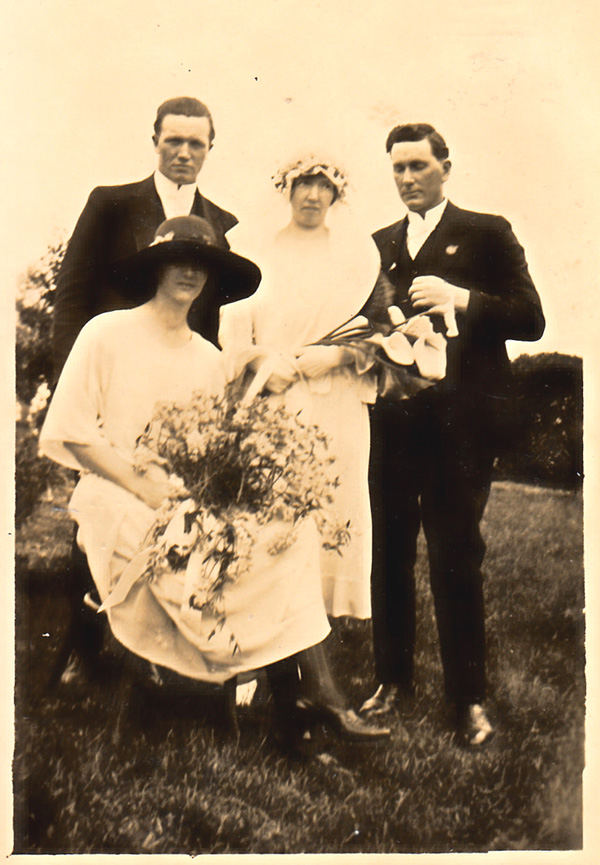 At rear from left, William ( Bill ) Coulson Calvert Liddell, daughter Annie Liddell, her husband John ( Jack ) Victor Richardson, and seated is Jacks sister Ellen ( Nennie ). Photo taken in 1922 at the Liddell farm at Nicholson, on Jack and Annies wedding day - Courtesy Sydenham Collection.
NB. Although Thomas Henry Cunningham and his family, do not actually fit the parameters of this site focus, of Lead Ore miners from northern U.K., our strong family connections with our other related pioneering families of East Gippsland, in particular per your hosts great grandfather William ( Bill ) Coulson Calvert Liddell, definitely warrants inclusion of our many Cunningham cousins. It is worth noting, Bill Liddell's name confirms links by marriage of the Liddells to Coulsons and Calverts in this site. There is also a double Liddell / Cunningham connection, between the marriage of Bill Liddell and Sarah Ann Cunningham, plus that of Mary Ellen Liddell and Thomas Henry Cunningham Junior. A wealth of info is shown here, with special thanks to the late John Robert ( Jack ) Cunningham, for the bulk of family folklore and early member details, and family photos. Thanks also to the late June West nee Cunningham for her descendant listings and Thomas Henry's diary transcripts, family stories from the late Connie Manning nee Byrne, plus various other Richardson, Cunningham, Liddell, Sydenham, and Hopkins members for other records and family recollections.


Thomas Henry Cunningham b1837 Manchester U.K. continued
and
Margaret Murphy b1843 Kiandra N.S.W.
A rare photo of Margaret Cunningham nee Murphy with THC circa late 1890s - Courtesy Jack Cunningham
Thomas Henry Cunninghams family members from Ancoats, Manchester, and previous links to Roscommon County in Ireland may be reviewed here in a new tab or window.
Some Family Folklore and the Facts
Thomas Henry Cunningham's family roots, shown in one document.
Census of 1841 showing the Cunningham family with 4 children at Ancoats U.K. - Courtesy Ancestry.com
The above record indicates Peter Cunningham ( from Roscommon County Ireland ) as a porter ( possibly a coal porter / carrier ) as Head, and his wife Frances Craig, a cotton picker, who was also from Ireland, with their 4 children, Charles, Sarah, Thomas Henry, and John Cunningham.
Starting out with the common Cunningham family folklore and stories, as per interviews in the 1990s with Jack, June, and Connie mentioned above, they all mentioned that Thomas Henry Cunningham ( THC ) was thought to have come from Manchester, was in the British Navy, and jumped ship on the New South Wales coast, possibly at Eden, because "he really liked what he saw". Apparently, according to all three interviewed, there was a British Navy sword amongst his possessions when he passed away in 1915, which has mysteriously disappeared from the hands of his descendants in the mean time.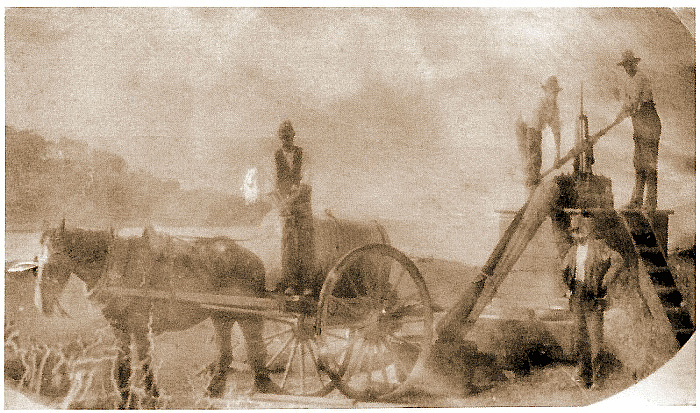 Water Pump at Snug Cove Eden, a regular stop for most vessels on this coast - Courtesy eden.nsw.au.
Thomas Henry Cunningham is quoted as being from Manchester in Lancashire, in the reference book of 1888 by Alexander Sutherland, entitled "Victoria and its Metropolis - Past and Present". This hugely detailed listing of early Victorian pioneers, places, and times, states
"Cunningham, Thomas, Bruthen-Tambo, is a native of Manchester, England, who came to Melbourne in 1858, and followed various avocations for a number of years. Finally, in 1870, he went to Gippsland and selected on the Tambo River, where he has since resided, and where he carries on grazing and farming."
It is debatable, whether this mention of Thomas possibly coming to Melbourne in 1858 is correct. There is no record of a Thomas Cunningham arriving in Melbourne of around his age of 21 in this time frame. Family folklore and British Merchant Navy records, appear to contradict this claim.

Record of THC following his older brother Charles Cunningham's footsteps in the British Merchant Navy in 1845 at Liverpool - Courtesy Ancestry.com
With thanks to a Lookup researcher at rootschat.com with a FindMyPast account, we can confirm THC was actually inducted into the British Merchant Navy at Liverpool on 19th Oct 1850, when he stated his birthday was 12th Aug 1835. A few other records state his birth year to be 1837, and the birth certificate of his first son Thomas Henry Junior at Bombala states it was 1839, so it is possible THC may have misstated his birth year in order to be accepted to the Merchant Navy.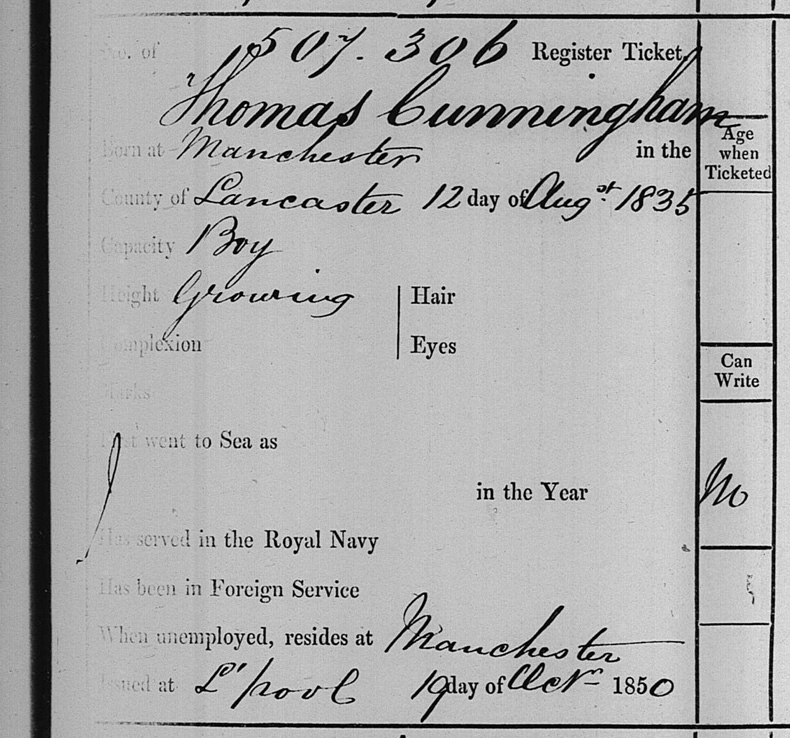 Register Ticket #507.306 for the British Merchant Navy - Courtesy FindMyPast.
The single official record which has greatly assisted in tracing and confirming THCs family roots, is the 1841 Census, which provides the names of his parents, ages of him and his siblings, and the point his family lived at Ancoats, which would nowadays be regarded as a suburb of Manchester, UK.

The only located voyage for Thomas Cunningham, noted as "first voyage" in 1856.
This document above notes at the right Thomas Cunningham's abode was in his brothers residence at Liverpool. The next handwritten record of 1857 confirms Thomas Henry Cunningham was aged 21 born in Manchester, had arrived at what was known as "The Ship Yard", being an official US Navy yard and dock in Philadelphia. During this particular time frame, the USA was seriously recruiting for both the Crimean War and the Indian Rebellion. It seems the recruiters did a great job signing up our Thomas Cunningham to the US Army on the 17th Oct 1857, however the record is noted he deserted 5 days later. Perhaps he heard about life in Australia and changed his mind.

Enlistment recoed of Thomas Cunningham to the US Army, and his desertion 5 days later.
It notes our Thomas as being of fair complexion with blue eyes, and 5 feet 8 inches tall.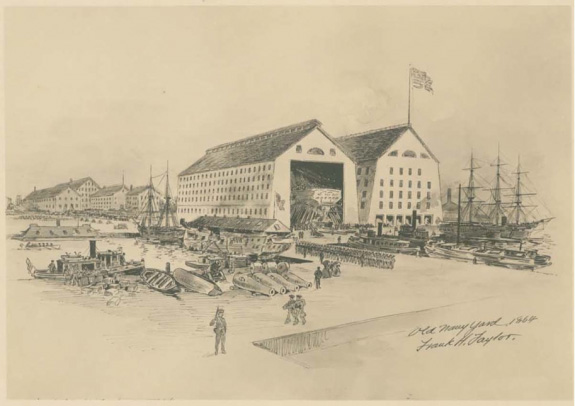 Sketch of The Ship Yard drawn in 1864. Courtesy PhiladelphiaEncyclopedia.org
From our researchers estimation, Thomas Henry Cunningham probably ended up around Eden ( Two Fold Bay ) or somewhere in the Monaro District about 1860. How and where and when he met his future bride-to-be Margaret Murphy, is a mystery.
Overview of the Family of Margaret Murphy.
Records confirm our THC met up with Margaret Murphy in southern New South Wales, they their first son Thomas Henry Cunningham Junior in 1864, were married at Bombala in 1866, and had a daughter Cate in 1869 at Jones Corner.
Modified Excerpt from monaropioneers.com about Margaret Murphys family.
The earliest official Aussie records relating to Thomas Henry Cunningham, are actually those of his amazing wife Margaret Mary Murphy. Born in the tiny village of Kiandra, in 1843, high in the Snowy River region of South-Eastern New South Wales, Margaret spent her early childhood years growing up in and around this area. At that point in time, this quaint township supported only a handful of isolated farming families, consisting of a tiny centre made up of typically rustic split-log huts with wooden shingles and canvas dwellings.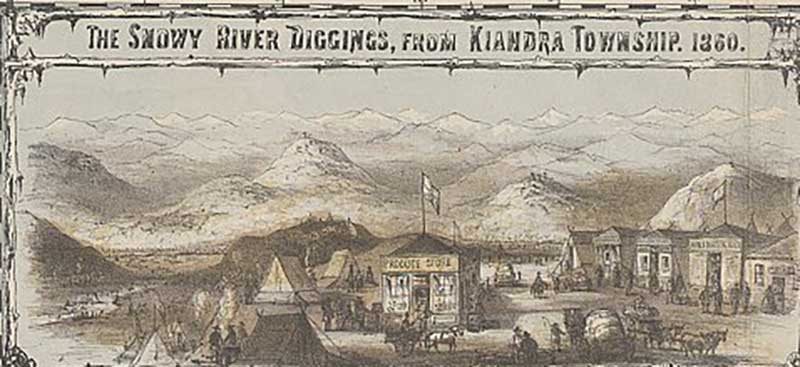 Kiandra diggings and township in 1860 - Courtesy goldtrails.com
This however, was soon to radically change with the onslaught of literally thousands of fortune hunters, as the gold rush boom hit in 1859. One can only presume her chance meeting with Thomas Henry Cunningham took place in one of those rugged inhospitable remote villages or properties of the area, or possibly even around Cathcart or Bombala. By the end of 1861, well and truly after gold fever had passed that way, Kiandra was left in peace, and still remains basically a ghost town.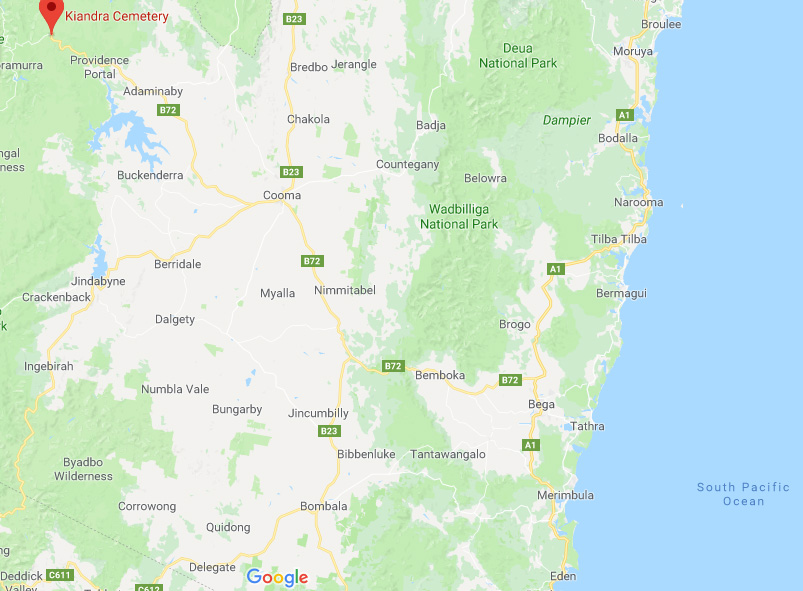 South East New South Wales, showing from the Port of Eden to Kiandra - Courtesy Google maps.
Margaret's parents, James Murphy, born about 1796's in Ireland, and his wife Catherine Fitzgerald, born around 1796 in the wee village of "Summerhill", County Meath, Ireland, arrived in Australia in 1839. They brought two of their offspring, Patrick and Rose, out on the vessel "the Argyle". Shipping indexes show James and Catherine "were of good character, in good health, and could both read". A further two children Andrew, & Margaret herself, were born in Dalgetty and Kiandra respectively, where their land allotment had been selected. William, Bridget and James, were raised in Ireland, and rejoined the family around the mid 1860's. Bridget married Francis Burke in Ireland, and came out in 1837, with 2 children, and a third born at sea. William and James were of adult age. All the Murphy boys at some stage worked on small dairy farms in and around Cathcart, supplementing their incomes with horse-drawn transport teams, road works and a school van service. The Murphy property, known as "Summerhill", was sold out of family hands in 1929.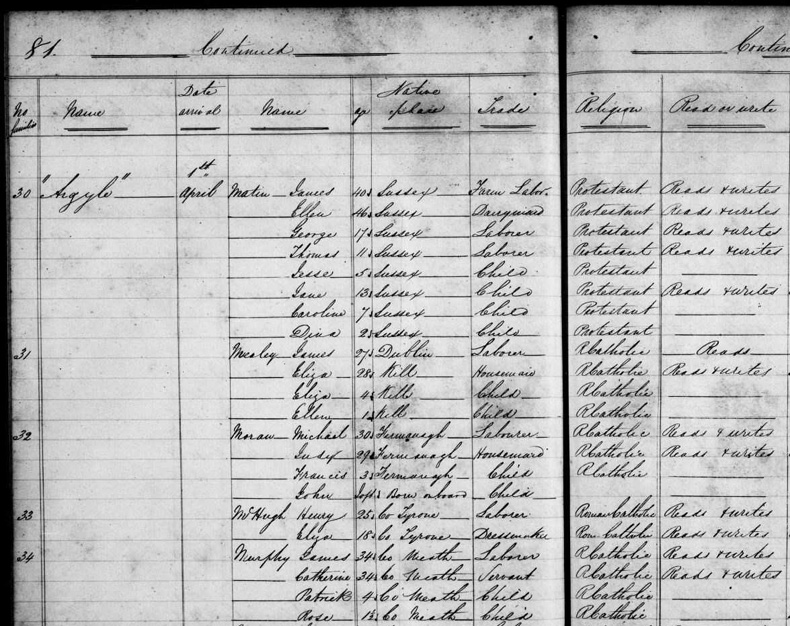 Emigration Record for the Murphy Family on board the Argyle in 1839 - Courtesy Ancestry.com.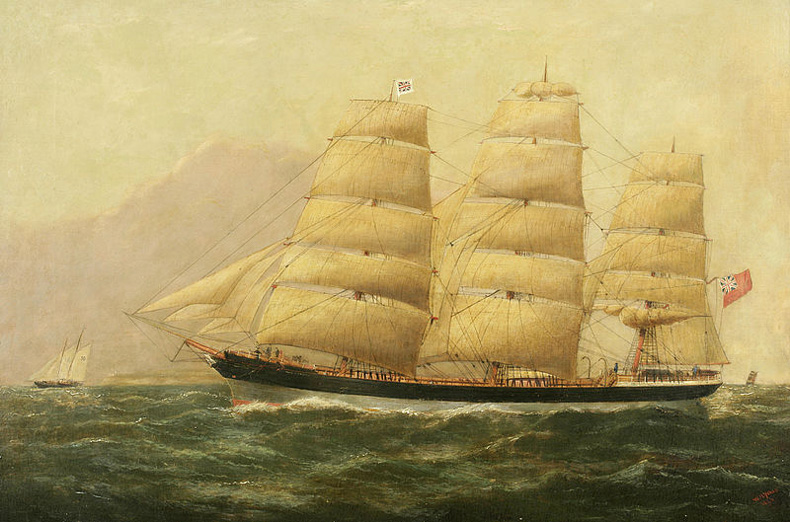 The Argyle - Courtesy Wikimedia.
Of Margaret's oldest brother James Murphy (jnr.) rather tragic circumstances led to the transfer of his small acreage to brother William, prior to his departure to resettle at Berridale in the same region. A mysterious air surrounds the unsolved murder of his wife Jane, in the Summer of 1871. "The Perkins Papers" of 16 Dec. 1871, paint a horrific picture of the incident leading to Jane's premature demise.
And the report reads; "A brutal murder was committed at Cathcart. Mrs. Jane Murphy, a resident of that place was dragged out of her bed last night by some ruffian, who completely smashed her head in with an axe, the house was then gutted for money, but none was found. It is supposed that the deceased was violated by the murderer, of whom no clue has yet been obtained, although the police are continuing search. At the time of the occurrence, Mr. Murphy, who is a free selector, was away at Bibbenluke."
Bibbenluke, even taking into consideration it was then the days of horse and buggy, is not such a great distance from Cathcart. A noted local historian has mentioned that James was apparently playing cards on the night of this atrocity. Those interested may find "The Cathcart Murders" book quite informative.
NB. A Family recollection noted our Margaret Murphy had "an avid fear of aborigines", apparently derived from alledged family suspicions that these murders at Cathcart, might have been carried out by local aborigines of that time.
On a less distressing note their first locally born, a son Andrew Murphy, came into the world in 1834 at Buckley's Crossing now known as Dalgety. He met and married Mary Ann Abbis ( or Abbes ) only two years before Margaret married Thomas Henry. Between the years 1862 and 1880, Andrew and Mary Ann conceived nine children, all registered as born in Cooma N.S.W.. As was often the case in days gone by, cousins intermarried with other cousins. We should realise our vast lands were sparsely populated then, and the chances of courtship outside ones local district were extremely limited. Their eldest daughter Annie Elizabeth Married her first cousin William Kelly Jnr., the eldest son of William Kelly, in 1882 in Cooma. Andrew Snr., Mary Ann, and at least three of their children, relocated to the South Coast and Riverina districts somewhere around the 1890's.
Pioneer Register of William Kelly and Roseanna ( nee Murphy ).
Birth record of Thomas Henry Cunningham Junior at Cathcart in 1864 - Courtesy Bombala Historical Society
Margaret Murphy's elder sister Roseanna Kelly, is noted as a nurse/witness at the birth of the Cunningham's first two children. According to the Catholic Archdiocese of Canberra and Goulburn and Birth Certificates, Roseanna Kelly (nee Murphy) was an "accoucheur" (midwife) at the birth of Thomas and Margaret's first-born child, on 18 May 1864, also Baptised Thomas Henry Cunningham Jnr. Mrs. Kelly is also noted as "sponsor" (Godparent) of Catherine Cunningham, born 20 July 1869, at Jones' Corner near Bombala in N.S.W..
Although Thomas Henry Cunningham was of strong Catholic persuasion, the wedding of Thomas and Margaret Cunningham took place at the Presbyterian manse in Bombala on 17 Dec 1866. From the following newspaper cutting, it seems THC moved into contracting for the building of local roads, and being the outspoken man that he was, his brief note to the Editor of the Bega Gazette of Sep 1865, the year before he married Margaret - it's self explanatory.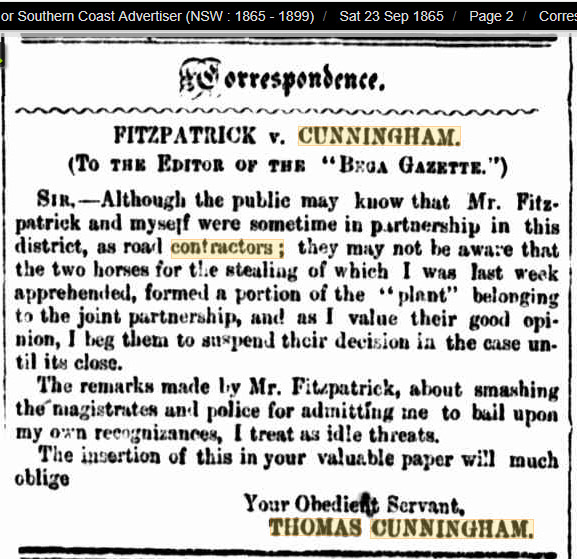 Thomas Henry Cunninghams contract issues of 1865 - Courtesy Trove

Marriage record of 1866 at Bombala of THC and Margaret Murphy - Courtesy Bombala Historical Society.
To the astute observer, it appears quite clear that Thomas Henry Cunningham Jnr. was born out of wedlock. Staff at the Bombala Historical Society, advised from historical reference to ways of life of those times, it was a common occurrence in such extremely remote and isolated areas, for Ministers and Priests to frequent settlements to avail such services as weddings and Baptisms, sometimes only every 2 or 3 years - Twas just the way it was in the old days.
Piecing together the movements in NSW of the Murphy family from birth records of their children, we can gather after living at Kiandra where Margaret was born, the Murphys spent time mainly around Dalgety, Woolway, Coonabarabran, Cooma, Berridale, Cathcart, and Bombala. At the end of the year that Thomas Henry Cunningham and Margaret Murphy were married, we find that Thomas has secured a contract working on building a major road across very mountainous country, from Cathcart to Twofold Bay, ( Port of Eden ), a distance of about 50 miles.

Thomas Henry Cunninghams first known road building contract, at Cathcart NSW in 1866 - Courtesy Trove
During the following year, Thomas has moved on to another road building contract from Cathcart to Tantawangalo, requiring a large workforce of timber fellers, to cope with the thick forest growth, especially the setcion from Mt Darragh through to Tantawangalo, the overall road distance being about 15 miles.
Thomas Henry Cunninghams timber felling needs, for road works at Cathcart in 1867 - Courtesy Trove
Obviously, these contracts would have put him in very good stead for the future timber felling work he resultantly secured, under contract with John Carpenter from Lakes Entrance just after they moved to East Gippsland.

Record of arson charge against Thomas Cunningham in the Victorian Police Gazette of Dec 1867.

The following year of 1868 was a pretty tough one for our Cunningham family, as they had trouble paying the rent, and Thomas was charged with arson for alledgedly burning down the house of Mr Philben from Cathcart, who was Thomas's boss, and apparently did not pay his workers properly, or on time. Its quite a lengthy and interesting overview of the Court Hearing at Bombala as of 18 Jan 1868, you may
download .TXT file here

- Somehow Thomas was not charged with the offence.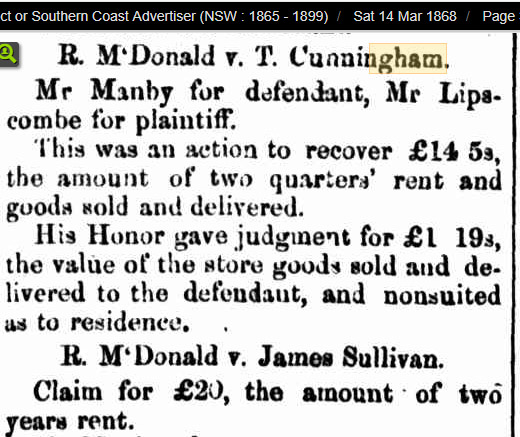 Thomas Henry Cunninghams having hard times paying rent in 1868 - Courtesy Trove
Notes about Ned Kelly from the Late Jack Cunningham and the Late June West.
It is also of worthy interest to note some old time Cunningham family folklore of a link with those infamous bushrangers "The Kelly Gang". Information to hand from The Bombala and District Historical Society, indicate Roseanna Murphy married a William Kelly, son of Edward (though not Ned Kelly) and Mary McGrath, in Dec. 1856. Later William Kelly had two further marriages to Mary Buchanan and Emma Ward (nee Quinn) as per the above Pioneer Register. Although currently unable to secure a definite connection directly to Ned Kelly, a possible link may have existed either by William Kelly, or more probably through Emma Quinn. Ned Kelly's father John "Red" Kelly was transported from Tipperary to Van Dieman's in 1840. After serving his sentence, he arranged passage to Port Phillip. Some three years later, "Red" met and married Ellen Quinn in 1850. Their rather rebellious son Edward "Ned" Kelly entered the world in the home of James Quinn at Beveridge near Melbourne in 1855.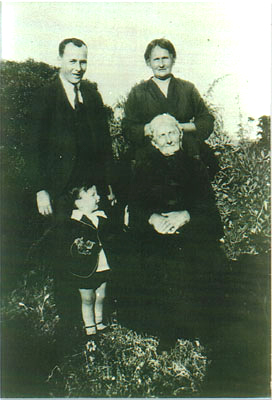 Margaret Murphy seated, behind her is daughter Rose Cunningham standing next to her son Alf Cunningham Terrill, and in front Margarets great grandson, Harry Terrill Circa 1928 - Courtesy Jack Cunningham.
On this rather intriguing subject of the Kelly gang, the family quote of last milenium month goes to Jack J.R. Cunningham. Whilst interviewing Jack in Thomas Henry Cunningham's lounge room at Sunny Hills over a great cup of tea on 28 Jul 1995, the following words came out. And I quote, "Yunno Mixo, what I do remember distinctly about ole granny Cunningham ( Margaret Murphy ), was that shortly before she passed away, granny did say that she had actually met the infamous Ned Kelly. I must have been only 5 or 6 at the time, maybe around 1930. ( Margaret passed away in 1936 ). Apparently when she was visiting family up around the Jindabyne area, the Kelly boys passed through. Margaret did say she had actually had a cuppa tea with the boys at such a family gathering."
And a special note from Family Historian the late June West, "I feel that if Margaret Cunningham met the 'Kelly Boys', it would have been before she came to Gippsland in 1870. Ned was hung on 11 Nov 1880, and in that 10 years, she was very busy raising babies, possibly with no time to be making trips back. And I think the gang may have been too busy dodging the law." As a special matter of interest, Jack also mentioned that his maternal grandmother Bedelia O'Shea ( nee Connaughton ) of the O'Sheas of Walhalla had also met Ned at a family get together somewhere in the Mansfield district. ( Birth records indicate Bedelia was actually born in Mansfield ).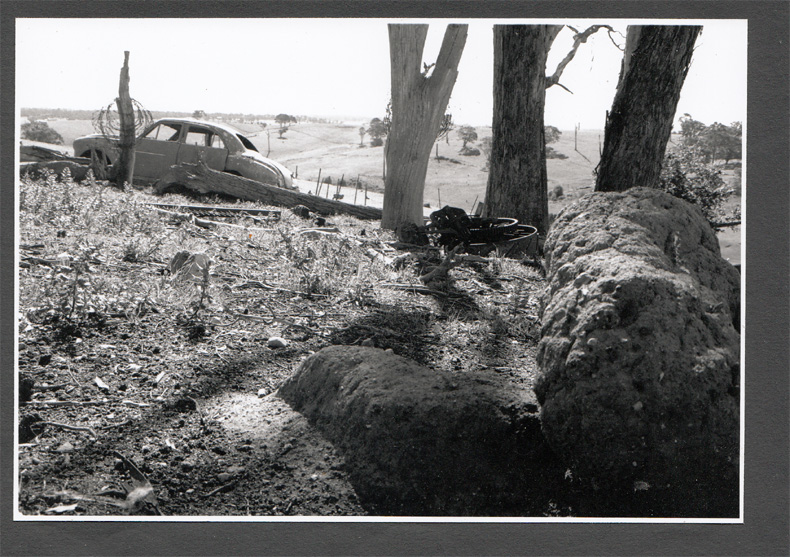 3 corner clay bricks, all that's left of Kelly's Hut 1995 - Courtesy Sydenham Collection
According to Thomas Henry Cunningham's diary of 1871 - 1872, he makes numerous mentions of his best mate "Kelly", and only one reference to a John Kelly. Jack Cunningham made a special point of showing me what was known as Kellys Hut on the Sunny Hills property, which was basically the remains of 3 hand made clay bricks, where "Kelly" lived for many years. At Bumberrah Cemetery near Swan Reach, where Thomas and Margaret Cunningham are buried, there is also a headstone for a Bryan Kelly, who died in 1901 aged 76, and owned a block of land directly opposite Sunny Hills.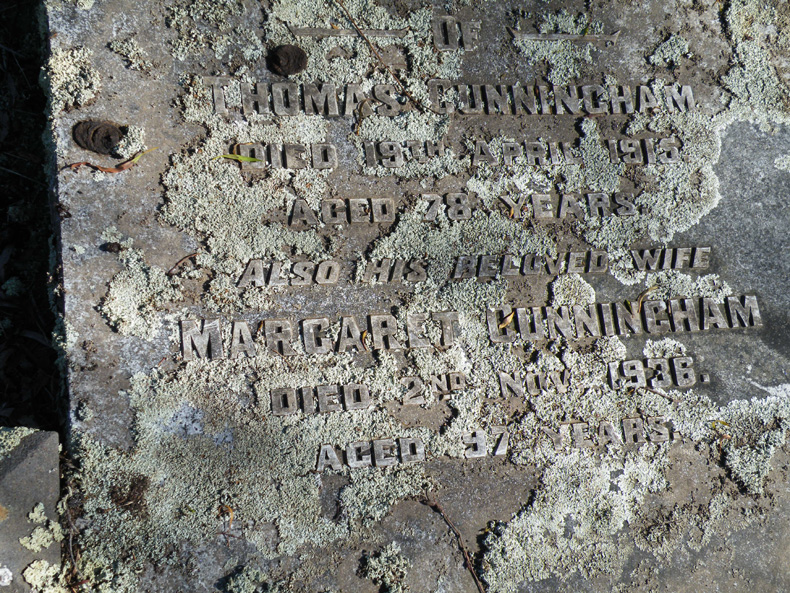 Headstone at Bumberrah cemetery for Thomas and Margaret Cunningham - Courtesy Sydenham Collection
Obviously Kelly is very common name, but more to the point, old Jack Cunningham was a well focussed family historian with a great memory for details.
===============================
Margaret's own life was obviously one of long hard-working days from sun-up to sundown, with little or no time to herself. Most of the older Cunningham members interviewed have stated she had a fairly quiet, reserved yet friendly disposition, and led a role of magnificent support to Thomas, her kids and all those she came in contact with. The precious few surviving photographs of Margaret, are either with her children, grand children, or Thomas Henry, often portraying a typical stance with her hands clasped in front just above her Solar Plexus.
From Andrew to Fred Cunningham, born betwixt the years 1872 and 1888 in a region foreign to her birth, must have created a tremendous physical and emotional pressure. Help from Thomas Henry Jnr and Cate with the younger kids and the day to day chores of running the property and the creamery was well recruited. Thomas Henry was often working away out bush felling timber, some times as far as Nowa Nowa, for a week or two at a stretch.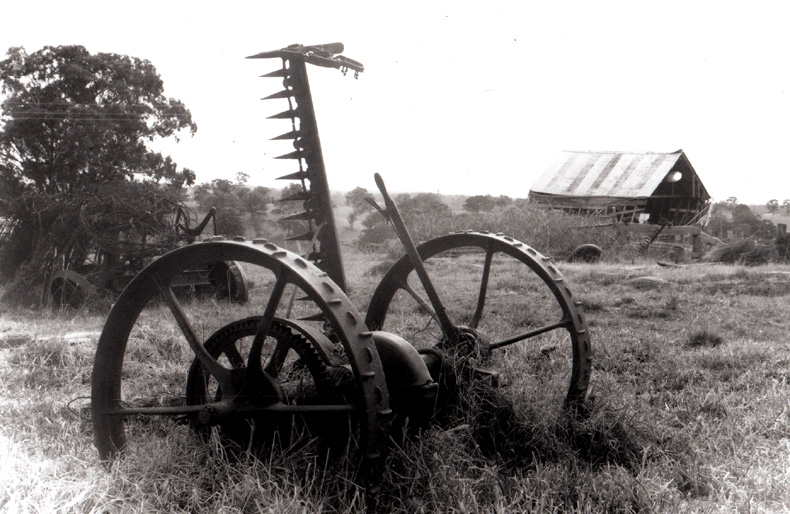 A distant view of the creamery at Sunny Hills in 1995 - Courtesy Sydenham Collection
As the children grew old enough to physically work on other farms in the region, they all pulled their weight to earn a few shillings here and there. Schooling at that time was not yet compulsory, so picking of seasonal crops, mainly maize and hops was the norm for most pioneer women and their younger children of the day. The month after the birth of Robert James in November 1879, Thomas Henry Jnr, Catherine ( Cate ), Andrew, Rose and Sarah Ann all enrolled at the Tambo Upper school, changing Margarets home situation quite dramatically. The year 1880 was the inaugural year of the schools operation, but the school, along with the local residents were threatened by huge floods in that Winter.
Follow-up application letter for a school at Tambo Upper, written by Thomas Henry Cunningham in 1879 - Courtesy Jack Cunningham.
From what is indicated by "her cross" on a couple of sighted documents, Margaret may not have been taught how to read or write. The remoteness of the Snowy River district of her upbringing, plus an education was the often the exception rather than the rule then, probably led to this situation. Probably one of her few special and not so regular times with her man, would have been when Thomas Henry would read the occasional newspaper and letters from loved ones and friends, whilst she slowly rocked in the old rocker on the front porch, or in front of the fire in Winter. A couple of Cunningham elders mentioned she may have smoked an old pipe.
Margaret must have battled with the rather crowded and cramped conditions in the original old place for somewhere around three years all up, until they relocated a few kilometres or so downstream around 1873, to the present "Sunny Hills" property. Not too many years went by after the second house was finished and occupied, the elder children had virtually grown up, found partners, and were seriously contemplating marriage arrangements. In 1894, Cate and Sarah Ann both married. Thomas Henry Jnr soon followed suit, marrying Mary Ellen Liddell in 1895, the same year Margaret's first of 46 grandchildren, Margaret Mary Liddell turned one year of age.
From what one can gather, Margaret also lent her hand and expertise in the making of cheese and butter when the creamery became operational in September of 1893. Thomas Henry bought the vat and building from a cheesemaker who sold up in Bairnsdale, and ferried the gear by punt across the Tambo to Cunninghams Landing, ( Schmalens Bluff ), directly at the bottom of their allotment. It was also a rather common occurrence to find her picking maize on neighbouring properties with one or more of her girls giving a hand by her side.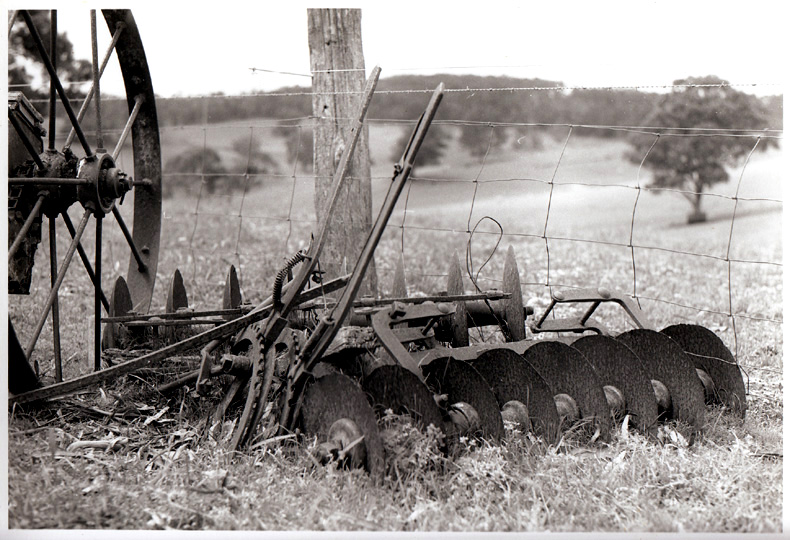 A retired Lennon Mullboard plough ( c1880's ) on the Sunny Hills homestead 1995 - Courtesy Sydenham Collection.
The turn of the century came and went, but the hard times on the land lingered on. Some of the family had to move to regional towns and even Melbourne at different times, in order to make a living. Ole granny Cunninghams traditional Sunday afternoon teas drew many family members, friends and neighbours from far and wide. Of those who moved away to reside or work elsewhere, many returned for holidays at Sunny Hills, and of course gatherings of the clan for weddings, and so on. It has also been said that it was not uncommon for many of these sociables to become rather heated at times over a range of current political issues of the era, and of course who snaffled the last piece of Margaret's well renowned cream sponge.
Summarising the pioneering spirit of Thomas Henry's wife Margaret, leaves no other possible conclusion than she led an amazing long and full life. It was one of obviously great challenge of survival, and exceedingly demanding in her efforts in raising her ten children and supporting forty three grand children. Much of Margaret Cunningham's adventures and travels by her man's side are covered in the chapter simply entitled Thomas Henry Cunningham. Twas the days when most rural pioneering women laboriously carted water to the house, tended the children and farm animals, and cooked and cleaned obviously without our modern day technological and conveniences we take so much for granted today.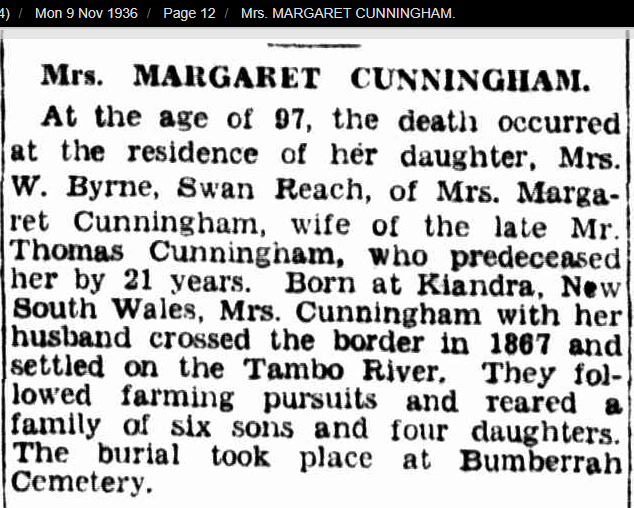 Death notice of 1935 for Margaret Cunningham from Kiandra - Courtesy Trove
As little more is known of her personal interests and qualities, she must have been a lady of great will and determination to attain the ripe old age of ninety seven years, being predeceased by her husband by some twenty years. Margaret passed over on 2 Nov. 1936 in the home of her fourth daughter Mrs Maggie Byrne at Swan Reach. As an interviewer, I couldn't help but try my hardest to hold back a wee tear from the corner of my eye, when told ( by her niece ) of the moment of her passing whilst the nurse in attendance partook a lunch break in the kitchen. The well attended burial service was conducted by Father O'Donnell at Bumberah cemetery, west of her Victorian homestead on the Tambo River in East Gippsland.
Thomas Henry and Margaret Cunningham relocate to East Gippsland in Victoria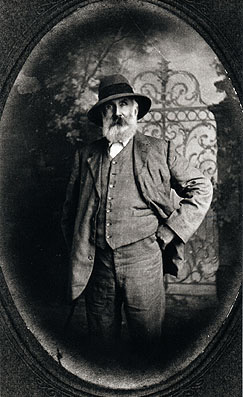 Thomas Henry Cunningham in his Sunday best, C1900 Bairnsdale Vic - Courtesy Jack Cunningham.
Apparently THC had quite a serious bronchial complaint and his doctor advised it would be beneficial if he move closer to the coast. So in 1870, Thomas and Margaret stowed all their belongings onto two pack horses, and along with their two children, they left from Jindabyne NSW and travelled south along the bullocky tracks via Banambra and Omeo, and stopped at Tambo Upper. According to records, 1870 was a flood year for the Snowy River, and traversing the Snowy Mountains and getting across the Snowy River in those conditions, would have been quite an ordeal.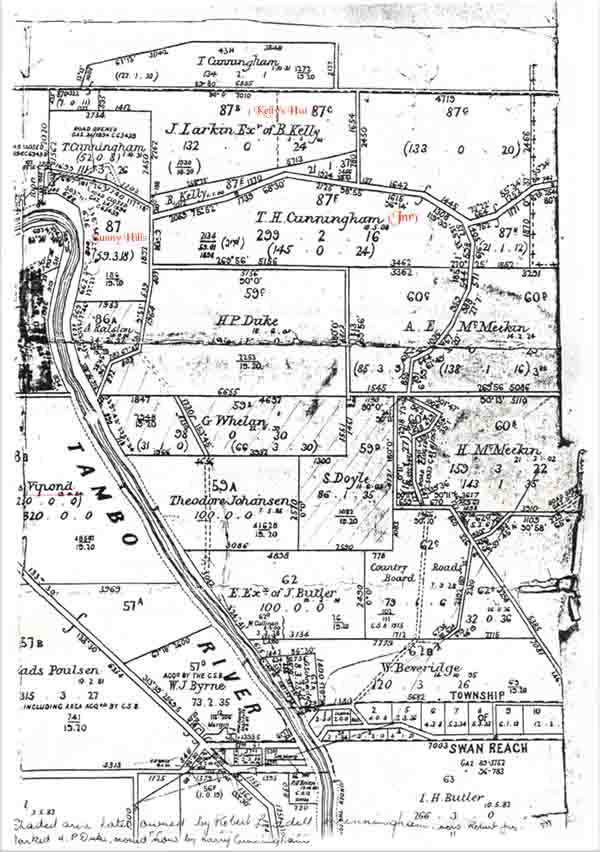 Parish map showing two blocks owned by THC, and neighbouring property owned by THC Junior.
Thomas Henry rallied around this low level ground felling local trees, Yellow Box and Red gum, for building materials and a clear site. One can only assume such a project would have been a top priority for shelter and protection from natures elements for the family. Being so close to the river bank, a substantial fire-place was essential to keep warm out of the harsh Wintry seasons. Some visible remnants of the old chimney and a few rotting beams can still be sighted today.
Unfortunately, Thomas Henry's asthmatic and bronchial condition became quite severe a couple of years later, resulting in the need to move to higher ground under medical advice, in order to avoid the moisture content found right by the Tambo banks. A second site was chosen on higher ground quite some distance from the river bank. It appears to have been a 4 year building project as the record below states it was 1878 when the current "Sunny Hills" house was completed, and the Planning Permit was approved in 1874. The local Certified Plan Register noted Thomas Henry's application for Allotment 87 as follows
==============================================================
No 131 | . Parish . | Tracing Book | Plan | Decision of Board
19-20 | Thos Cunningham . . | . C . | . . . . | . approved . . . . . . .
Gazette page 1 | Name of Surveyor | Date of Survey | Reg'n of Occupation | Date
- - - - - - - - - - - - - | L. G. Peers . . . . . | . 4/7/1874 . . . | Reg of Occupancy - | 9/4/1878
==============================================================
Sunny Hills 1995 - Courtesy Sydenham Collection
Processing the application must have been painfully slow. The move to higher ground eventually came into being, not only to alleviate the bronchial complaint, but the move also created the opportunity to capture some magnificent picturesque views up and down the river. The advent of an ever growing family both in numbers and size, accommodation in the original cabin, would have been a concern to Thomas & Margaret.
Schmalens Bluff 1995 - Courtesy Sydenham Collection
Once again, when construction started at the current location above the rise from what was known as Schmalen's Bluff, ( near Cunningham's Landing for the punt and other small boats ), Thomas Henry realised the benefits of using local hardy timber to suit the job at hand. A copy of a letter from the Bruthen office of the Tambo Shire, acknowledging an agreement of compensation for the sum of fourteen pound two and six pence being reimbursement of fencing costs resulting from the Tambo Upper Rd deviating through the selection.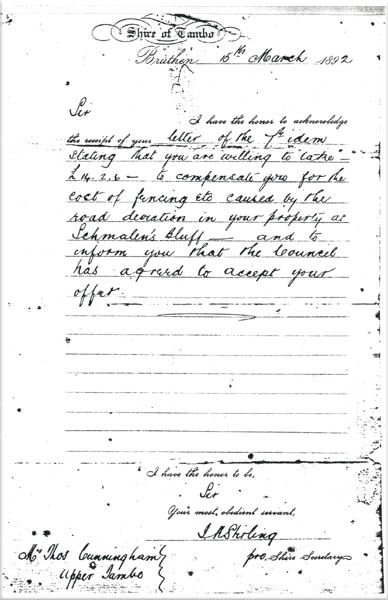 Letter from the Tambo Shire approving costs of THCs fencing at Schmalens Bluff in 1892 - Courtesy Jack Cunningham.
Schmalen's Bluff was also known as Cunninghams Landing below "Sunny Hills". Being fairly typical in layout for a country dwelling of that era, the old place is basically centred around two main fireplaces. From the front door under a narrow porch, a short hallway leads past what must have been three pretty crowded bedrooms, with ten little Cunninghams running around. I imagine the tiny kitchen where the old wood stove used to be, buzzed continuously like a hive of activity; the hub of every well run household in the good ole days, with Margaret at the helm so to speak. The welcoming thought of arriving home after a week or so away working in the bush, must have been one of comfort and anticipation to our Thomas.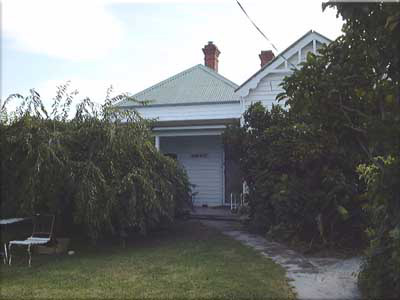 Sunny Hills Homestead 1995 - Courtesy Sydenham Collection
Shortly after Thomas Henry passed away in 1915, sons George and Fred took over and continued to run the property and creamery / cheese factory for a number of years to follow. By mutual agreement, the Allotment was split between these two sons, ( the Tambo Upper road cut through the selection ) somewhere around 1937-8. With the passing of Fred Cunningham in August of 1941, his wife Bridget Sophia ( known as Biddy ) ran the farm and business, up until 1945, when she decided to move to Melbourne. Times were pretty tough then to support her four kids, and they relocated to Oakleigh in Melbourne. In Biddy's absence, "Sunny Hills" was rented by a couple of different tenants, between the years of 1945 and 1948. As fate should take its role, the old place changed hands to the Neville family. Eventually, daughter Jenny with her husband Jack Cunningham and their three children took over the task of maintaining the homestead in a fine tradition.
As time moved on, the Cunningham family also steadily grew, to a point where there were 10 Cunningham children, as outlined in Generation 2 further below. Similarly as the family grew, so did the production exploits on the homestead of about 110 acres, that developed into grazing and breeding cattle, sheep, horses, and pigs, plus the cultivation of chaff, corn and maize.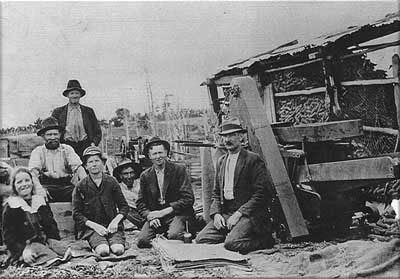 Working the family maize crib - L to R Mary Kerrison ( niece of Mary Ellen Liddell nee Cunningham ), Thomas Henry Cunningham Jnr., William Clifford Cunningham, Clarence Rupert Cunningham, Albert Stone ( neighbour ), Robert Liddell Cunningham, & George Ernest Cunningham - Courtesy Jack Cunningham.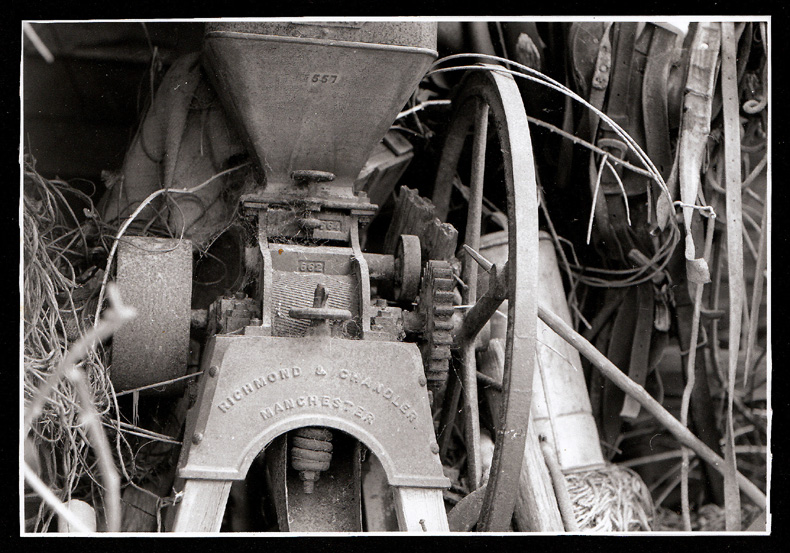 Thomas Henry Cunningham's Richmond and Chandler corn cutter, also from Manchester - Courtesy Sydenham Collection.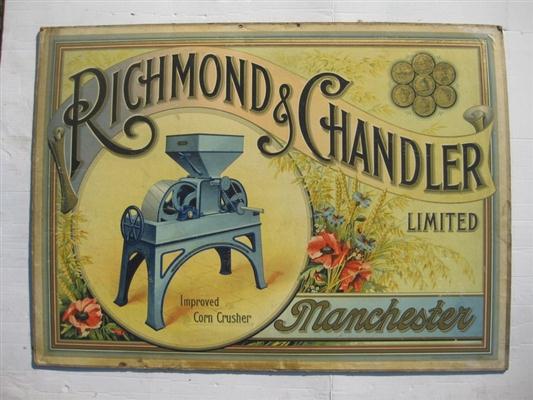 Original Showcard for the Richmond and Chandler Co of Manchester - Courtesy oldshopstuff.com
It was back in the era that the larger your family was, the better the chances you would all survive, be kept productive, and prosper. For example the eldest son Thomas Henry Junior ended up buying the farm over the road from Sunny Hills, on the corner of what is now Cunninghams Rd., where he bred cattle. Eldest daughter Cate ended up managing the dairy / creamery on Sunny Hills, where she was in charge of making cheese and butter.
A classic old milk can gathering dust in THC's shed - Courtesy Sydenham Collection.
A page of Thomas Henry Cunningham's diary of 1893 showing purchase of items, including 2 separators for the creamery - Courtesy Jack Cunningham.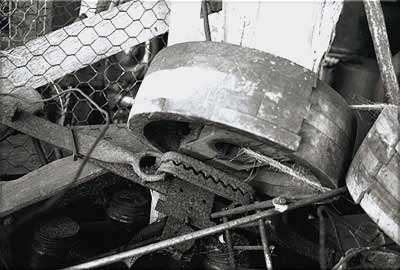 Two cream separators found in THC's shed in 1995 - Courtesy Sydenham Collection.
The next son Andrew Arthur was the breeder and minder of the pigs, and the remaining children would have all pitched in, carting water, looking after the house, and helping maintaining and harvesting whatever was grown and bred on the property.
Sometime between the time Thomas Henry Cunningham signed up to the Navy in 1850 at Liverpool, when it was noted he could not write, and 1871 when he began managing a timber felling crew in his home district, Thomas did learn to read and write. He managed to secure a contract with John Carpenter in 1871 from Cunninghame, to fall and supply "piles" of timber, used for shoring up the original opening to the sea, at what is now known as Lakes Entrance.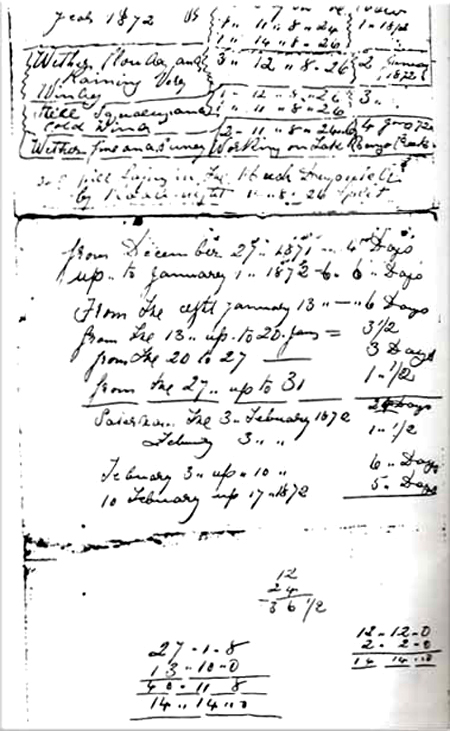 THCs diary entry showing piles ( pylons ) cut for Jan 1872, and days worked from Dec 27 1871 to Feb 17 1872 - Courtesy Jack Cunningham
Typical bush track in nearby Colquoun Forest 1995 - Courtesy Sydenham Collection
We know from Thomas Henry Cunningham's diary, he cut timber in the local Colquoun Forest, at Bunga Creek, and went as far as Nowa Nowa, looking for suitable timber, to shore up an opening at Lakes Entrance.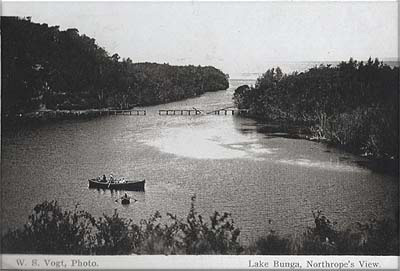 Lake Bunga by photographer W. B. Voight.
One of Thomas Henry Cunningham's hand saws found in his old farm shed - Courtesy Sydenham Collection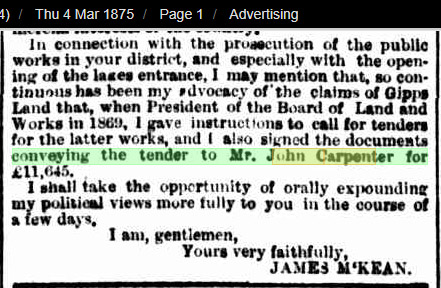 Follow up contract for John Carpenter re construction of the entrance to the ocean at Lakes Entrance in East Gippsland Victoria. Our Thomas Henry Cunningham worked for John Carpenter under contract, to supply timber pylons, in 1871 and 1872 - Courtesy The Age newspaper and Trove.
Closure of Contracting business of John Carpenter in 1876 - Courtesy Gippsland Times and Trove
Jack also made it totally clear THC was a very politically active and community orientated person, and he played a significant role in establishing the Tambo Upper School, and was involved in fund raising for a wing at the Bairnsdale Hospital. THC lobbied the Education Minister for support for a new local school, otherwise it meant 2 river crossings on a punt, for those local children fortunate enough to do that.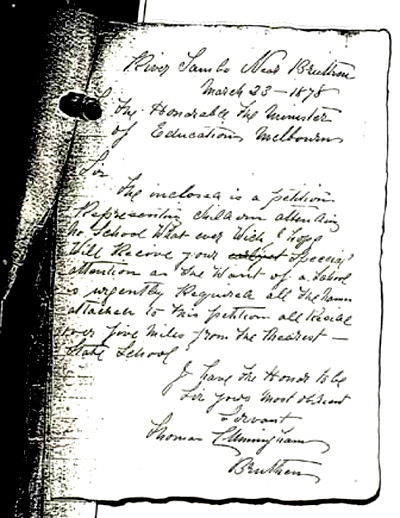 Covering letter for a signed petition for a local school in 1878, by THC to the Education Minister - Courtesy Jack Cunningham
This petition for a school at Tambo Upper, was arranged by THC to support other local Tambo River based families and their children, being Batten, Biggs, Wilson, McKnight, McDougal, Newton, and 2 other illegible surnames.
Registration record of 1889 for Tambo Upper School, incl Thomas, Andrew, Cate, Rose & Sarah Cunningham - Courtesy Staff Tambo Upper School in 1995.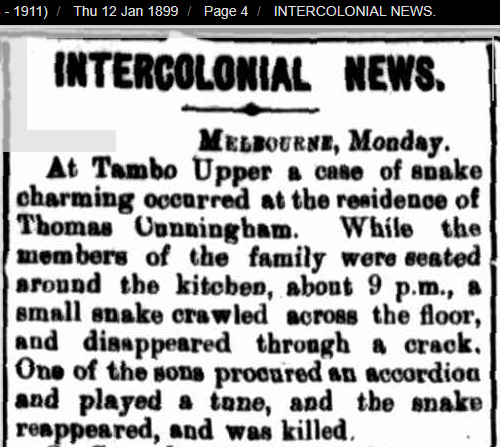 Cunningham snake charmers - a snippet from the Hobart News of 1899 - Courtest Trove

THE 10 CHILDREN OF THOMAS HENRY CUNNINGHAM & MARGARET MURPHY
NB. The bulk of the following info has been painstakingly noted during some hours interviewing the late Jack Cunningham on the Sunny Hills farm at Swan Reach in the late 1990s. Family members are invited and encouraged to make further contributions of info and pics by email.
Thomas Henry Cunningham Junior born 1864 Cathcart NSW.
His birth being registered as at Bombala in N.S.W. in 1864, Thomas Henry Jnr knew only too well, as many still do today, the pressures and demands upon the eldest son of any family. Virtually nothing is able to be traced of his first six years as a child whilst the Cunninghams were still based in N.S.W., however he, like all pioneer's sons, was delegated chores and duties as soon as he was capable of carrying them out.
Thomas Henry Jnr's birth record from Cathcart records in NSW.
Thomas Henry Jnr was all of six years of age when the four Cunningham's ( including of course, his young one year old sister Cate ) started out on their trip South to live in Victoria. One can imagine him riding many of the miles in the saddle, behind either his mum or dad on their venture on horseback in 1870, from Jindabyne down through the Snowy Mountains to the Tambo River, in East Gippsland.
John Russell Calvert & dog in foreground supervising picking of hops circa 1900 at Mossiface Park - photo by Arthur Burman - written permission for reuse here by Federation University Centre for Gippsland Studies, Monash University Research Repository.
Thomas Henry Jnr worked for many years of his childhood on the nearby maize crops at Mossiface, most probably in the employ of the Calverts and the Redenbacks, the biggest growers in the area at that stage in time. It was about a four mile walk every day each way, across the hills, the Tambo and down on to the fertile flats. According to the enrolment register at the Tambo Upper school, Thomas Henry Jnr completed approximately six months of schooling at the age of sixteen, when it opened in 1880. Chances are, an offer of a work opportunity came his way, providing a means of helping support himself and his parents.
Living the life of a bachelor until the age of thirty, Thomas Henry Jnr married Mary Ellen Liddell in 1895. Mary Ellen was the oldest surviving child of Joseph Liddell and Mary Calvert, her brother Caleb, passing away as an infant, the year before her own birth in 1869. The Liddells were one of the original families to settle on a farming property on the nearby Nicholson River. Mary Ellen, the sister of your web host's great grandfather, William Coulson Calvert Liddell, had four sons and one daughter with Thomas Henry Jnr, between the years 1895 and 1907, being Thomas Clyde, Mary Irene, William Clifford, Robert Liddell, and Clarence Rupert Cunningham. She passed away in Melbourne in 1943 at the age of 72.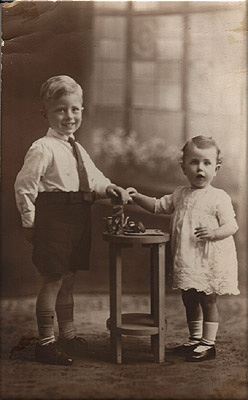 Grandchildren Kevin and Aline Larkins.
One can only guesstimate that at some stage in his twenties, he took over the property adjacent to that of his father which lies on what is now called Cunninghams Road. After clearing much of his own land for mainly grazing plus a bit of cropping, he continued working on many neighbouring farms to supplement his income, to assist in feeding the rapidly growing Cunningham family. Apparently a legal dispute arose at a later period with his father, over non payment of wages for work supplied clearing a section of his dad's block.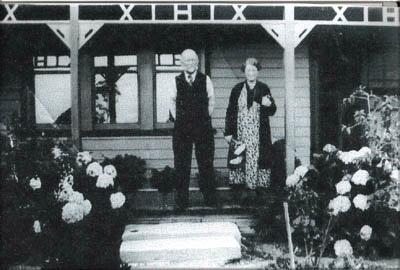 Thomas Henry Cunningham Jnr and Mary Ellen Cunningham nee Liddell.
In his years of retirement, Thomas Henry Jnr, put his love of the land and many skills of property management to good use in to a substantial and most productive garden. The only other point of note, is that he was virtually blind as a result of Glaucoma during the last few years of his life.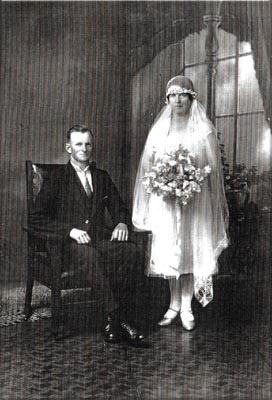 Son William Cunningham and new bride Ileen Culhane.
Catherine Cunningham born 1869 at Jones Corner NSW.
Catherine, the eldest daughter of the Cunninghams, was born on the twentieth of July in 1869, at Jones Corner, near Bombala, N.S.W.. She was later baptised on 18 / 10 / 1869 as per the Bombala Catholic Baptismal Register by the Reverend C.B. Quinn, in the presence of a Hugh McGrade, and her aunty Roseanna Kelly. As a wee infant of around a single year of age, she accompanied her parents and older brother, on their journey to the Tambo, travelling most of the way in one of the horse's saddle bags.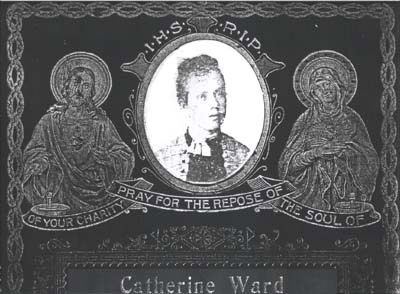 A rare photo of Cate from her memorial service notice.
Being the first born daughter of the family, during her early childhood she was well trained in the many duties and chores that girls of almost every pioneer household of those times. Under the guidance and expertise of her mother, Catherine became a well organised and extremely productive individual, as did all her brothers and sisters.
Officially enrolled as Cate Cunningham, the nineteenth pupil to register at the new school at Tambo Upper in 1879, from the age of just about ten, she carried on and completed three valuable years of schooling. Her command of the English language and Grammar displayed in her hand writing of some years later, indicates that Cate must have been an observant and diligent pupil, and a comparatively quick learner, as it appears were all the Cunningham children.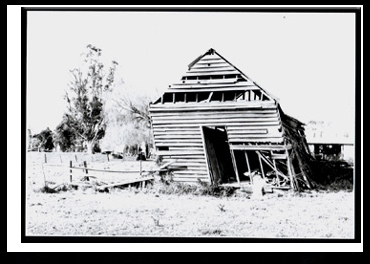 Thomas Henry Cunningham's 102 year old diary in 1995, no longer standing - Courtesy Sydenham Collection.
Like all her fellow schoolmates, it was just part of every day life to help out in what ever way a youngster could, in order to assist kith and kin in the daily battle of survival. Many a long hot spell working the local fields of hops and maize alongside her mother and sisters were spent in this way, probably walking many miles to and fro the workplace.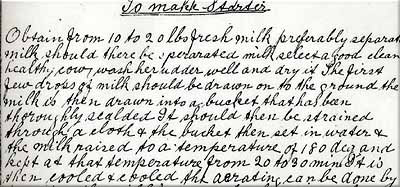 The family cheese starting recipe in Cate's own handwriting.
Along with her many chores and duties Cate, played an active role with a good part of the processing work, in the small dairy / creamery at Sunny Hills, as pictured above. Her comprehension and understanding of the rather complex procedure in the making of cheese in the old days, is clearly indicated in her own hand written recipe, as partially reproduced above. Kindly note, this cheese making recipe came from an old unfilled diary of 1889, which was recycled, and has many general cooking recipes pasted in the front pages. From her fathers diary, we know the creamery was not fitted out for operation until at least Sep of 1893.
About a year before her older brother married Mary Ellen, Cate had married Bill Ward, originally from Eddington in rural Victoria. Four daughters and a solitary son all born either at Cunninghame or Lake Tyers, soon filled their home, keeping Cate and Bill on their toes so to speak. Their children were Charles William, Annie Kathleen, Margaret Josephine, Catherine Mary, Ellen ( Nellie ) Ward, and an un-named Ward infant who died the same year as Cate did, in 1907.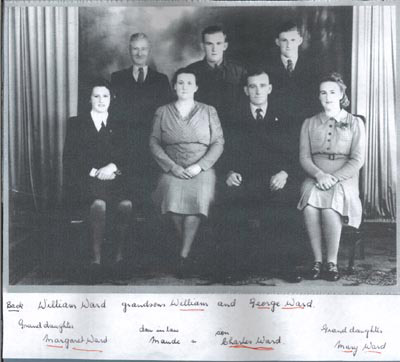 Back L to R - Bill, Grandsons William and George Ward.
Front L to R - Granddaughter Margaret, Daughter in Law Maud ( Spunner ), son Charles, Granddaughter Mary.
It is not definite as to how or when Cate learnt her much used skills as a seamstress, but it was undoubtedly an area in which she definitely excelled. Taking much pride in the presentation and apparel of her entire family, she spent many an evening hour, sewing late in to the night, making virtually every piece of clothing worn by herself and her immediate kin. From dresses and shirts to overcoats, Cate managed to help save many a quid in this way. The entire Ward clan were easily recognised in the district by their stunning appearance, especially those of the girl's dresses, much to her hard earned credit.
Along with her many practical and organisational abilities, Cate also became a superb and competent horse rider. Together with her husband, they worked skilfully as a team droving cattle from out lying farms to the slaughter yards. Amongst the many diverse business dealings of her father, the Ward's had a natural interest in Thomas Henry's Butcher shop at Lakes Entrance. Bill ( and I am led to believe his brother Mick ) managed the shop at Lakes for quite a few years. Farming their property between Lake Bunga and Lake Tyers, neighbouring John Bills blocks, became their main objective in their busy lives.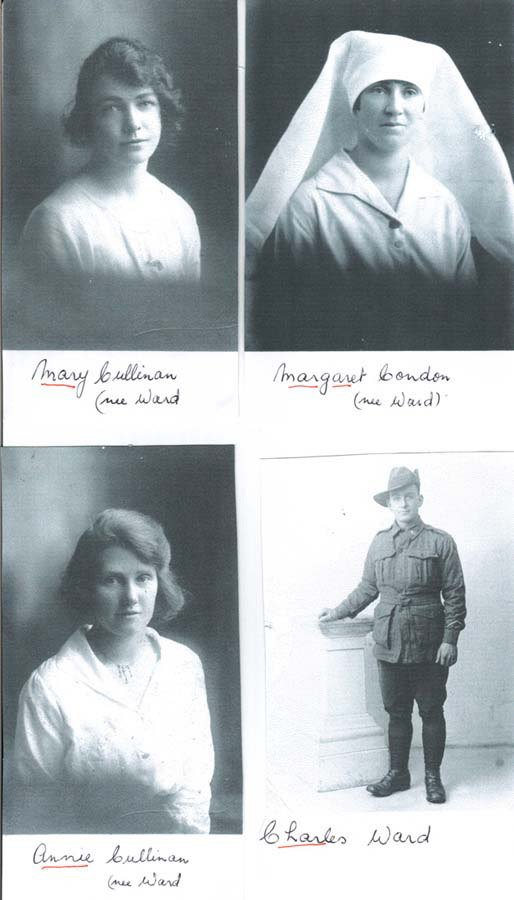 Apparently, Bill and Cate made a terrific team on the land, and they grew huge quantities of vegetables for their own sustenance. An orchard also provided an abundant supply of fresh fruit, enabling them to give away and trade their surplus produce. Both of a humorous nature, they blended in well at many a local social function, as well as in the great outdoors of the Lakes systems. Bill in particular, had a keen interest in fishing and hunting. Whilst on a bit of a hunt for wild duck on the swamp edging Lake Tyers with his brother in laws George and Bob, Bill would always warn his two hunting companions to tread carefully around the tussocks and let the multitudes of Black snakes alone, in fear of scaring the game away.
On another occasion dropping a few lines from a tiny boat on Lake Tyers, the trio were paying total attention to the task at hand, when they suddenly realised they were almost dragged out of the entrance by the outgoing tide. Amongst a flurry of unrepeatable adjectives and rather rapid response to the oars department, the little outboard finally kicked over, leaving the much relieved crew ( and a few Bream and Trevally ) to tell a couple more stories of the ones that got away.
The rather saddening tale leading in to Cate's premature death, was unfortunately one of an all too common occurrence, as in many instances of our early settlers. Having procreated five offspring, complications at the time of birth of her sixth child in August of 1907, resulted in the death of both mother and child, the latter un-named and only surviving a couple of days. The fact of her passing away at such an early age, left Bill with a rather daunting task ahead of him. From henceforth Bill forged on, and unquestionably performed the unenviable job of raising the children as a sole parent.
Andrew Arthur Cunningham born 1872 Lucknow Vic
Andrew Arthur Cunningham was the first of the Cunningham children to be born in Victoria, coming in to the world in March of 1872. His birth place was registered at Lucknow where many locals officially lodged such records, but was more than likely born on his parents property. This was shortly after his father finished a spell working for John Carpenter on the New Works at Cunninghame. Andy as he was called, had almost reached the age of eight, when he began school at Tambo Upper, and continued on at school until a couple of months before his fourteenth birthday.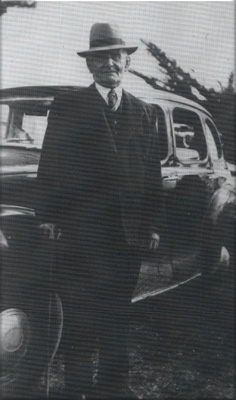 Andrew Arthur Cunningham - man and machine at Metung 1948.
It was the done thing for all youngsters to help out on the farm, doing his share of the chores around the place, and tending the animals. However Andy also found himself quite at home working in the bush picking up the necessary skills selecting and felling timber, basically following in Thomas Henry's footsteps. When the time came for him to move out of home, he decided to start his life afresh living and working from the old Swan Reach Hotel, only a stones throw south of the Sunny Hills homestead. His natural interest in working with timber lead him to the position classified as forest foreman in the Forest Department, managing the harvesting of timber resources from coups the length and breadth of the Tambo Shire. Public Service records indicate he worked for the Forestry Department from 1910 to 1914, his main duty being the branding of sleepers and beams before they were hauled out of the bush. He earnt seven shillings and sixpence per day, ( seventy five cents ) for his labour, getting a pay rise to eight shillings in 1912. The branding of cut timber facilitated correct payment of royalties to the bush workers, being a job of much responsibility.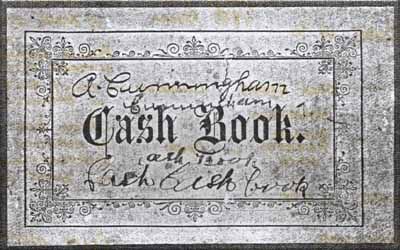 Cover of Andy's Cash Book records - 1909 to mid 1920's.
Andy also sub-contracted to Brabert, Callinan and Bulmer, whom all had substantial contracts with the Victorian Railways and the Harbour Trust in Melbourne. His cash book of 1910 show he also had dealings with well known local sawmillers and timber merchants Beacus, J. Campbell and son, and Peters to name but a few. He naturally recruited local workers for felling, splitting and carting, including the services of C. and J. Reedy, Frank and Bill Byrne, J. Mc Farlane, Whelan, and Doyle. A few years later, he also contracted for the supply of hundreds of electric power poles, to aid the connection of electricity to different parts of the region. Still a single man, Andy felt the urge to return to the land, and took over a hundred acre allotment about 1915 or 1916. After a hard slog clearing enough land for grazing, he decided to regularly grow maize on the flats, with feed for his prized porkers in mind.
L to R Son Howard, Grandson Terry, and Andrew Arthur Cunningham, looking after his prize pigs - Courtesy Jack Cunningham.
Andrew took a holiday from the farm about 1916, leaving the property in the capable hands of his younger brothers George and Fred. He travelled as far as Western Australia, possibly looking up his brother Charles William. Andrew returned in the latter part of 1917, and in 1918, married Mrs Lillian Beaton nee Brown. Lillian ( Lil ) was born in the USA, and came to Australia with her parents during the Gold Rush days. Before marriage she had managed a cake shop in Bairnsdale, and at one time, worked as a housekeeper for Mr Bury, the local dentist. Andy and Lil married in 1918, and they had two sons, Arthur Andrew ( Darkie ) and Howard Charles ( Snowy ) Cunningham. The boys were called "Darkie" and "Snow" by the local storekeeper, Bill Fitzsimmonds. When putting pen to paper in his twilight years, Snowy jovially referred to himself of his writings and poems as " Banjo ".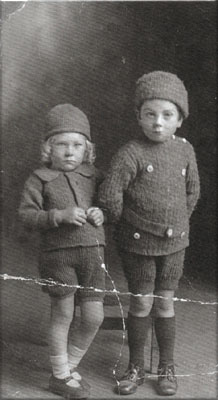 Sons Howard Charles and Arthur Andrew - mid 1920's.
Even in his later years, Andy's impeccable standards of maintaining his land kept him extremely busy. Perusing every square inch of earth, with his trusty Thermos of Tea, hoe and fern hook, he kept the place virtually free of all those noxious nasties, and the blackberries and bracken.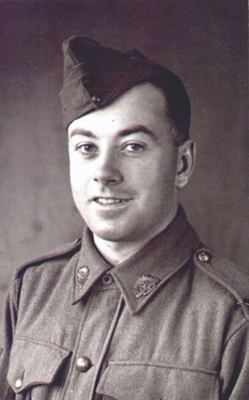 Arthur Andrew Cunningham served in the A.I.F in WW2 - Courtesy Ancestry.com.
Lil also lent her hand around the farm where she could, and earnt some extra cash working picking hops in season on some of the nearby plantations. I have been told she managed a cake shop in Bairnsdale in the early stages of her lifetime. She passed away in 1948, and is buried alongside her husband at Bumberrah cemetery.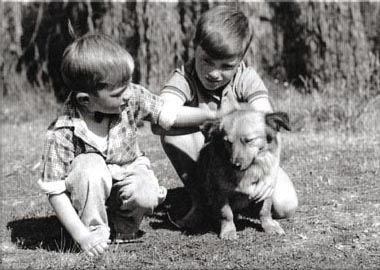 Grandsons Lawrence and Peter Cunningham.
Andy died on the twenty third of April in 1951. His old place, lying on the edge of the township of Swan Reach, is still in his descendants hands, and the hill on the roadside leading to Tambo Upper is commonly called Andy's hill by some of the locals.
Rose Ann Cunningham born 1873 Tambo Upper Vic.
Rose Ann was the first Cunningham girl born to Thomas and Margaret in Victoria, arriving in the second half of 1873. Rose as she was called, was all of six years old when she commenced school at Tambo Upper in 1880. The school register indicates she successfully completed nearly seven years before leaving as she entered her first year as a teenager.
A stunning photo of Rose Ann Terrill nee Cunningham in her Sunday Best - Courtesy Jack Cunningham
The depression years of the late 1880's and 1890's in Victoria, probably was a major factor leading to Rose's departure from school. She is known to have picked hops on the Bruthen Flats and around Mossiface with her mother on many an occasion during this time frame, probably thinking nothing of walking the five or six miles each day, to and from work.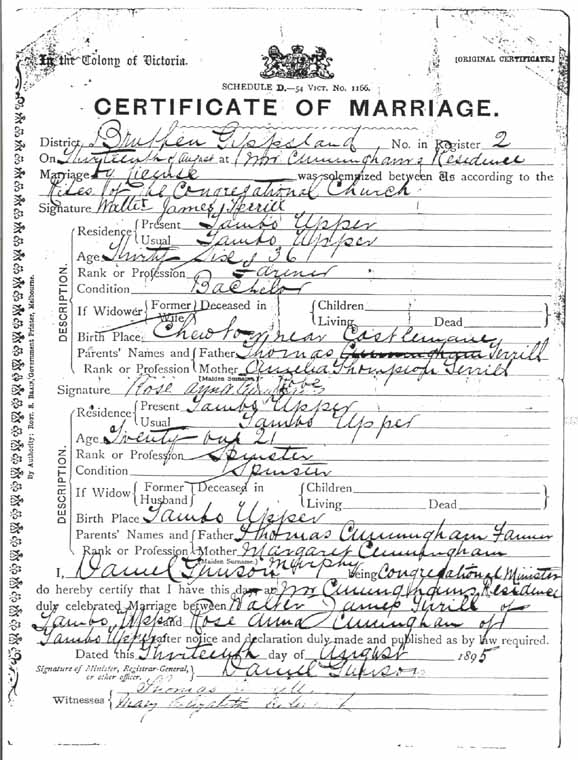 Click on Marriage certificate for full size view.
It was also around this period she found her groom to be, Walter James Terrill, [ Jimmy ] the son of Thomas Terrill and Amelia Thompson Robe. The Terrill family were a prominent and quite quartz and gold mining family from Chewton, in central Victoria. After Thomas Terrill passed away, Amelia married Thomas's brother, Walter James Terrill in the late 1860's, and remarried a Thomas Jenkin in the late 1870's. One may assume Thomas was a hard working man in the quartz mining industry near Castlemaine, as in 1871 his wife Amelia Terrill nee Robe, uncle Abraham, and son Jimmy, were major shareholders in this quartz mine.
Shareholder listing of the Wheal Terrill Quartz Mining Co at Castlemaine in Dec 1871 - Courtesy Mt Alexander Mail via Trove.
As with virtually all the Cunningham families, Rose and Walter James were extremely family orientated. They were married on 13 Aug 1895, and had four boys between 1895 and 1902, Frances William, Alfred Cunningham Terrill, Walter James, and Allan Leticia Terrill. Then three girls came along between 1904 and 1910, being Una Vera, Ida Rose, and Ethel May Terrill, all of whom married and further enriched Rose and Walters' lives with many grandchildren. Sunday seemed to be the day when many of the immediate family and relatives would arrive at the Terrill's property "Monte Vista" at Tambo Upper, all keen as mustard to get together, and of course to sample Rose's renowned home made toffee and Turkish delight, and superb roasts with vegies and salads from the garden. Walter was usually the welcoming party, keeping his favourite old chair warm on the front veranda, in a bit of a cloud of smoke from one of his many pipes, but well and truly able to keep all and sundry on their best behaviour.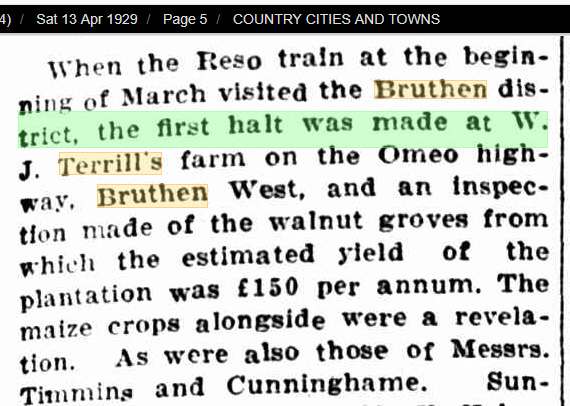 Successful Walnut grower Walter Jimmy Terrill as reported in 1929 - Courtesy Trove.
Jimmy ran the Bruthen Times newspaper, and had a large walnut grove on his farm at Bruthen, while both sons were farmers at Tambo Upper. In their later years, Walter and Rose moved to a new home near the old railway line, not far from Monte Vista. It was their youngest son Alan and his family that took over the running of the dairy and the old homestead.
Sarah Ann Cunningham born 1875 Bairnsdale Vic.
Sarah was the fifth born of Thomas Henry and Margaret CUNNINGHAM, born in June 1875, she married William Coulson Calvert Liddell, of Scarsdale ( son of Joseph Liddell and Mary Calvert ) Of her 9 Children unfortunately, many met with quite serious diseases and saddening early demise, not uncommon for the period & lifestyle - most of the surviving generations are of much hardier stock.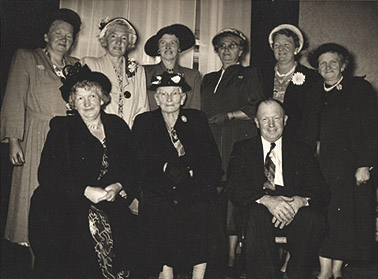 Back L to R - Myra, Annie, Nell, Mary, Alma, & Gladys Liddell.
Front L to R - Pat, Sarah, & Joe Liddell - Courtesy Sydenham Collection
Bill and Sarah lived on a large farm on the Nicholson River, running their own cattle for milking, and grew lots of maize, a common animal feed product of the district of the times. Their children were Myra Isabel, Margaret Mary, Sarah Ann ( Annie ), Mary Ethel Jane, Ellen May ( Nellie ), Joseph William ( Joe ), John Thomas ( died in infancy in 1903 ), Catherine Gladys, and Alma Guinivere Liddell, born between 1892 and 1912. Along with the essential vegie garden, they also grew a large crop of fruit trees, cherries, plums, and apples - Sarah just had to have something to make the jams and conserves with ! Surely more than one of her children, nieces and nephews remembers getting sprung popping some of the more spectacular Fuschia buds in the garden more than once, amongst a wealth of stunning Roses and the like. The family treat was to sit around the huge kitchen bench on a Thursday night, and tuck into sausages and mashed spuds, after the usual weekly supply run to Bairnsdale.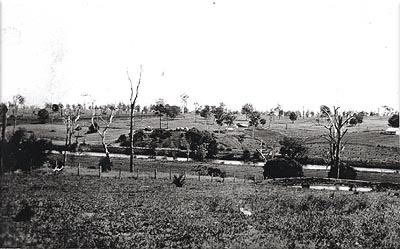 Overlooking the Nicholson River from Liddell's farm Circa 1920 - Courtesy Sydenham Collection
The Liddell property shown above, is now the Nicholson Winery. Bill had a contract working on the roads for the local Shire and was often away for two weeks at a time, leaving Annie to most of the physical yakka raising the cows, corn and kids. On his brief spells at home, armed with his huge white moustache and his faithful companion "Paddy" the Cocker Spaniel by his side, he would shine the boots on the old tank stand, spit and polish the jinker, and take the hour and a half dirt track trip to Bairnsdale. He passed away early in 1934, was buried at Bumberrah cemetery, leaving many fond memories of a jovial bloke who liked the odd beer now and then.
Daughter Alma Liddell hunting rabbits with Paddy the wonder dog - Courtesy Sydenham Collection
With the sole responsibility of the farm and lots of mouths to feed, Sarah battled on from sun-up to late at night, never stopping until her head hit the pillow. Her only time off was of a Friday night social, when she took Alma and Myra to the Stephenson's place to have a round of cards or two or three. Alma and Myra were her mainstays, milking and separating, and sharing the sweat and blisters in the maize paddock. No wonder she is not remembered for being as jovial as her husband -
she simply didn't have time to laugh much.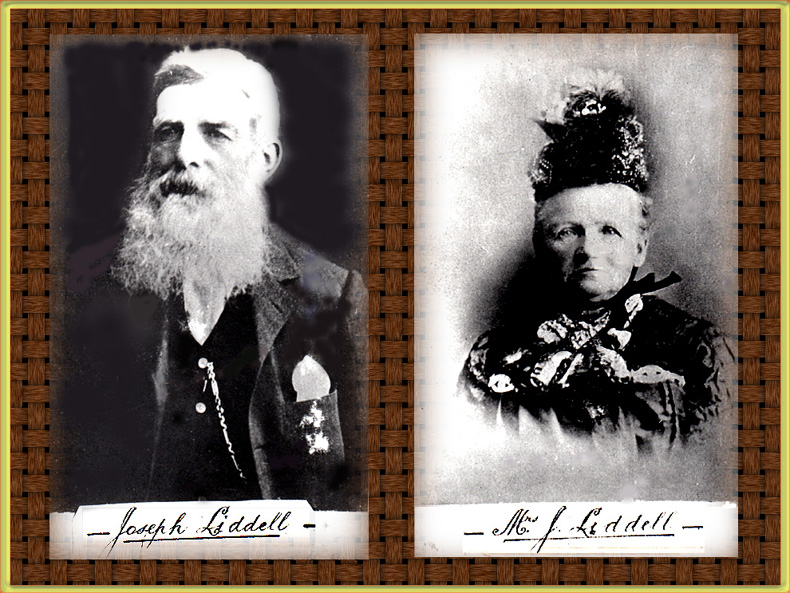 Sarah's Father and Mother in-Law - Joseph and Mary Liddell nee Calvert - Courtesy Jack Cunningham
Apparently some of her pet hates arose at these times, being Menzies and the atom bomb. If the pounds and pennies weren't filling the purse as they should, it was all Menzies' fault ( Chifley would have done things better ). If there was any type of drama after the war, it was simply because of the atom bomb. Apparently almost without exception, when she sat down for tucker with your web host's Grandpa, Jack Richardson, not only politics, but sometimes plates might be seen to fly across the kitchen so to speak.
Eventually managing the property became too much for her to cope with, and Sarah sold up somewhere around the late 30s and moved to Bairnsdale for some 5 years. With many of her family living in Melbourne, she up and moved to the big smoke too, leaving most of her treasured belongings with Gladys. Living the remaining years of her time similar to a gipsy, she would stay for 2 -3 months at a spell, with each of her family, then move on. Sarah died 8-Dec-1958, buried Bumberrah, leaving us all with a shining example of a hard worker really is, and what a widowed mother of the times had to deal with.
Charles William Cunningham born 1877 Bairnsdale Vic.
The only known information passed on about Charles William Cunningham by the older Cunninghams as interviewed in the 1990s, can only be described as fairly typical stern discipline and resultant consequences, as carried out by his father, Thomas Henry Cunningham Senior. Family recollections going along the lines that one day, sometime around 1895, whilst his father was away from the Sunny Hills farm, young Charles took his dad's prize horse, for a joyride, obviously without permission. During this fateful ride, the horse fell, broke its leg, and had to be put down. This resulted in Charles basically being banished from the household, and Charles ended up moving to Western Australia to live.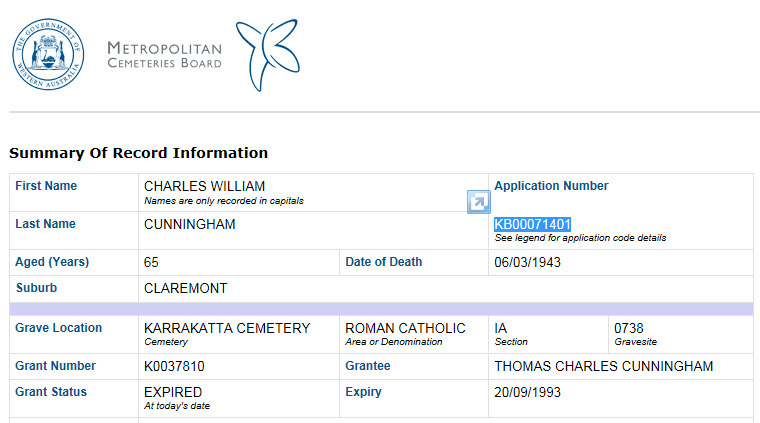 The only known official record of Charles William Cunningham, of his death and burial in 1943.
To clarify the context of this harsh action, or even punishment, it twas in the days when usually only wealthy or very hardworking families, could actually afford a horse. According to the late Jack Cunningham, this particular horse was worth about 2,000 pounds, which represents about 5 or more years worth of wages of those times. It was most likely personally bred by his father too.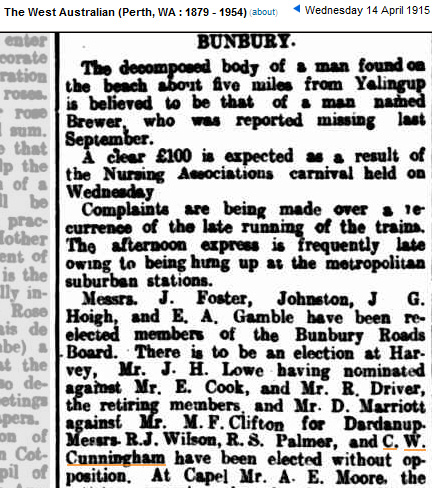 Newspaper cutting of 1915 - Courtesy Trove.
It has been confirmed Charles did marry a Mary Agnes Kindelan in Western Australia, and had 3 children, Margaret Mary, Eileen Agnes, and Thomas Charles Cunningham, between 1912 and 1915. Like most of the Cunninghams of this era, Charles appears to have been involved in local progress issues, as shown in the above newspaper cutting of 1915. Contact has been made with a few of Charles' descendants in WA via Ancestry.com however no additional info or photos about Charles William has become available.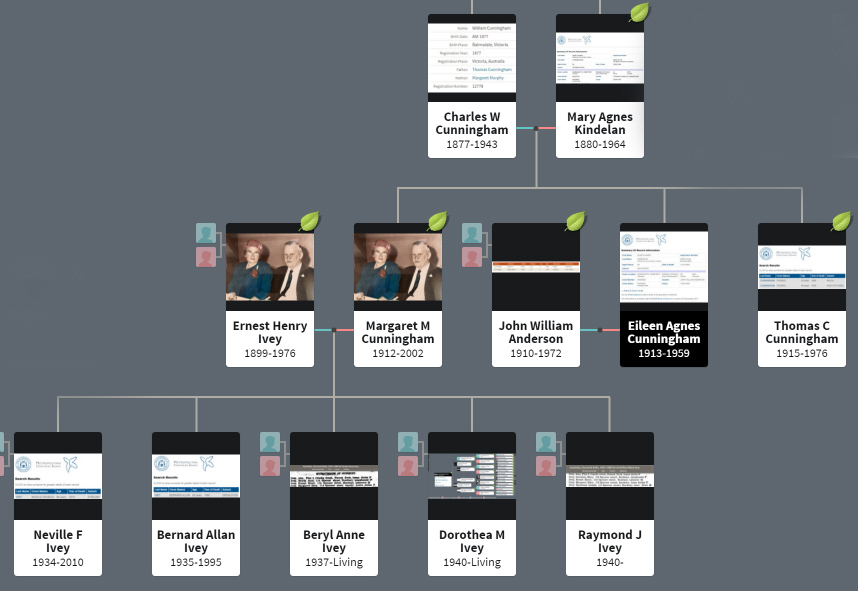 Family of Charles William Cunningham - Courtesy Ancestry.com
Robert James Cunningham born 1879 Bairnsdale Vic.
Bob Cunningham was born late in November of 1879, the seventh of the Cunningham children. It was definitely a very busy period in many ways for the Cunningham family with lots of adjustments around the household to be made, as at any time there is another mouth to feed. It was the year when Thomas Henry's efforts lobbying the Victorian Minister for Education for a new local school had come to fruition - one may assume he and Margaret were missing those helpful hands of Bob's older brothers and sisters around the farm, while they were busy learning the "3 Rs" ( Reading wRiting and aRithmetic ) at the new Tambo Upper school house.
A little difficulty arose trying to confirm the wedding date when he married Margaret Beaton Holmes from Lakes Entrance - the guesstimate is around the turn of 1900, a wee spell before they adopted their only child "Dolly" Vera, who was born in 1907 at Cape Clear on the Ballarat gold fields, to an un-related Cunningham couple. A sign of the times when the going is tough after World War 1, and not much work available locally, this Cunningham branch up and moved to live for about 4 decades in Preston in Melbourne. It has been noted Bob did not care too much for the Farming life either.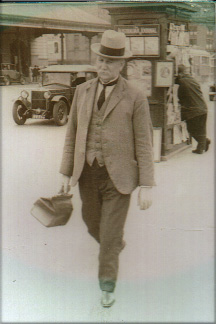 Bob Cunningham - Railway Superintendent of Signals out on business somewhere in Melbourne town - Courtesy Jack Cunningham
Perhaps inspired from the example of his father's political interests and activities, Bob became a very politically active and aware gent as he grew older. He was a very outgoing man, a lot like his father, from stories told. Armed with his behatted roundish face, ever tidy moustache, and typical jovial Cunningham nature, he worked in the Administration section of the Victorian Railways, where he was eventually promoted to the Superintendent of Signals for Vic Railways, a post he held for around 15 years. Also during this time, he worked hard within the Union movement, and was able to secure much improved conditions for Railway staff of all levels.
Bob and Dolly in buggy & Margaret seeing them off - Courtesy Jack Cunningham
Like many of his generation who had to move around the country for work reasons, Bob and Margaret and Dolly always looked forward to every opportunity to visit those of the Cunningham family lucky enough to remain in the Tambo district. Their hard earned breaks from the big smoke of Melbourne town, were usually spent back at either Sunny Hills or with Maggie Byrnes at Swan Reach. One of the first things Bob would do upon his arrival would be to pull out and polish every last inch of the jinker and harness, and head out to visit family and long standing friends, often frequenting the Liddell's property on the Nicholson River.
Robert James Cunningham in his twilight years - Courtesy Jack Cunningham
There doesn't appear to be much info about Margaret these days, apart from that she loved working in the garden together with Bob, and she is known to have suffered a slight speech impediment. Bob retired in 1948, so they resettled temporarily in Swan Reach for some 5 years or so. Margaret had her hands full in quite a sizeable vegie garden - the acres of spuds and pumpkins on the go, proved a source of great enjoyment, after the hustle and bustle of city life. Bob Cunningham passed away in 1966, and is buried in the Preston Cemetery.
Margaret Cunningham born 1882 Tambo Upper Vic.
The eighth child to Thomas Henry and Margaret Cunningham, one would assume she was affectionately known as "Maggie", to save some confusion within the Cunningham household in the early days. Like many young ones of her day, during the hard financial times of the turn of the century, she lived and worked in Melbourne, well before the thoughts of raising a family. Sometime before world war 1, she returned to the Sunny Hills homestead to live with her parents and work on the farm. She was known to regularly walk all the way to the Swan Reach Catholic Church on Sundays all year round. Born on 9 Nov 1880, she also married ( in 1913 ) into a well known local family close to home, her groom being William "Will" Joseph Byrne. Maggie was apparently one of the quieter - even shy and very private Cunningham children, yet drove a buggy and pair.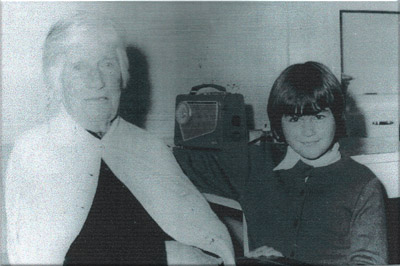 Maggie Cunningham and grandaughter Trudi - late 1960's.
Quite an organiser, with every possession spic and span and in its place, they soon found their lives changing, with the addition of 4 girls and 2 boys to the family between 1913 and 1922. Somewhere around 1919, they got a Soldiers Settler farm after Will's service in World War 1, and set about building their own home and family together. Between 1913 and 1922 they had the following children, Thomas Francis, Margaret ( Peggy ), Kathleen Mary ( Kitty ), Gwenyth Leslie, Marion Constance ( Connie ), and George William Byrne.
They also had some 60 - 80 cows to milk and tend, and somehow managed time to develop the property as one of the local show-piece farms, proudly boasting a magnificent garden, with a wide range of vegies, flowers and shrubs.
Husband Will was quite a character, well known for his colourful storytelling, as well as a tendancy towards being a regular jokester and prankster. His father had passed away when he was very young, so he spent much of his teen years, from 14 years of age, working the bush mainly cutting railway sleepers and the like, to help support his mum and brothers and sisters. He is also well remembered for being quite accomplished on both the concertina and violin. When time permitted, he really enjoyed dressing up with Maggie and the kids, for the occasional picnic cruises on the steamers, which frequented the rivers and lakes systems of those early days.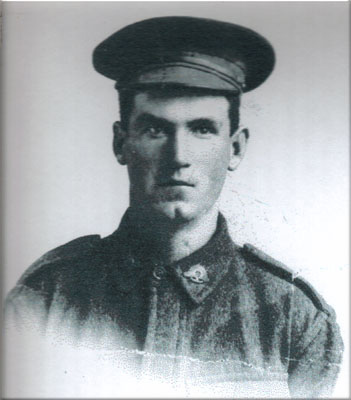 William Byrne in days of world war one.
Maggies pride in her family was held in very high regard locally too. Her meticulous nature reflected in both the presentation of her gardens. Prim and proper was the only way to go for any social occasion off the farm. They attended many social events, including the horse races at Calverts property at Mossiface up the Tambo River.
George Ernest Cunningham born 1885 Bruthen Vic.
Number nine of the Cunningham children, George was born in 1885, his birth being registered at nearby Bruthen. The story of his childhood days is that he, ( and the descendants of this Cunningham branch ), are lucky to be here. Apparently in his very early days, as a naturally adventurous child, he used to frequently climb some big trees on the banks of the river around Tambo Upper, most likely near the Tambo Upper school. One day whilst perched quite high in a tree having a bite for lunch, one of his mates sabotaged the branch he was on, and young George fell over 10 feet to the ground, and survived.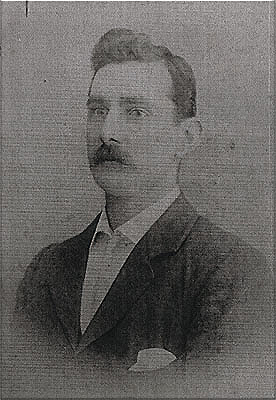 George Ernest Cunningham - in Sunday Best for the camera - Courtesy Jack Cunningham
Not much is known of George's times growing up in the Tambo district, but as he grew older, he also developed a reputation as a joke teller, which blended in with his rather extrovert and outgoing personality and nature. He too worked on the Sunny Hills homestead, gaining a wealth of experience working the maize and dairy cattle.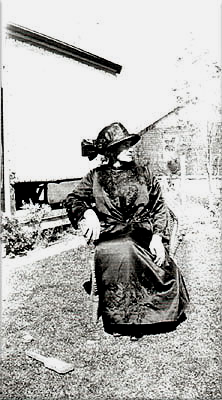 George's Mother in law - Bedelia O'Shea - Courtesy Jack Cunningham
It took him till the age of 37 to decide upon his lifetime partner, Isabell Bridget ( Issy ) O'Shea, and married her in Moe in 1923. They bought a property neighbouring the Redenbachs, and over time, expanded into processing chaff, hay, and maize, raising their own cattle and sheep too. A keen bird lover, George built an impressive high-gabled pigeon loft in the front of his two storey shed, the space shared with both his large pumpkin, fruit, and hay harvests. They had two sons, Brian Thomas in 1925, and Robert John ( Jack ) Cunningham in 1927, now deceased, but who became a major contributor to this web page.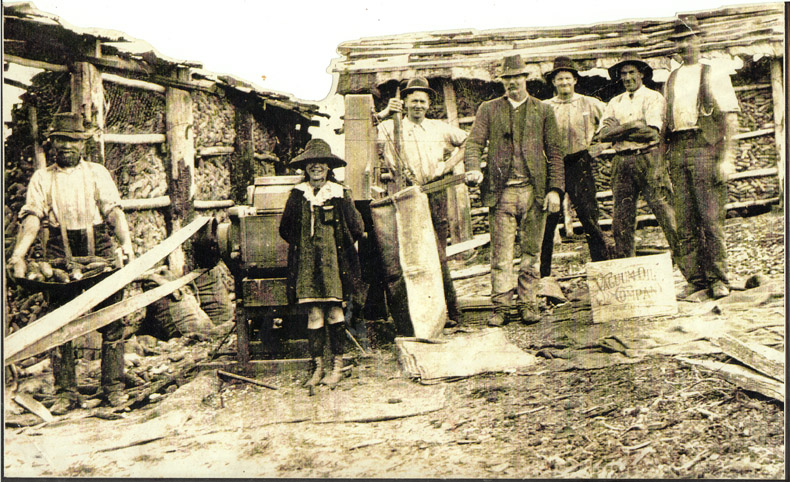 L. to R. Thomas Henry Jnr., Mary Kerrison ( niece of Mary Ellen Liddell nee Cunningham ), Robert Liddell C., George Chandler , William Clifford C., Albert Stone ( neighbour ), George Ernest C. - Courtesy Jack Cunningham
Remnants of the past - 1995 - Courtesy Sydenham Collection
His wife Issy, had grown up in the rugged mountain wilds of Walhalla, the O'Sheas being one of the prime gold mining families of that district. In the early 1900's, she spent a number of years as a school teacher in a Convent in the Eastern suburbs of Melbourne, and moved to Bairnsdale in the 1920's ( assumedly looking for work ), well after the peak of the Walhalla mining boom.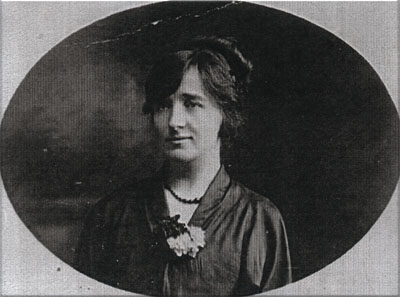 Issy Cunningham of the O'Shea family originally from Walhalla - Courtesy Jack Cunningham
George also had strong active sporting interests - a regular player with his good mates Bill Ward, Harry Foley and Jack Callinan. He was often seen at the Swan Reach Hall in the gymnasium working out and training. He was also an avid horse rider, and timber feller too, apparently at one stage, working at Callinan's Blue Gum Mill and running a small mill, where Pat Cunningham's place is nowadays.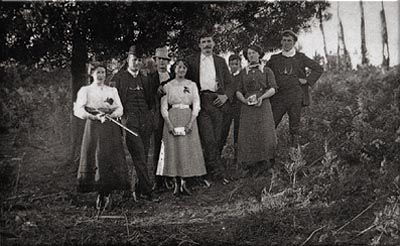 O'Shea family on a Sunday rabbit shoot on or near the Sunny Hills farm - Courtesy Jack Cunningham
Around the mid 1920's, George and Issy had two children, sons Brian and Jack Cunningham, Jack being a key contributor to much of the research material and photos for this web page, as he resided on the original Cunningham "Sunny Hills" homestead.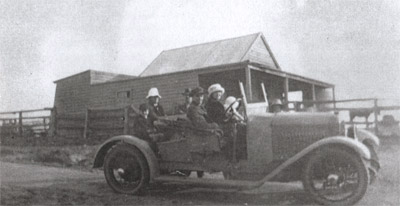 A visit to Sunny Hills by the O'Sheas from Walhalla in 1825 - Courtesy Jack Cunningham
Frederick Stephen Cunningham born 1888 Bruthen Vic.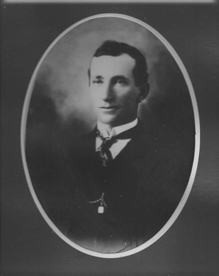 Fred Cunningham in Sunday Best.
Frederick Stephen Cunningham born 27th April 1888, attended the Swan Reach State School from August 1897. Fred took over part of his father's farm sometime after the death if his father in April 1915. Fred married Bridget Sophia Yapp of Omeo, and they 3 girls and a boy, being Elizabeth, Catherine Thelma, Charles Richard, and Linda Beatrice Cunningham.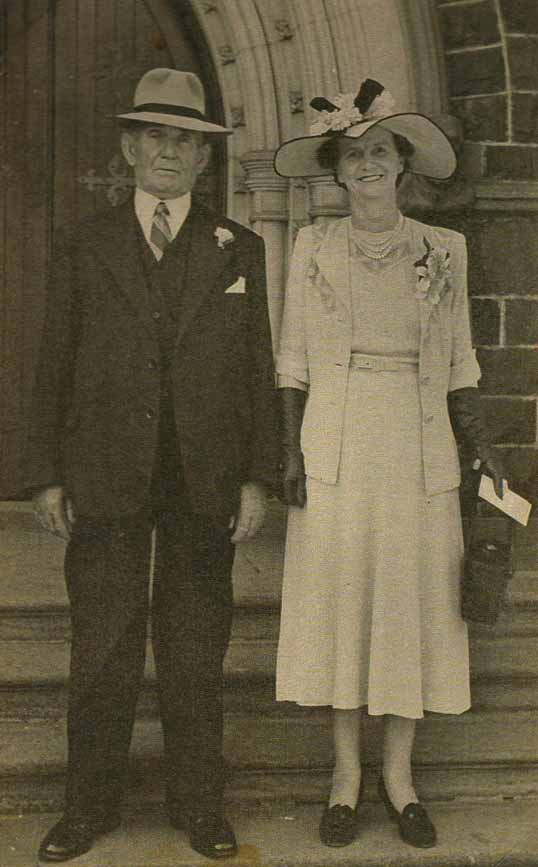 Bridget Cunningham nee Yapp & her brother-in-law Andrew Arthur Cunningham at Fred's funeral in 1941.
Fred died at the young age of 53, in 1941. Bridget ( Biddy ) and the children worked the farm for a short time before moving to Melbourne.
===========================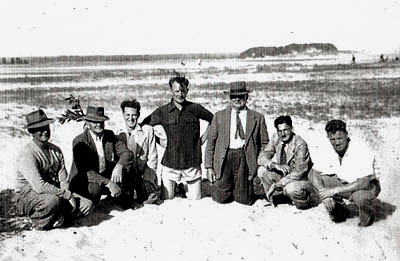 A day out at the Crosses Landing, Lake Tyers Circa 1950's - From L to R Clarence Cunningham, Robert Liddell Cunningham, Bob Rankin, Jack Cunningham, George Cunningham, with friends James Rankin, & Lyn Hateley.
Due to the large numbers of all the children and grand children the above Cunningham siblings had,
we suggest a review for research purposes of
Ancestry.com


Back to Site Index.


Background into Lead Ore Mining in Northern U.K.


Background into the Gold Rush days near Ballarat Victoria.

From Joseph Richardson born 1721 at Alston, U.K.


From Joshua Liddell born 1807 at Ninebanks, U.K.


From William Calvert born 1791 at Kirkhaugh, U.K.


From William Coulson born 1760 in Cumberland, U.K.


From Robert Cochrane born 1778 in Eglington, U.K.


From Thomas Bell born 1806 of Allendale, U.K.


From Edward Hewitson born 1794 in Kirk Linton, U.K.


From James Broadwood born 1796 of Northumberland, U.K.

From John Allison of South Shields, U.K.


From Joseph Parker born 1810 at Allendale, U.K.


From Robert Lee circa 1800


From Nicholas Vipond born 1655 in Alston, U.K.
Email here re enquiries, corrections, or input to this site